66 for the Star Worlds
Racing starts for Qualcomm Star World Championship 2013 from the San Diego Yacht Club on Sunday 1 September. 66 boats are registered and assembled for the 91st edition of this event, the foremost annual gathering of Star.
Notable competitors in this year's edition include Olympic Gold Champions, Mark Reynolds and Hal Haenel, Bill Buchan and World Champions Vincent Brun, Carl Buchan, Eric Doyle, Rick Peters, Xavier Rohart, George Szabo and Phil Trinter.
The Class has most recently seen a growth in competition from juniors and women as well as a resurgence of family teams in all levels of Star sailing. We can count three women: Laura Beigel, Jessica Costa, Nina Aviles and ten juniors below 25 years with the youngest only 13: Chris Barnard, Chas Beek, Laura Beigel, Julian Busch, Matt Dorgan, Tomas Hornos, Malcolm Mcneil, Benjamin Petterssen Josh Revkin and Killian Weise.
San Diego Yacht Club and Star District 5 is a perfect place to foster the comeback of family Star sailing. Family teams include: Chuck and Chas Beek, Laura and Read Beigel, Peter and Jessica Costa, Carl and Jamie Buchan, Mike and Matt Dorgan, Ben Mitchell and Julian Busch, Guillaume Rasse and Nina Aviles, Bill and Billy Gerard.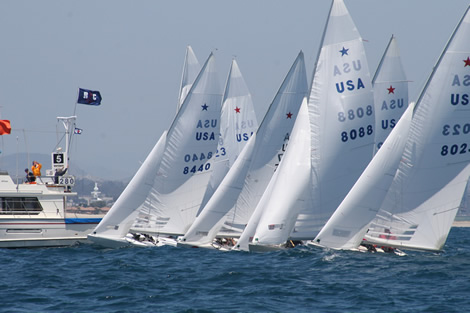 Competition begins on Saturday 31 August with a practice race off of Point Loma. 1-8 September are the scheduled days of racing for the World Championship. Six races will take place off of Zuniga Jetty at 1230 hrs.
San Diego Yacht Club has hosted many World Championships for a variety of classes, eight times for the Star Class. Commodore Chuck Hope and Regatta Chairman John Burnham, along with a large group of local volunteers, are excited to bring this World Class event to San Diego.
Chuck Hope, SDYC Commodore: "San Diego Yacht Club is excited to host the 2013 Qualcomm Star World Championships. Planning and preparations by our Regatta Chair John Burnham and the local Star Fleet will assure the delivery of a world class regatta. Our sponsors, Citibank, Jackson Design and Remodeling, Slam, Douglas K. Smith Marine Insurance, Point Loma Outfitters, Leap Wireless, Driscoll, North Sails, Quantum, Ballast Point and event title sponsor Qualcomm are on-board to elevate this regatta to a serious extravaganza packed with on the water competition. Those that are familiar with SDYC know that we treat our traveling guests as family, including arranging local housing so they can enjoy the camaraderie and hospitality of our membership and the community at large."
John Burnham, Regatta Chairman: "San Diego Yacht Club is proud to host the prestigious 2013 Qualcomm Star World Championship regatta for the 8th time since 1938. With the Star class entering the second 100 years of its existence, our future is certainly the young sailors who are here at our club this week to vie for the championship, and we look forward to a very high level of competition for these 66 boats. We are grateful to have so many past champions competing here, especially those from San Diego including Mark Reynolds, Vince Brun, George Szabo, and Eric Doyle. Personally, it is my pleasure to serve as the chairman for this event for the second time as I get to work with many old friends from around the world. We at San Diego Yacht Club are very grateful to all of our sponsors that are helping us with this regatta, along with some private club members and friends of the star class."
Entries
| | | |
| --- | --- | --- |
| Helm | Crew | Nat |
| Alejandro Bugacov | Eugenio Cingolani | ARG |
| Admar Gonzaga Neto | Andre Serpa | BRA |
| Alessandro Pascolato | Henry Raul Boening | BRA |
| Frederico Lima | Renato Moura | BRA |
| Lars Schmidt Grael | Samuel Freitas Goncalves | BRA |
| Allan Cullen | Dave Martin | CAN |
| Brian Cramer | Cam Lymburner | CAN |
| Bruce Long | Paul Cobban | CAN |
| Jerry Wendt | Bryan Milne | CAN |
| Mark Passmore | Chris Rogers | CAN |
| Steven Fleckenstein | Rob Mulder | CAN |
| Stuart Hebb | Mike Wolfs | CAN |
| Guillaume Rasse | Nina Aviles | FRA |
| Xavier Rohart | Serge Pulfer | FRA |
| Hubert Merkelbach | Gerrit Bartel | GER |
| Hubert Rauch | Kilian Weise | GER |
| Gautschi Christoph | Dominik Schenk | SUI |
| Jean-Pascal Chatagny | Patrick Ducommun | SUI |
| Michel Niklaus | Tyler Bjorn | SUI |
| Ingvar J-son Krook | Benjamin Pettersen | SWE |
| Vasyl Gureyev | Vitalii Kushnir | UKR |
| Andrew Campbell | John von Schwarz | USA |
| Arthur Anosov | David Caesar | USA |
| Augie Diaz | Arnis Baltins | USA |
| Ben Mitchell | Julian Busch | USA |
| Benjamin Sternberg | Valentin Veytsman | USA |
| Bill Allen | Eric Beckwith | USA |
| Bill Buchan | Erik Bentzen | USA |
| Brian Ledbetter | Gregg Morton | USA |
| Carl Buchan | Jamie Buchan | USA |
| Charles Beek | Chas Beek | USA |
| Chris Wright | Kyle Henehan | USA |
| Chuck Driscoll | Jim Oberg | USA |
| Derek De Couteau | Jamie Stewart | USA |
| Donny Massey | Isao Toyama | USA |
| Doug Smith | Myles Henry Asa Prichard | USA |
| Doug Steele | Andy Dippel | USA |
| Foss Miller | Malcolm Macneil | USA |
| George Szabo | Craig Moss | USA |
| Jim Buckingham | Austin Sperry | USA |
| Jock Kohlhas | John Wulff | USA |
| John Chiarella | Bob Carlson | USA |
| John MacCausland | Phil Trinter | USA |
| Jon Pelliconi | Henry Brawner | USA |
| Keith Donald | Kevin Elterman | USA |
| Larry Whipple | Mark Strube | USA |
| Laura Beigel | Read Beigel | USA |
| Mark Butler | John Rudderham | USA |
| Mark Reynolds | Hal Haenel | USA |
| Mike Dorgan | Matt Dorgan | USA |
| Mike Phinney | Rick Burgess | USA |
| Paul Kresge | Jon Kidder | USA |
| Peter Costa | Jessica Costa | USA |
| Robbie Haines | Chris Barnard | USA |
| Robert Teitge | Sam Eadie | USA |
| Stephen Gould | Greg Sieck | USA |
| Stephen Gunther | Chris Wurtz | USA |
| Steve Brown | Erick Lange | USA |
| Thomas Springer | David Wood | USA |
| Tom Londrigan, Jr. | Rick Peters | USA |
| Tomas Hornos | Josh Revkin | USA |
| Vincent Brun | Brian Terhaar | USA |
| William Gerard | Bill Gerard | USA |
| William Swigart | Brian Fatih | USA |
| Huy Nguyen | Andro Korlaet | VIE |
Back to top
Back to top