Huntress comes out on top
A motor mechanic with a knack for consistency behind the wheel and his Sydney crew, capitalised on the water in this year's light air Audi Hamilton Island Race Week, to win the major prize at the regatta: use of an Audi A6 allroad vehicle ($117,900 mlp) for one year.
Philip Grove's Huntress, a Sydney 39Cr representing the Royal Sydney Yacht Squadron and Balmain Sailing Club, was competing in its first Race Week, and narrowly claimed top honours in Performance Racing Division 1.
This winning result was combined with the layday Audi Final Drive Challenge at Hamilton Island airport when more than 100 people were pitted against the clock by Audi's Chief Instructor and Australian Top Gear presenter, Steve Pizatti.
All yachts were invited to send a crew member to get behind the wheel of Audi's mighty Audi R8 V10 plus model. It is the fastest car produced by the luxury carmaker, and is powered by a hand-built 5.2-litre V10 engine that demolishes 100km/h in just 3.5 seconds and reaches a top speed of 250 km/h.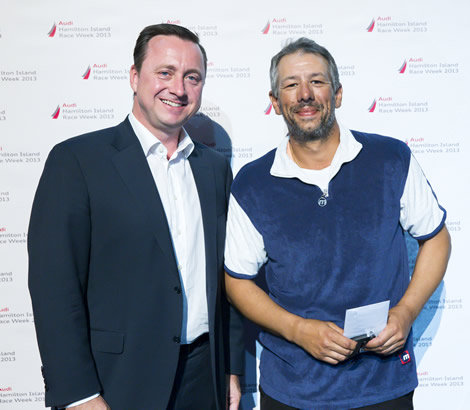 After his two timed laps around the track, Grove's mastman, Marco Bergamuncha, had secretly recorded the most consistent times. When coupled with Huntress' final score at the end of their seven-race series, a one point divisional win over Matt Allen's defending Farr 400 Ichi Ban, Philip Grove was declared the winner of the major prize from Race Week's principal sponsor, Audi.
"Marco has been a motor mechanic so when we saw the opportunity to drive, we knew he was the right man," said Grove.
A thrilled Bergamuncha was at Saturday evening's gala farewell to the 30th anniversary of Audi Hamilton Island Race Week when the winner was announced. With his skipper already back in Sydney, Bergamuncha had the honour of collecting the keys to the Audi A6 allroad quattro from Audi Australia's managing director, Andrew Doyle.
It was a great week on the water and off. The level of professionalism and friendly competition from all contenders was excellent, and we were certainly proud to be the principal sponsor of this world-class Regatta once again," Doyle said. "I'd like to say congratulations to all winners, but a special mention to the crew of Huntress for winning our major prize for this year."
Grove has offered his crewman the option to take the Audi loan car for a year. "As far as I'm concerned, it's his," said Grove. "Marco has been sailing with me for four years so he's one of my regulars. He does mast and bow and he's always helping to fix things on the boat, he's a very willing person."
When Huntress is in Sydney they take autistic children and their carers sailing via a joint Balmain Sailing Club and Giant Steps program. "Marco is always up for those days," said his proud skipper.
On the regatta Grove added, "It was the perfect boat for a light air regatta. The conditions were just lovely; in fact I was tempted to leave the boat up there! I never heard a single cranky voice on the water, you do any start on Sydney Harbour and all you hear is insults back and forth. It was very calm and with all the lovely hospitality touches, such as the morning coffee cart, there was a terrific vibe."
The 30th edition of Audi Hamilton Island Race Week, held from 18 - 24 August, was open to a wide spectrum of sailboats – from sport boats to cruising yachts, cruiser-racers and grand prix level keelboats, plus a new multihull and MC38 division and the creation of First Fleet division for the four originals from the 1984 starter's list.
The fleet of 157 yachts tackled a week of light winds with the addition of several playful baby whales and their watchful parents.
Twelve divisions battled it out on the stunning Whitsunday Islands courses while ashore the social calendar offered exquisite lunches, dinners and fashion.
Winners
IRC Racing, Hooligan (TP52, RPAYC), skippered by Marcus Blackmore
IRC Passage Division 1, Storage King Wallop (Sydney 41, LMYC/RMYC ), skippered by Peter Hewson
IRC Passage Division 2, L'Altra Donna (Summit 35, CYCA), skippered by Andy Kearnan
Performance Racing Division 1, Huntress (Sydney 39Cr, BSC/RSYS), skippered by Philip Grove
Performance Racing Division 2, Jump (SB20, CYCHI), skippered by Greg Hyde
Cruising Division 1, Circe (Beneteau Sense 55, SYC), skippered by Ross Johnston
Cruising Division 2, Next Light (X35, RPAYC), skippered by Chris Ryan
Cruising Division 3, Starkers (Catalina 350, TCYC), skippered by Alan Stark
Non-spinnaker Division 1, Smart Choice (Hunter 50ac, RYCT), skippered by Rodney Smart
Non-spinnaker Division 2, Christina Jay (Beneteau 343 Oceanis, SCYC), skippered by Stuart Pascoe
MC38 OD Division, Vino (MC38, MHYC), skippered by Chris Hancock
Multihull Division, Box Office (Box 8.5m, RQYS), skippered by Matt Johns
First Fleet, Hitchhiker (Frers, RPYC), skippered by Peter Briggs
Back to top
Back to top