Fourth day, fourth winner
It wasn't until 1700 that a light south-westerly breeze filled in and the race committee at the Gazprom International Dragon Gold Cup was able to hold race four of the series. After a first general recall, the next start got away cleanly despite being under a black flag.
At the first upwind mark three boats - DEN 406, GER 88 and GER 1133 - had gained some advantage over the very staggered fleet and they were all still dominating the game on the second mark rounding. Ultimately Dane Jorgen Schönherr led from start to finish to take the bullet.
"We had a perfect start at the pin end of the line," said Schönherr. "We went left, as I said I would this morning and then we were leading, increasing the distance on our competitors during the race. We had good speed and good tactics in perfect medium conditions. I'm sure this win will make our evening even more enjoyable even though we had a long day! We'll certainly have a good sleep tonight.
Of his previous results Schönherr said: "I was not happy about our first race. On the second one we were a bit unlucky, we picked the right side, tacked 3 minutes before the layline on one leg and.. it was too early! The boat which went further to tack, grabbed a major shift and passed us. I'm trying to stick to the top 10. That's the charm of the Gold Cup, you can be at the top of the ranking with 70 (a lot of) points. We've been learning a lot since the beginning of the week and we managed to get plenty of information from local sailors - it helps a lot to know the tricks in the bay of Douarnenez!"
Schönherr admitted that he sails for pleasure and wasn't looking to be ranked among the professionals. "I've won the Gold Cup three times, but I've never been ranked as a pro, and I don't want to be. And I also want people who sail with me to do it for pleasure. If you have a passion, you will commit to it and with a lot of commitment you can achieve good results. We have a good team here and a good spirit". The Dane won the Gold Cup over three consecutive years - 2003-2005.
Full results here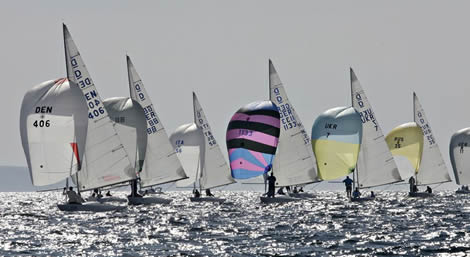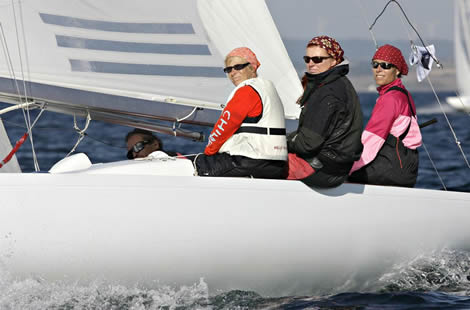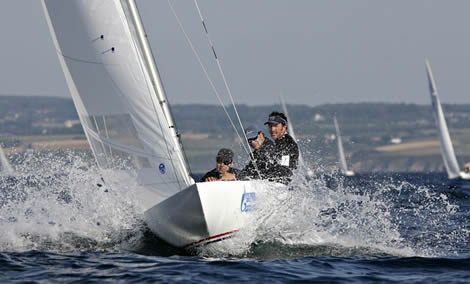 Back to top
Back to top