Russian victory
The third day of the Gazprom International Dragon Gold Cup saw racing take place in baking temperatures and very light winds. For the tacticians on board the 77 Dragons it threw up all kinds of doubts and questions and ultimately it was Vassilliy Senatorov (RUS 34) who claimed the victory of the day.
With the start at 15:10, three boats were OCS and sadly among them was yesterday's winner Gavia Wilkinson-Cox.
On the second beat, 300m from the mark, the 6 knots WNWerly wind suddenly shifted into the southwest, requiring a course change. This caused complete disruption and Vassilliy Senatorov, who was 21st round the windward mark, suddenly moved up to 8th at the downwind mark, and ultimately finished in the lead.
Markus Wieser (UKR 7) showed very consistent form, moving from second to first place and finished second overall.
Senatorov commented: "We were pissed off yesterday because of the disqualification and Tim (Kröger ) told us 'tomorrow, we'll get a bullet'. We started quick and in a proper position. The most important moment in the race was the first downwind mark, we were 8th and the boats went to the right gate and we chose to go to the left. On the first tack on the next upwind leg we felt some pressure from the right and that was it, we were first at the 2nd upwind mark. It was a perfect day, everything was harmonized, the weather, the feeling on the boat. It was really enjoyable.
"I'm steering so I don't have time to look around, even though I am giving them feedback on how the boat is doing. Igor Ivahintsov our tactician talks with Tim and then he makes the final decision on where we should go."
Full results here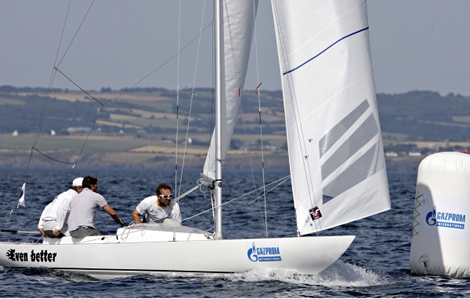 Back to top
Back to top