Second bullet for Hooligan
Day two of racing at Audi Hamilton Island Race Week delivered up more glorious conditions for the 12 classes contesting the premier Whitsunday regatta.
Light winds out of the north nor'west saw all classes bar IRC Racing and the MC38s head off on two different island courses around White and Denman islands and back to the finish in Dent Passage.
A fast flowing tide in the passage caused some to misjudge their start and be caught on the wrong side of the line while the sand bar running along Dent Island trapped a couple of unsuspecting skippers.
Out to the east of Hamilton Island two windward-leeward courses were set for the IRC Racing and MC38 division but their luck ran out as the areas were becalmed, forcing a race committee rethink. Anchors were pulled up and the impressive entourage headed over to Whitsunday Passage to the breeze where they completed a second and final race.
After a shortened first race, the five-boat MC38 one design fleet had their windward/leeward racetrack moved to Catseye Bay where the breeze was steadier.
Marcus Blackmore's TP52 Hooligan from Sydney claimed its second outright win in the IRC Racing division to be early pointscore leader with points from this afternoon's race still to be added to the progressive scoresheet.
After the nervous creep to the finish line in dying breeze with Rob Hanna's Geelong-based Shogun V coming up on the inside in more pressure, Blackmore was relieved to claim the win, particularly after they started late, locked out by Wild Thing, then spent the race trading places with the other TP52 as opportunities faded with the breeze.
"It was very shifty," admitted Blackmore, who is carrying a dream team including dual Olympic gold medallist Malcolm Page calling tactics, navigator Will Oxley and Billy Merrington adding their know-how to the already talented line-up.
Swiss yachtsman Ernesto Bertarelli and his international rock star crew on the chartered Wild Oats X are currently second on the pointscore on five points to Hooligan's three after two races.
Grant Wharington's 100ft Wild Thing was scored a non-finisher in their first short race today, a broken furler fitting costing them precious time. Wharington figured it was better to regroup and come back for the next race so they pulled the pin and installed the spare.
Ross Hennessy's MC38 Ghost Rider is leading the one design division after three races, a clean start and more pressure in today's second race making all the difference.
"We got out in front and we stayed there," said Hennessy who has been coming to Hamilton Island for 20 years but always sailed on others' boats. This year he told his crew he'd bring the boat to the regatta if they placed well in another class regatta in Sydney. "We won that, so I had to bring them," he quipped.
Tomorrow's scheduled Club Marine Classic long and medium distance race has been postponed due to light winds. Passage races will start at 11am from Dent Passage and the eastern course area while the MC38s will continue with their windward/leeward format, also starting at 11am.
Wednesday will be a layday for the entire 157-boat fleet when the attention shifts to shoreside activities including the Audi Final Drive Challenge from 8am and Beachside Pool Party at the main pool from 11am.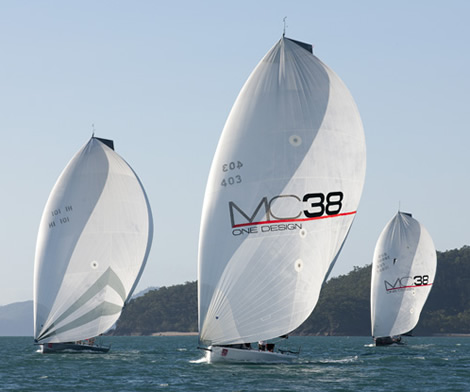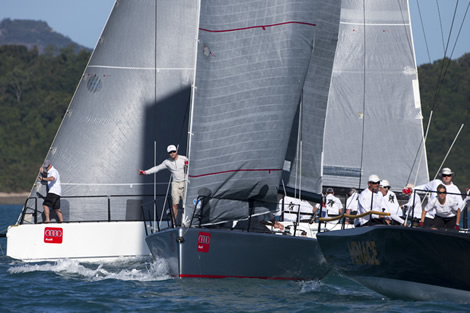 Back to top
Back to top