Canfield back in business
Taylor Canfield bounced back from 0-2 to take a last-gasp victory at the Chicago Match Cup today. Representing the US Virgin Islands but also a hometown favourite as Race Director of the Chicago Match Race Center, the crowd of spectators went silent with tension as Canfield and USone's Tom 28 keelboat rumbled towards the finish line of the final match, little more than a boatlength ahead of Keith Swinton and Black Swan Racing from Australia.

Then the crowd on Navy Pier erupted into whoops and cheers as USone took their third consecutive victory, and with it the winning paycheck of US$25,000 from a total prize fund of $100,000, the biggest prize money in American sailing. Canfield offered the perfect riposte to his early exit from Stena Match Cup Sweden a month earlier, his victory in Chicago rocketing him up the leaderboard on the Alpari World Match Racing Tour. Bjorn Hansen's eWork Sailing Team also won an important victory in taking the final match of the Petit Final against reigning Tour World Champion, Ian Williams and GAC Pindar.
It was a glorious Sunday at the east end of Navy Pier, with tens of thousands of spectators circulating though the venue, lured by the action on the water, the vendors on site, and the live narration given by both the AWMRT media team and crowd commentator, Olympic silver medallist Mark Covell. Broadcast to the world on a live TV feed, the excitement built to a fever pitch as the crowd cheered Canfield and his USone team towards their impressive comeback victory.

The day had not looked promising, with a forecast of feeble 5 knot offshore zephyrs that seemed to validate yesterday's decision to get some kind of result on the board just in case. But the sun warmed the lake front enough to generate some onshore pressure, which built enough to the Finals to have some very sailable 7-9 knots.

In Match 2, with one point already to his favour, Swinton was keen to demonstrate he had not lost the momentum he had on the previous day, and his early lead in the match seemed to show this was true. But Canfield gained on the right side of the second beat enough to dial down the Aussies off their layline from the left. A quick tack from Canfield and a jib-down luff from Swinton forced a penalty on Canfield, followed by a red flag from the umpires for this having changed control of the match. The penalty turn then put Canfield out of contention and Swinton up 2-0.

Now up against the ropes in the first-to-three point series, Canfield took and held the early lead in the Match 3, comfortable and defendable. But on the first hoist a 2-metre long tear appeared in the luff of the spinnaker near the head, jeopardising this lead at any moment if the tear grew any larger to destroy the sail. Moreover, Canfield and team had to use this sail for the last run to the finish, so the pressure was on to take their gains on the next beat.

Free to take the favoured right, Canfield did build a little more margin to survive the run with the torn kite and stay alive with a point…score: 2-1.

In Match 4 it was Swinton off the line in the strong right side position, which they used to keep and maintain a slim lead for the first lap of the course. But gains by Canfield on the left side brought the teams back to within striking range towards the top of the second beat, and a late decision to try and dial down Canfield followed by a quick tack caused a hefty collision, with the resulting penalty now going to Swinton as well as the lead. Despite a valiant effort on the final run, the Aussies could not close the gap and the score now went to 2-2.

The final match was less dramatic, with no torn sails or crashing dial-downs, just smooth execution by Canfield and his team to take the early lead and extend, bring it to 3-2 and the title win for the event. Canfield was ecstatic. "Winning a Tour event here in Chicago here is the best thing ever. The fan base on shore is incredible, we're so happy to win the Chicago Match Cup. There has been a lot of hype about us winning and in the end we brought it home, coming back from 2 down."

Swinton had seen an incredible run of victories brought to an end by Canfield's resurgence, but was proud of his team's performance. "We sailed as well as we've been sailing. In the fourth match we didn't do a good enough job of protecting the right, got a penalty from the dial down which was probably fair enough. We were a bit late to change course and didn't give him enough room, so that was our error, a bit frustrating. Really the only big error we made today, but it hurt us a lot."

The Petit Final was an intriguing hors d'oeuvre to the main action, and as in the Final, the Swedes managed to come back from behind to beat the Brits. It didn't look good off the start line for Hansen who got greedy trying to push Williams over the line early, but instead got left in the dust. "I apologised to the guys for making a bad start but we said to each other, let's give it everything. We worked really hard on both upwinds and both downwinds. We got a piece of them at the leeward mark, forced him to tack away to the left. That was critical, we put all our chips on red, to get in underneath him, and if we couldn't have hooked him there it would have been over, pretty much. To beat Ian in that match, it was important for the Tour standings, not for us but for the whole Tour because it cuts Ian's lead in the overall rankings."

James Pleasance, Executive Director of the Alpari World Match Racing Tour said: "I want to congratulate Don Wilson, Tod Reynolds and everyone at Chicago Match Race Center for staging such a great event on the Tour. For Taylor to come back from 0-2 down in front of a home crowd made it extra special. The support here has been amazing, seeing the crowds turning out in their thousands. And with Taylor winning, it really closes up the points going into Bermuda for the next event on the Tour."
Final results

Taylor Canfield (ISV) USOne beat Keith Swinton (AUS) Black Swan Racing 3-2

Petit Final results

Bjorn Hansen (SWE) eWork Sailing Team beat Ian Williams (GBR) GAC Pindar 2-1

Overall results

1 Taylor Canfield (ISV) USone 31 points
2 Keith Swinton (AUS) Black Swan Racing 28 points
3 Bjorn Hansen (SWE) eWork Sailing Team 24 points
4 Ian Williams (GBR) GAC Pindar 20 points
5 Pierre-Antoine Morvan (FRA) - Vannes Agglo Sailing Team 17 points
6 Phil Robertson (NZL) WAKA Racing 15 points
7 Adam Minoprio (NZL) Team Alpari FX 12 points
8 Will Tiller (NZL) Full Metal Jacket 10 points
9 Johnie Berntsson (SWE)- Stena Sailing Team 5 points
10 Gavin Brady (USA) Team Vesper 3 points
11 Don Wilson (USA) Chicago Match Race Center
12 Jordan Reece (AUS) Estate Master Sailing Team powered by Etihad Airways

Alpari World Match Racing Tour leaderboard

1 Ian Williams (GBR) GAC Pindar 82
2 Taylor Canfield (ISV) USone 73
3 Adam Minoprio (NZL) Team Alpari FX 73
4 Björn Hansen (SWE) eWork Sailing Team 72
5 Keith Swinton (AUS) Black Swan Racing 67
6 Phil Robertson (NZL) WAKA Racing 62
7 Mathieu Richard (FRA) GEFCO Match Racing Team 53
8 Johnie Berntsson (SWE) Stena Sailing Team 41
9 Pierre-Antoine Morvan (FRA) Vannes Agglo Sailing Team 33
10 Simone Ferrarese (ITA) Ferrarese Racing Team 24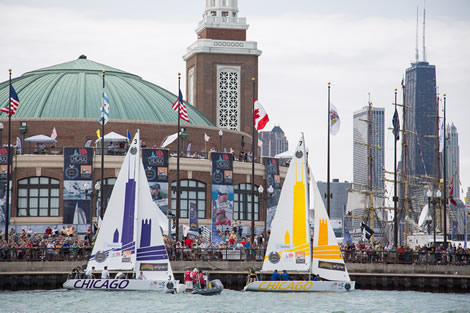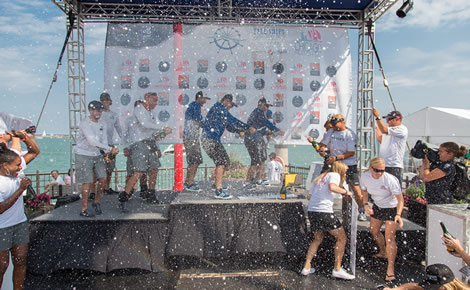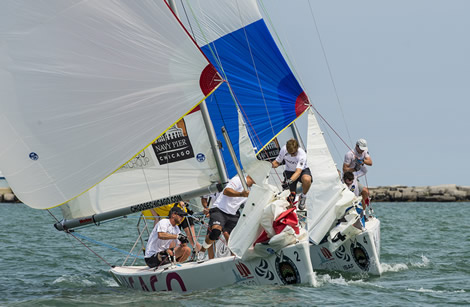 Back to top
Back to top