Another Kiwi masterclass
Emirates Team New Zealand today maintained its perfect scoreline in the Louis Vuitton Cup, today once again trouncing Luna Rossa to win its ninth consecutive race, cementing its status as the top team in the challengers' series.
Today saw Dean Barker back on his Helm/Skipper duties accommpanied by Ray Davies (Tactician), Glenn Ashby (Wing Trimmer), Winston Macfarlane (Pedestal 1), Rob Waddell (Pedestal 2), Derek Saward (Floater grinder), James Dagg (Trimmer), Grant Dalton (Pedestal 3)
Chris McAsey (Pedestal), Jeremy Lomas (Pit), Adam Beashel (Bow)

On Luna Rossa today were PMax Sirena (Pit/ Skipper), David Carr (Pit Grind), Nick Hutton (Bow), Simone de Mari (Primary Grind), Pierluigi de Felice (Trim), Giles Scott (Strategist/ Grind), Marco Montis (Freestyle), Lele Marino (Wing Grind), Xabi Fernandez (Wing Trim), Francesco Bruni (Tactics), Chris Draper (Helm).
With racing held in 15.3 knots and a peak gust of 19.6 knots from the southwest and a flood tide (ie flat sea) running at 1.6 knots, so it was Luna Rossa's turn to have the starboard entry with Emirates Team New Zealand coming in 10 seconds early. The Kiwis sped into the box at 38 knots, as Luna Rossa were deliberately slower, making 20 knots in before gybing to follow the Kiwis. Barker tacked the Kiwis AC72 around, while Chris Draper at the helm of Luna Rossa gybed directly ahead of the Kiwis, both boats now heading back to the line early. Coming in at pace, Barker initially looked like he was going to duck below the Italians but then came up above them leading them into the line, both boats killing speeding early for the line. The speed on both boats dropped to below 10 knots as they luffed with Luna Rossa in the favoured leeward berth but both now high on the line. However the Italians were unable to hang on to their good start and the Kiwi crew seemed able to pull the trigger faster and simply rolled over the top of them leading into the reaching mark already with a six boat length advantage.
From there Emirates Team New Zealand once again showed the way around the race course seemingly with both better straight line speed and slicker through manoeuvres. The Kiwis extended to 35 seconds at the first leeward gate rounding then up to 1:35 at the first weather mark en route to a 3:20 victory, covering the course in 45 minutes 5 seconds. Oddly once again the official stats for the race show that Luna Rossa sailed way further - 19.75 miles to the Kiwi's 18.29. The Kiwi's average speed today was 25.21 knots compared to Luna Rossa's 24.5 knots while the Kiwi's top speed was 42.76 knots compared to Luna Rossa's 39.55 knots.
On board Luna Rossa during the race there was an accident during a gybe when David 'Freddie' Carr twisted his ankle after suffering a bad fall when he tripped on one of the cables running across the boat.
Of today's racing Luna Rossa skipper Max Sirena said: "This was a positive day for us: we raced better and a few technical changes gave us encouraging results. We are obviously aware that these improvements are not enough. We need to stay focused to increase both the boat performance and the boat handling. We look forward to sailing with the new technical developments and be competitive in the next races. "
Standings
1. Emirates Team New Zealand 9-0 – 9 points (1 race remaining)
2. Luna Rossa Challenge 4-5 – 4 points (1 race remaining)
3. Artemis Racing 0-8 – 0 points (2 races remaining)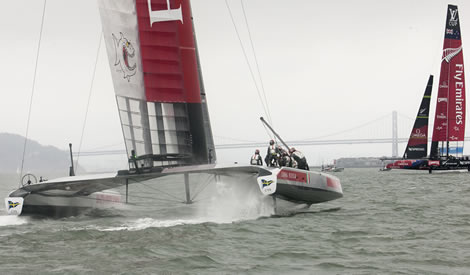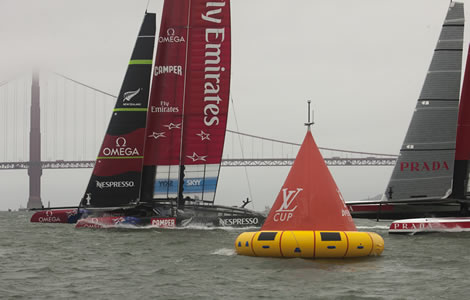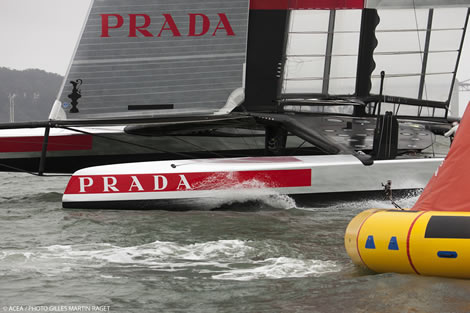 Back to top
Back to top