Ashby gets to have a drive
Emirates Team New Zealand got its eighth point on the boat today in the final race of Round Robin 4 of the Louis Vuitton Cup, again unopposed against a no-show Artemis Racing.

With a break from usual form, today it was a pair of Aussies who guided the Kiwi team's AC72 Aotearoa around the race track, with wing trimmer Glenn Ashby taking over the helm from skipper Dean Barker, who got a breather.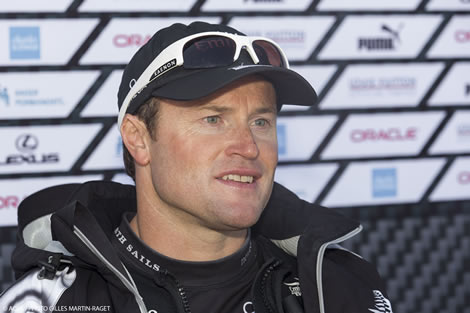 Before today, Glenn Ashby hadn't had much time at the wheel. "It was good to have a feel of the boat through the different manoeuvres."
He admitted to being a "bit wobbly" at times as "I was switching out of my usual role of wing trimmer to helming – sometimes my timing was out a little... "There were a few laughs and banter on board at my expense."

"I did get an insight into how I can help Dean mode the boat better to get through the puffs and holes a bit better. I'm sure Dean appreciated seeing the boat from the outside – how it trims and how it behaves."
In Ashby's place, bowman Adam Beashel slotted into Ashby's role trimming the wing. "We had a few crew rotations today that made things a little more interesting, a couple of Aussies at the back of a Kiwi boat," said Beashel, who has been with Emirates Team New Zealand since the 2003 America's Cup.

"It was no problem at all," Beashel continued. "I'm used to sailing with Glenn. We've done a lot of sailing together on the SL33 (the team's training boat), so it was business as usual for the two of us. There were quite a lot of snide little jokes here and there, a bit of fun and banter, so was a good day."

Emirates Team New Zealand sailed a 9.64 nautical mile course today in 30 minutes and 59 seconds at an average speed of 22.83 knots and peak speed of 33.8 knots in a slightly lighter wind that averaged 13.2 knots and gusted to 15.7 knots.
Today's full crew line-up was: Glenn Ashby (Helm), Ray Davies (Tactician), Adam Beashel (Wing Trimmer), Chris Ward (Grinder), Rob Waddell (Grinder), Derek Saward (Floater grinder), James Dagg (Trimmer), Grant Dalton (Grinder), Chris McAsey (Grinder), Jeremy Lomas (Pit), Richard Meacham (Bow)
Emirates Team New Zealand has already clinched the round robin portion of the Louis Vuitton Cup, which gives the team the choice of advancing straight to the final or choosing its opponent in the semifinal round. The Kiwi team is expected to announce its decision tomorrow.

Results

1. Emirates Team New Zealand 8-0 – 8 points (2 races remaining)
2. Luna Rossa Challenge 4-4 – 4 points (2 races remaining)
3. Artemis Racing 0-8 – 0 points (2 races remaining)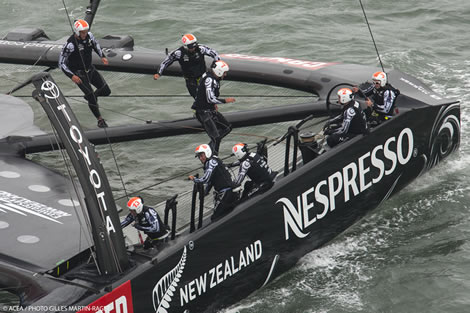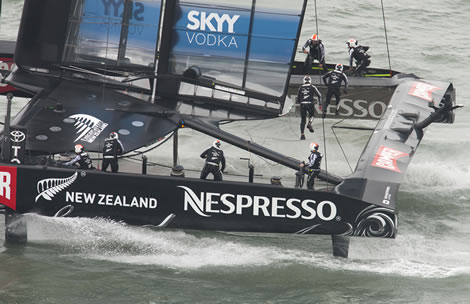 Back to top
Back to top