World titles for Bronenosec and Samantaga
Winning with a race to spare Vladimir Liubomirov helming his Swan 60 Bronenosec (RUS) took the inaugural title of Gazprom Swan 60 World Champion with 6 solid firsts across 12 races.
In a change to today's overall results the Swan 45 World Champion title goes to Philippe Mortgat and Patrick Van Heurck's entry Samantaga (BEL), this team's positions have remained in the top 3 spots for the majority of the week. No Limits (NED) led this competitive fleet all week, but was disqualified following a protest today.
Double Swan owner Edward Leask has retained his European title from 2011, being crowned the Gazprom Swan European Regatta Champion for Class A racing his Club Swan 42 Magical Mystery Tour. Class B racing was too close to predict the winner going into the final 2 races today, Ray Mitchell's Swan 411 Accomplice (GBR) put in serious effort today to pull through into first. Leader of Class C home to some of the most traditional Swans has the most consistent set of results across all the fleets, British owner Chris Frost racing with his daughter on their Swan 36 Finola has much to celebrate as new European Champions with a record win in all races.

The light wind legends created a stir at the ClubSwan Regatta Village, celebrating stylishly with prosecco in the sunshine. Enrico Chieffi, Managing Director, Oy Nautor Ab, remarked on a successful edition: "It has been an amazing week here in Cowes, not only do we have two new World Champions and an European Champion, the event has brought ClubSwan members closer together enjoying their Swans with friends and family. The weather has been outstanding for us all and the Royal Yacht Squadron Race Committee has ensured quality racing throughout the week. The buzz at the ClubSwan Regatta Village has spread throughout the classes with fun social events appealing to all. I am very much looking forward to the next edition of the Gazprom Swan European Regatta in 2015."

The World Champions will be presented with Asprey crafted trophies at the ClubSwan prize giving held at the Royal Yacht Squadron.
Provisional Overall Results:
Gazprom Swan 60 World Championship
1 – Bronenosec (RUS) Vladimir Liubomirov
2 – Knights of Crevichon (GBR) Sir Peter Ogden
3 – Tsaar Peter (BVI) Igor Frolov

Swan 45 World Championship
1 – Samantaga (BEL) Philippe Mortgat / Patrick Van Heurck
2 – VanUden (NED) VanUden Group
3 – WISC (GBR) Glynn Williams

Gazprom Swan European Regatta

Class A:
1 – Magical Mystery Tour (GBR) Edward Leask
2 – Brevity (GBR) Mark Devereux
3 – Yellow Drama IV (GBR) Stephen Matthews / Roger Barber

Class B:
1 – Accomplice (GBR) Ray Mitchell
2 – Elan (GER) Harald Baum
3 – Best Buddies (GER) Kay-Johannes Wrede

Class C:
1 – Finola (GBR) Chris Frost
2 – Moustique (GBR) Alan Major
3 – Cisne (NED) David Collins / Tony Thorpe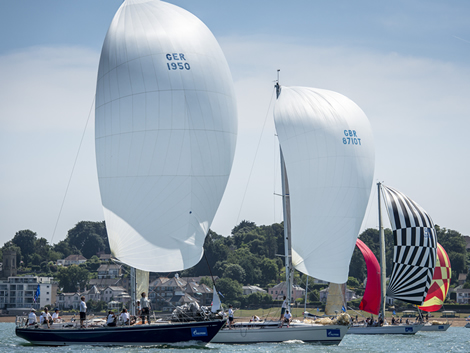 Back to top
Back to top