Hunting for breeze
For the fourth day of racing at the Gazprom Swan European Regatta, Gazprom Swan 60 World Championship and Swan 45 World Championship 2013 the main focus for all crews and the Royal Yacht Squadron Race Committee was wind hunting. The scheduled coastal racing across all classes supplied a different aspect to course action, including a combined start for Classes A, B and C, as well as the Swan 45s and Swan 60s starting off the Squadron line together.

Swan 60 Tsaar Peter (BVI) was first to reach West Ryde Middle in the waters off Osborne House built for the British Royals in 1845. Hugging the left side of the first beat paid off for the second placed crew who were overtaken downwind by Sir Peter Ogden's Knights of Crevichon (GBR). After starting OCS Petite Flame (RUS) put in some serious effort on leg one and were back in contention quickly for the 21 mile race. After an initial mid-fleet placing the crew on Bronenosec (RUS) kept their eyes out of the boat and eventually stole first place from Knights of Crevichon (GBR).

The final Swan 45 Worlds results are looking increasingly clear for 2013. Rientz Bol, owner and helmsman of No Limits (NED) is now on a roll with seven points ahead of Samantaga (BEL), taking first place yet again today. Koen Verhaekghe De Naeyer (NED), Navigator on No Limits, spoke about his hardest challenge of the coastal race: "Trying to keep the speed on today was hard work, we are close to winning but it is not going to be a simple process."

The main Gazprom Swan European Regatta fleet were also rather impromptu out of the starting blocks, a dangerous game to play in an easterly running tide forcing the heavier older style Swans across the line resulting in an individual recall and some teams having to re-start.
After 18 miles, Class A was won by Alan Hill's Swan 46 Mynx while Club Swan 42 Magical Mystery Tour is on the cusp of another overall European title, but they are not making it smooth sailing for themselves. As owner driver, Edward Leask said: "In 2011 we didn't make it easy for us in the final stages, we had a lot of additional pressure due to an OCS, I hope tomorrow is not as intense."
It is all still to play for in the last races for Class B, where there is a German duel between Swan 44 Best Buddies (GER) and Swan 48 Elan (GER). Best Buddies sits one point in front of Elan and Ray Mitchell's Accomplice (GBR). An eight point lead in Class C looks like an ultimate overall win for Chris Frost's Swan 36 Finola after taking the top spot again today.

The fickle wind put pressure on the navigators with crew looking to them for overall strategic support. Looking up the course at the bigger picture was essential to a successful race result decision. Renowned navigators are planted across the classes including Nacho Postigo (ESP) onboard Magical Mystery Tour, Francesco Mongelli (ITA) with Bronenosec, Mike Broughton on Knights of Crevichon and Graham Sunderland a key member of the Tsaar Peter crew.

Francesco Mongelli commented on today's racing: "It was difficult today, the wind was moderating and the tide changing, we managed to pull out a lead on the last mark. Adrian Stead's understanding of the Solent was essential to our success, we kept changing our overall race plan and it helped us."

Another challenging role for this edition of the Gazprom Swan European Regatta has been that of the Royal Yacht Squadron Race Committee. Captain Simon van der Byl, Principal Race Officer for the Gazprom Swan 60 and Swan 45 Worlds has delivered informative daily briefings: "It has been a unique week for us, in 50 years I have never had to race my fleets off Hayling Island to ensure we have sufficient wind. With the land 24°C plus and the sea at 19°C we would expect a solid sea breeze, but this hasn't happened. Today was a navigator's challenge around marks of the Solent allowing them to use their niche skill. The six hour tidal cycle coupled with a tide flow of up to 4 knots off the Squadron presents a difficult scenario for first time visitors."

ClubSwan socialising falls upon the Swan 45 Class this evening for their official Swan 45 Crew Party.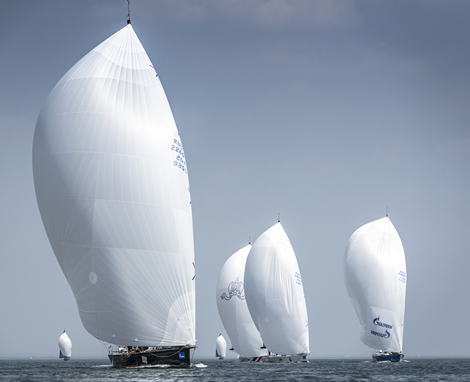 Back to top
Back to top