Leasks on a roll
Leaders of the Gazprom Swan European Regatta, Gazprom Swan 60 World Championship and Swan 45 World Championship 2013 have cemented their pole positions after another day of British heatwave onditions on the Solent. The warm, variable winds from day 3, peaking at just above 10 knots provided the continued calm conditions for two races across all courses. Dropping discards in each class has enabled some of those in first to push further ahead.
For the main Gazprom Swan European Regatta fleet Class A has registered additional strong results by the father son duo of Edward and Magnus Leask. Their Club Swan 42 Magical Mystery Tour now has five firsts and a second on her scoreline. Points are close within Class B, where Swan 411 Accomplice (GBR) is in close combat with the Baum Family's Swan 48 Elan (GER) who moved back up to first place after today. Ray Mitchell, owner of Accomplice commented on the tight point's situation: "It was a tricky day a more consistent breeze would certainly help but we would be happy to settle for a podium position."
Class C has the biggest disparity in results with a 7 point lead for Chris Frost's Swan 36 Finola (GBR). Having a clean score card of six first places Finola is now known as the light wind weapon.

In the competitive Gazprom Swan 60 World Championship, Vladimir Liubomirov Commodore of the Yacht Club of Saint-Petersburg and owner of Swan 60 Bronenosec (RUS) has the edge over Igor Frolov helming Swan 60 Tsaar Peter (BVI). Bronenosec has finished all seven of her races in either first and second place, and sits a comfortable 8 points in the overall lead.
The Gazprom Swan 60 Class is also inspiring a younger team to race big names this year with the German SGM entry taking part in a nationwide project where ambitious young sailors are introduced to the big boat world under the guidance of experienced racers. 20 year old, Kai Becker is an upcoming racer onboard SGM: "I have already learnt a lot this week as we have some pros on the team. This is a big step for me as I am used to racing with 2 or 3 people and on the Swan 60 we have 18 crew".

The Swan 45 World Championship scoreboard remains consistent for the top players. Swan 45 Samantaga (BEL) will really have to put the pressure on first ranked Rientz Bol Swan 45 No Limits (NED) and with two days remaining time is ticking by. Patrick van Heurck from Samantaga said: "No Limits are very fast and I think getting in front of them will be difficult, they are taking the majority of the right options during racing and always end up first".

After racing finished in the Gazprom Swan 60 World Championship fleet the discipline changed to match racing with female Olympic racing stars Ekaterina Skudina (RUS) and Shirley Robertson (GBR) taking the helm. Ekaterina Skudina finished in 4th place at the London 2012 Olympic Games and was Russian Women's Sailor of the Year from 2009-2012. Shirley Robertson OBE living locally in Cowes is a double Olympic gold medallist and took a 2-0 victory today over her younger Russian counterpart. Shirley enjoyed today, "I was slightly nervous about racing Ekaterina as she is an excellent match racer, but I had a great team out there and it was a lot of fun".

ClubSwan members are now in anticipation of the Gazprom Swan European Regatta 2013 Crew Party. With a cloudless sky and balmy evening the open air ClubSwan Regatta Village is the ideal waterside location for all the teams to dance under the stars enjoying live music.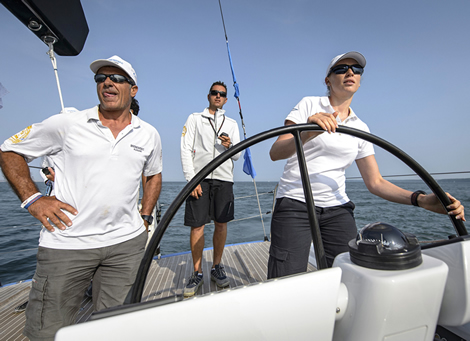 Back to top
Back to top