Gazprom Swan European Regatta underway
The first day of racing at the Gazprom Swan European Regatta saw a delay to wait for the sea breeze during which the Swan owners were able to relax in the ClubSwan Regatta Village, the Solent treated over 500 competitors to a perfect day of racing with 10–12 knots of wind, flat water and the historical back drop of the Royal Yacht Squadron.
Among the Swan fleet a common thread is that many of them are raced by families. With a mix of father and son, father and daughter and whole families afloat enjoying the competition a regatta brings to bear, the atmosphere ashore is inevitably lively and filled with debate and discussion from the days racing.

Tight familial bonds in both business and pleasure on the water have clearly benefited those crews with the first race won in Class A and Class B by family raced Swans. Magical Mystery Tour raced by Edward Leask with his son Magnus on mast took the top position in Class A. Class B was won with equal style by the renowned Baum family. Father Harald helms and son Daniel's job role is bow, Tino (Martin) is in pit while daughter Anna trims. Both families left the youngest generation of grandchildren ashore - judged to be too young to compete... Harald Baum, skipper of the Swan 48 Elan said, "Anna was the best man aboard today bringing in some top results, she understands everything. We had a grandson with us last night at the Opening Reception which was great fun".

The Swan 45 World Championship also featured Rientz Bol and his son Naud finishing the first day in a perfect position to challenge for the World Championship title. At just 13 years old, Maud is the youngest competitor racing this year and will be presented with the Pantaenius Youngest Crew Award at the Crew Party this coming Wednesday. Rientz Bol, skipper of the Swan 45 No Limits, commented, "This is my seventh year racing here, the conditions this week are as if you are in the Med, my son is racing with us for this edition and at 13 this is one of his first times on the race course with us. He however, is not satisfied and says we should have won all of the races today, clearly he is a sailing fanatic! Normally he sails dinghies but it is super for Naud to gain the experience with us and enjoy the fantastic teachers we have on the crew".

Having acted as translator for Valery Golubev, Deputy Chairman of the Gazprom Management Committee at the opening reception at the Royal Yacht Squadron, Polina Liubomirov, daughter of Yacht Club of Saint-Petersburg Commodore, Vladimir Liubomirov, continued to demonstrate her skills racing alongside the Russian team onboard Bronenosec. Sponsored by Gazprom, the Swan 60 Bronenosec with Vladimir Liubomirov at the helm and Adrian Stead on tactics, strategist Tommaso Chieffi and navigator Francesco Mongelli, finished the day leading the Gazprom Swan 60 World Championship. After three races Bronenosec sits one point ahead of Royal Yacht Squadron member, Sir Peter Ogden, on board Knights of Crevichon.
Polina Liubomirov, Swan 60 Bronenosec, enjoys her time afloat with her father, "I feel everyone is equal in this competition and it is never a problem that we are related, there is such a great atmosphere onboard, we are all considered sportsmen. I do a lot of activities with my father and I like having someone who can both teach and help me with a sport."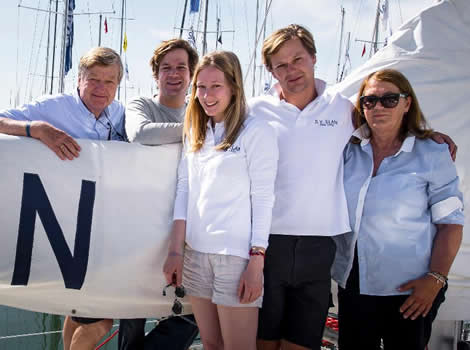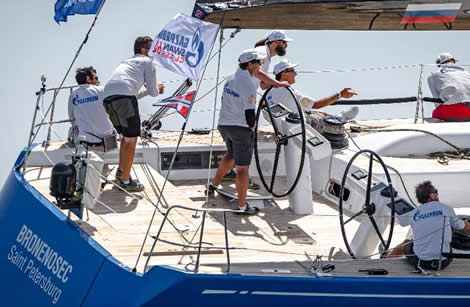 Back to top
Back to top