Magnum 3 IRC National Champion 2013
Race six provided the final twist in the Royal Ocean Racing Club's IRC National Championship. It proved a tense end to a fascinating encounter for the 54 yachts from seven different countries competing.
All classes got away off Gilkicker Point, but a substantial shift in the light breeze was too much to provide fair racing and the race was abandoned shortly after the start.
Several yachts will have been frustrated by the decision, especially Anthony O'Leary's Ker 39 Antix, Tim Thubron's First 40.7 Puma Logic, and Adam Gosling's Corby 36 Yes!. However the wind shift was more than 50° and ending the championship in that manner would have been unfair.
At 1200 the Race Committee put an end to racing for the IRC National Championship and as the gun sounded a big cheer went up from Andrew Pearce's British Ker 40 Magnum 3, which won a highly competitive Class One. Pearce and his crew were all smiles at the prizegiving as Magnum 3 was also crowned overall IRC National Champion 2013.
"Absolutely thrilled - we have had two cracking days of racing," enthused Pearce. "Despite the light weather the wind direction over the two days we raced was consistent and everybody has had a really good time. We are just so very pleased to have won against the best opposition we have ever encountered. The boat and the crew have done so well and in conditions that aren't favourite for a Ker 40. Last year we won our class on the last race, this year to lead from the start and win overall has been a dream come true."
Piet Vroon's Dutch Ker 46 Tonnerre de Breskens was second in IRC One and received the Jackdaw Trophy for second overall under IRC. Magnus Leask's Swan 42 Magical Mystery Tour was third in class.
The battle of the British TP52s went to Johnny Vincent's Pace scoring four wins out of five against Sir Keith Mills' 5°West. "We started this regatta as the underdogs so it has been very satisfying to win," commented Vincent. "We have also seen how well the crew and the boat are performing. No doubt we will be racing against 5°West at Cowes Week next month and we expect just as good competition."
The French flag was proudly flying from Olivier Pesci's Grand Soleil 40 Beelzebuth 3 after winning IRC Two. Former RORC Commodore Peter Rutter racing British Grand Soleil 43 Trustmarque Quokka was second and Adam Gosling's Yes! was third.
"This was our first time at the IRC Championship and we are very happy, the organisation and the sunny weather has been a real joy. We are delighted to have won and proud to represent France at the regatta," commented Olivier Pesci.
James Chalmers' Weymouth crew on board J/35 Bengal Magic scored the lowest net points of any yacht at the regatta and was crowned IRC National Champion for IRC Three. Last year's overall winner David Franks' JPK10.10 Strait Dealer was second in class just half a point ahead of Peter Morton's Lymington-based Corby 33 Salvo.
"It has come as a complete surprise to win our class!" commented an ecstatic James Chalmers. "We have been racing against some well sailed boats but now and again everything clicks together and that has been the case this weekend. We are absolutely thrilled to be national champions. I have just spent a fortune with Spinlock, so I am delighted to hear that we will be receiving some prizes from them, as well!"
National Champion in IRC Four was awarded to Nick and Adam Munday racing J/97 Induljence, who won three of the five races sailed. Richard Sparrow's J/92 Who's to No and Michael Kershaw's Half Tonner Chimp tied on points but second place was awarded to Who's to No on countback.
A packed crowd attended the RORC IRC National Championship prizegiving where class winners were awarded with RORC decanters and event sponsor Spinlock, represented by James Hall, provided Spinlock Deckvest LITE liejackets, Deckpacks and Kneepads as prizes.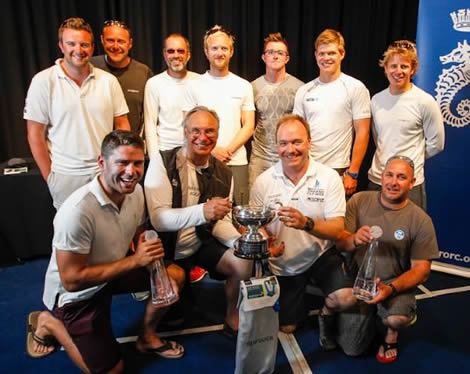 Back to top
Back to top