Winning streak continues for Pace
Saturday July 6th 2013, Author:
Louay Habib
, Location: none selected
The RORC IRC Nationals fleet took another day trip to Portsmouth for their second day of racing with Hayling Shoal chosen as the combat zone. With five races now completed, the cream is starting to rise in the five classes competing. Day two was another light winds 3ith the wind speed barely reaching 10 knots,affair with the 54 strong fleet being led once again to the best sailing grounds available.
Some yachts were over eager with several general recalls and a number were called OCS. Only two of the scheduled three races were sailed today, however the race management team was roundly applauded for getting in two good races despite the difficult weather conditions.
In IRC Zero Johnny Vincent's TP52 Pace had a perfect scoreline winning both of today's races by a handsome margin from Sir Keith Mills' TP52 5°West. "I have to say Pace is definitely quicker in the light than 5°West," admitted Pace's navigator Luke McCarthy. "Also our crew work was slicker today and our new fast drop system was working very well."
In IRC One Andrew Pearce's Ker 40 Magnum III has retained the class lead, despite failing to win either of today's races. Jeff Blue's Farr 45 Espresso Martini got a cracking start and got the right side of a wind shift to win the first race of the day. The last race of the day went to Piet Vroon's Dutch Ker 46 Tonnerre de Breskens. "I would give the crew 11 out of 10 today," smiled Vroon. "We got two great starts but it is difficult to make up our time handicap in these conditions but I couldn't have asked any more of the crew today."
Magnus Leask's Swan 42 Magical Mystery Tour had a great day on the water scoring two podium finishes to move up to third in class.
In IRC Two Olivier Pesci's French Grand Soleil 40 Beelzebuth 3 leads the class after five races. "Beelzebuth is a heavy boat and difficult to race in light winds but the crew did well today especially at mark roundings keeping the momentum going," commented Pesci.
Peter Rutter's Grand Soleil 43 Trustmarque Quokka has moved up to second in class while Adam Gosling's Corby 36 Yes! slips a place to third. There were wins today for Richard and Paul Harris' Sydney 36 Tanit and Andrew Christie's J/111 Icarus.
In IRC Three J/35 Bengal Magic's fantastic championship continued. James Chalmers and his crew from Weymouth scored a win and a second place today to lead the class and have the lowest net points score overall for the entire fleet. Reigning RORC IRC National Champion, David Franks' JPK 10.10 Strait Dealer won the first race of the day and placed third in Race 5 to move up to second place by just half a point from Peter Morton's Corby 33 Salvo.
"We have put in a lot of preparation for this event," commented James Chalmers, skipper of Bengal Tiger. "We are proud to say we are a Weymouth boat and would love to take the silverware back to Dorset but we will have to see how things go tomorrow."
Nick and Adam Munday's J/97 Induljence had a perfect scoreline this morning, but the Hamble-based crew was OCS in today's first race an error that cost them dearly. However, Induljence is still leading the class but discarding an eighth place means one more slip up will see them move down the leaderboard. Tied on points for second place are Richard Sparrow's J/97 Who's To No and Michael Kershaw's Half Tonner Chimp. Alex Eagleton's Half Tonner Chia Chia is just a point behind in third.
"My son Adam put in a lot of hard work getting Induljence race prepped and we have all been sailing through the cold winter months to enjoy this weekend's beautiful sunny weather," commented Nick Adams. "We are delighted to be doing so well and it really is all down to preparation but we still have one more day to go."
Results
| | | | | | | | | | | | |
| --- | --- | --- | --- | --- | --- | --- | --- | --- | --- | --- | --- |
| Pos | Sail No | Boat | Type | Owner | TCC | R1 | R2 | R3 | R4 | R5 | Tot |
| | | | | | | | | | | | |
| | | IRC 0 | | | | | | | | | |
| 1 | GBR528R | Pace | TP 52 | Johnny Vincent | 1.372 | 1 | 1 | 2 | 1 | 1 | 4 |
| 2 | GBR1851 | 5 West | TP 52 | TeamOrigin LLP | 1.381 | 2 | 2 | 1 | 2 | 2 | 7 |
| 3 | GER6365 | Shakti | Rogers 46 | C Avenarius & G Gondesen | 1.278 | 3 | 3 | 3 | 3 | 3 | 12 |
| | | | | | | | | | | | |
| | | IRC 1 | | | | | | | | | |
| 1 | GBR39R | Magnum III | Ker 40 | Andrew Pearce | 1.192 | 1 | 1 | 2 | 4 | 2 | 6 |
| 2 | NED46 | Tonnerre de Breskens 3 | Ker 46 | Piet Vroon | 1.272 | 9 | 4 | 1 | 2 | 1 | 8 |
| 3 | GBR42L | Magical Mystery Tour | Swan 42 | Magnus Leask | 1.165 | 7 | 2 | 12 | 3 | 3 | 15 |
| 4 | GBR9160T | Espresso Martini | Farr 45 | Jeffrey Blue | 1.217 | 3 | 13 | 6 | 1 | 8 | 18 |
| 5 | GBR5940R | Tokoloshe | King 40 | Michael Bartholomew | 1.12 | 2 | 7 | 3 | 7 | 6 | 18 |
| 6 | NED40010 | Baraka GP | Ker 40 | Harmen J de Graaf | 1.194 | 11 | 3 | 9.5 | 9 | 5 | 26.5 |
| 7 | IRL3939 | Antix | Ker 39 | Anthony O'Leary | 1.136 | 6 | 9 | 7 | 6 | 9 | 28 |
| 8 | GBR9181R | Chaos | Mills 43 Custom | Mark Lloyd | 1.172 | 12 | 6 | 4 | 14 | 7 | 29 |
| 9 | IRL39000 | Zero II | Mills 39 | Cowes Race School | 1.11 | 4 | 5 | 9.5 | 11 | 12 | 29.5 |
| 10 | GBR8888N | Cobra | King 40 | Seb Blair | 1.118 | 8 | 10 | 5 | 15 | 11 | 34 |
| 11 | GBR741R | Hooligan VII | Ker 40 | Edward Broadway | 1.193 | 10 | 8 | 11 | 8 | 10 | 36 |
| 12 | GBR5955T | Kolga | Farr 45 | British Keelboat Academy | 1.215 | 15 | 18 | 8 | 10 | 4 | 37 |
| 13 | GBR1513L | Il Corvo | Grand Soleil 43 | Astrid De Vin | 1.109 | 5 | 12 | 13 | 13 | 14 | 43 |
| 14 | GBR45R | Wisc | Swan 45 | Glynn Williams | 1.179 | 17 | 11 | 15 | 5 | 13 | 44 |
| 15 | GBR8448R | Rebel | Farr 45 | Stewart Whitehead | 1.218 | 13 | 16 | 18 | 12 | 15 | 56 |
| 16 | BEL4701 | Moana | First 47.7 | François Goubau | 1.109 | 14 | 14 | 14 | 17 | 17 | 59 |
| 17 | GBR236R | Erivale III | Ker 39 | Michael Greville | 1.115 | 16 | 15 | 16 | 16 | 16 | 63 |
| | | | | | | | | | | | |
| | | IRC2 | | | | | | | | | |
| 1 | FRA5040 | Beelzebuth 3 | Grand Soleil 40 | Olivier Pesci | 1.063 | 5 | 1 | 1 | 5 | 2 | 9 |
| 2 | GBR2215L | Trustmarque Quokka 8 | Grand Soleil 43 | Peter Rutter | 1.097 | 3 | 2 | 5 | 3 | 9 | 13 |
| 3 | GBR4863R | Yes! | Corby 36 | Adam Gosling | 1.068 | 1 | 5 | 2 | 7 | 7 | 15 |
| 4 | GBR1111X | Jitterbug | J/111 | Cornel Riklin | 1.094 | 12 | 3 | 4 | 4 | 8 | 19 |
| 5 | GBR731T | Tanit | Sydney 36 | Paul and Richard Harris | 1.054 | 6.5 | 4 | 11 | 1 | 8 | 19.5 |
| 6 | GBR3213L | Dusty P | First 40 | Richard Patrick | 1.08 | 2 | 7 | 6 | 10 | 6 | 21 |
| 7 | GBR42N | La Réponse | First 40 | Andrew McIrvine | 1.086 | 4 | 8 | 3 | 6 | 11 | 21 |
| 8 | GBR4070L | Incognito | First 40.7 | Paul McNamara & Tony Lowe | 1.052 | 6.5 | 13 | 12 | 2 | 3 | 23.5 |
| 9 | GBR60R | Jeronimo | J/133 | Jackie and Robert Dobson | 1.098 | 11 | 9 | 8 | 8 | 4 | 29 |
| 10 | GBR1010L | Xinska | X 40 | Bernard Olesinski | 1.06 | 8 | 6 | 9 | 9 | 10 | 32 |
| 11 | GBR7383R | Puma Logic | Reflex 38 | Sailing Logic | 1.065 | 10 | 10 | 7 | 11 | 12 | 38 |
| 12 | GBR7404R | Interceptor | First 40.7 | Stuart Wilkie | 1.055 | 9 | 11 | 10 | 12 | 16 | 42 |
| 13 | GBR8711R | Icarus | J/111 | Andrew Christie | 1.092 | 16 | 16 | 16 | 16 | 1 | 49 |
| 14 | GBR7207T | Playing Around | First 40.7 | Nick Rawbone | 1.057 | 13 | 12 | 13 | 13 | 16 | 51 |
| 15 | GBR1602R | Parallel Blue | First 40.7 | Ivan Snell | 1.057 | 14 | 16 | 14 | 14 | 14 | 56 |
| | | | | | | | | | | | |
| | | IRC3 | | | | | | | | | |
| 1 | IRL725 | Bengal Magic | J/35 | James Chalmers | 1.015 | 1.5 | 4 | 1 | 2 | 1 | 5.5 |
| 2 | GBR1250N | Strait Dealer | JPK 1010 | David Franks | 1.012 | 3 | 1 | 5 | 1 | 3 | 8 |
| 3 | GBR73R | Salvo | Corby 33 | Peter Morton | 1.038 | 1.5 | 2 | 3 | 3 | 2 | 8.5 |
| 4 | FRA38902 | Raging Bee | JPK 10.10 | Louis-marie Dussere | 1.009 | 4 | 3 | 2 | 5 | 4 | 13 |
| 5 | GBR1405R | Elaine | Elan 37 | Mike Bridges | 1.009 | 5 | 5 | 6 | 4 | 5 | 19 |
| 6 | BEL3537 | Tontin | A 35 | Wouter Borghijs | 1.03 | 6 | 6 | 4 | 6 | 6 | 22 |
| 7 | IRL29832 | Aztec | A 35 | Julian Tickner | 1.034 | 7 | 7 | 8 | 7 | 7 | 28 |
| 8 | GBR3047L | Niftydrifter | Dufour 40 Performance | Jessica Bowden | 1.023 | 9 | 8 | 7 | 8 | 8 | 31 |
| | | | | | | | | | | | |
| | | IRC4 | | | | | | | | | |
| 1 | GBR1497R | Induljence | J/97 | Nick & Adam Munday | 0.978 | 1 | 1 | 1 | 8 | 3 | 6 |
| 2 | GBR9250R | Who's To No | J/92 | Richard Sparrow | 0.976 | 3 | 2 | 3 | 5 | 4 | 12 |
| 3 | GBR5261 | Chimp | Half Tonner | Michael Kershaw | 0.93 | 2 | 3 | 4 | 3 | 8 | 12 |
| 4 | GBR584 | Chia Chia | Half Ton Welbourn | Alex Eagleton | 0.943 | 8 | 7 | 2 | 2 | 2 | 13 |
| 5 | GBR2697R | Jiggery Pokery | J/97 | Charles Ivill | 0.975 | 6 | 5 | 7 | 4 | 5 | 20 |
| 6 | GBR581R | Antix | X 302 | John Allen | 0.929 | 5 | 6 | 6 | 6 | 7 | 23 |
| 7 | GBR50R | Espada | Quarter Tonner | Louise Morton | 0.905 | 12 | 12 | 12 | 1 | 1 | 26 |
| 8 | GBR6733R | Black Diamond | Figaro Solo | Mark Brown & Justin Leese | 0.966 | 9 | 4 | 8 | 9 | 6 | 27 |
| 9 | NED118 | Winsome | S&S 41 | Harry Heijst | 0.988 | 4 | 9 | 5 | 12 | 11 | 29 |
| 10 | NED317 | Cisne | Swan 43 | David Collins | 0.981 | 7 | 8 | 10 | 7 | 9 | 31 |
| 11 | GBR3033L | Wild Child | Corby 30 | Brian Wilkinson | 0.985 | 10 | 10 | 9 | 10 | 10 | 39 |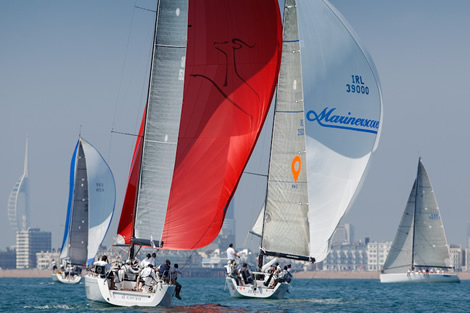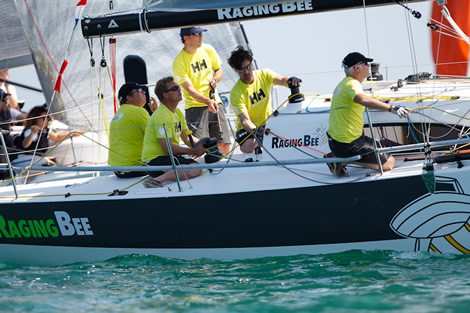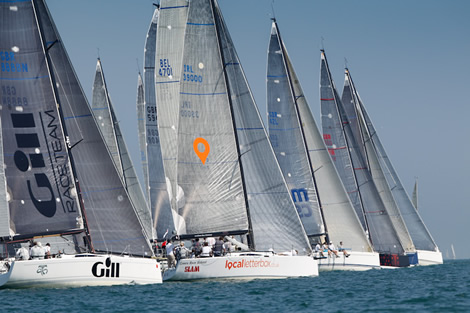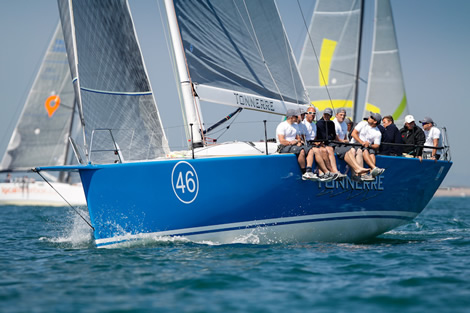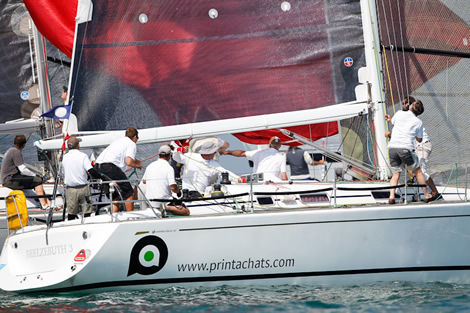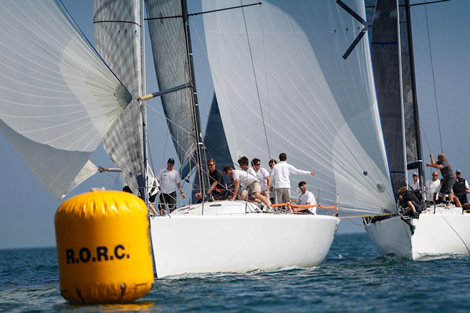 Back to top
Back to top