Cracking pace
The RORC's IRC National Championship opened in style with three challenging windward-leewards. With virtually no wind forecast for the central Solent, as well as tidal and depth issues, the Race Committee decided to take the fleet east in search of a decent breeze and the result was a magnificent day on the water.
The racing in IRC Zero was incredibly close: Johnny Vincent's TP52 Pace took the first race by just two seconds on corrected time and the second race also went in Pace's favour by just 11 seconds after time correction. Sir Keith Mills' TP52, 5°West, fought back to take the last race of the day to narrow the margin. however after three races Pace leads the big boat class by a single point ahead of 5°West.
"It was a brave call to send us nine miles to the east, past Horse Sand Fort, but it was the correct decision," confirmed Jeremy Robinson, tactician on Pace. "The breeze filled in nicely and the RORC did a good job; we wouldn't have got three good races in if we had stayed in the central Solent. We are pleased with our overall performance but we didn't sail perfectly today. After racing we talked about how we can improve tomorrow but it is always encouraging to finish the day at the top of the class."
In IRC One, reigning class champion, Andrew Pearce's Ker 40 Magnum III, put in a spectacular performance scoring two bullets and a second place to secure pole position in a highly competitive class. Piet Vroon's Ker 46 Tonnerre de Breskens is second with Michael Bartholomew's King 40 Tokoloshe third.
"Thrilled!" exclaimed Magnum III's Andrew Pearce of his day. "This is by far and away the most competitive racing we have done and, in a wind speed that is probably our weakest area, I am absolutely gobsmacked by our results. Our boat speed was the key today, we have developed a new No.1 and it gave us that extra horsepower. The crew were magnificent today, probably best typified by a gybe peel in the first race, it could have been a recipe for disaster but the guys executed a perfect manoeuvre."
Olivier Pesci's Grand Soleil 40 Beelzebuth 3 is top of the leaderboard in IRC Two, but the day did not start well for the team from Brittany, scoring a fifth place in race one. However Beelzebuth 3 came back strongly, scoring two wins to finish the first day in style. Adam Gosling's newly acquired Corby 36 Yes! is just a point behind the leader with Peter Rutter's Grand Soleil 43 Trustmarque Quokka very much in contention in third.
In IRC Three James Chalmers' J/35 Bengal Magic and Peter Morton's Corby 33 Salvo could not be separated in the first race of the day, scoring a tie after time correction. After three races, Bengal Magic leads Salvo by just a point to top the class. Reigning RORC IRC National Champion, David Franks' JPK 10.10 Strait Dealer scored one race win today and lies in third place.
The top performer of the day was Nick and Adam Munday's J/97 Induljence, which scored three straight wins in IRC Four. In light airs getting a good start and into clear air was the telling factor and Induljence started every race with great anticipation. Richard Sparrow's J/92 Who's to No is second but only on countback from Michael Kershaw's Half Tonner Chimp.
Similar conditions are forecast for the second day of the RORC IRC National Championship and, shortly after racing was concluded on the first day, the Race Committee announced a postponement of two hours in the hope of more wind by tomorrow afternoon. Light airs racing is mentally very tiring and the postponement was welcomed unanimously by the crews of the 54 yachts racing at the RORC IRC National Championship.
Results:
| | | | | | | | | | |
| --- | --- | --- | --- | --- | --- | --- | --- | --- | --- |
| Pos | Sail No | Boat | Type | Owner | Handicap | R1 | R2 | R3 | Net |
| | | | | | | | | | |
| | | IRC Zero | | | | | | | |
| 1 | GBR528R | Pace | TP 52 | Johnny Vincent | 1.372 | 1 | 1 | 2 | 2 |
| 2 | GBR1851 | 5 West | TP 52 | TeamOrigin LLP | 1.381 | 2 | 2 | 1 | 3 |
| 3 | GER6365 | Shakti | Rogers 46 | C Avenarius & G Gondesen | 1.278 | 3 | 3 | 3 | 6 |
| | | | | | | | | | |
| | | IRC One | | | | | | | |
| 1 | GBR39R | Magnum III | Ker 40 | Andrew Pearce | 1.192 | 1 | 1 | 2 | 2 |
| 2 | NED46 | Tonnerre de Breskens 3 | Ker 46 | Piet Vroon | 1.272 | 9 | 4 | 1 | 5 |
| 3 | GBR5940R | Tokoloshe | King 40 | Michael Bartholomew | 1.12 | 2 | 7 | 3 | 5 |
| 4 | GBR42L | Magical Mystery Tour | Swan 42 | Magnus Leask | 1.165 | 7 | 2 | 12 | 9 |
| 5 | GBR9160T | Espresso Martini | Farr 45 | Jeffrey Blue | 1.217 | 3 | 13 | 6 | 9 |
| 6 | IRL39000 | Zero II | Mills 39 | Cowes Race School | 1.11 | 4 | 5 | 9.5 | 9 |
| 7 | GBR9181R | Chaos | Mills 43 Custom | Mark Lloyd | 1.172 | 12 | 6 | 4 | 10 |
| 8 | NED40010 | Baraka GP | Ker 40 | Harmen J de Graaf | 1.194 | 11 | 3 | 9.5 | 12.5 |
| 9 | GBR8888N | Cobra | King 40 | Seb Blair | 1.118 | 8 | 10 | 5 | 13 |
| 10 | IRL3939 | Antix | Ker 39 | Anthony O'Leary | 1.136 | 6 | 9 | 7 | 13 |
| 11 | GBR1513L | Il Corvo | Grand Soleil 43 | Astrid De Vin | 1.109 | 5 | 12 | 13 | 17 |
| 12 | GBR741R | Hooligan VII | Ker 40 | Edward Broadway | 1.193 | 10 | 8 | 11 | 18 |
| 13 | GBR5955T | Kolga | Farr 45 | British Keelboat Academy | 1.215 | 15 | 18 | 8 | 23 |
| 14 | GBR45R | Wisc | Swan 45 | Glynn Williams | 1.179 | 17 | 11 | 15 | 26 |
| 15 | BEL4701 | Moana | First 47.7 | François Goubau | 1.109 | 14 | 14 | 14 | 28 |
| 16 | GBR8448R | Rebel | Farr 45 | Stewart Whitehead | 1.218 | 13 | 16 | 18 | 29 |
| 17 | GBR236R | Erivale III | Ker 39 | Michael Greville | 1.115 | 16 | 15 | 16 | 31 |
| | | | | | | | | | |
| | | IRC Two | | | | | | | |
| 1 | FRA5040 | Beelzebuth 3 | Grand Soleil 40 | Olivier Pesci | 1.063 | 5 | 1 | 1 | 2 |
| 2 | GBR4863R | Yes! | Corby 36 | Adam Gosling | 1.068 | 1 | 5 | 2 | 3 |
| 3 | GBR2215L | Trustmarque Quokka 8 | Grand Soleil 43 | Peter Rutter | 1.097 | 3 | 2 | 5 | 5 |
| 4 | GBR42N | La Réponse | First 40 | Andrew McIrvine | 1.086 | 4 | 8 | 3 | 7 |
| 5 | GBR1111X | Jitterbug | J/111 | Cornel Riklin | 1.094 | 12 | 3 | 4 | 7 |
| 6 | GBR3213L | Dusty P | First 40 | Richard Patrick | 1.08 | 2 | 7 | 6 | 8 |
| 7 | GBR731T | Tanit | Sydney 36 | Paul and Richard Harris | 1.054 | 6.5 | 4 | 11 | 10.5 |
| 8 | GBR1010L | Xinska | X 40 | Bernard Olesinski | 1.06 | 8 | 6 | 9 | 14 |
| 9 | GBR7383R | Puma Logic | Reflex 38 | Sailing Logic | 1.065 | 10 | 10 | 7 | 17 |
| 10 | GBR60R | Jeronimo | J/133 | Jackie and Robert Dobson | 1.098 | 11 | 9 | 8 | 17 |
| 11 | GBR4070L | Incognito | First 40.7 | Paul McNamara & Tony Lowe | 1.052 | 6.5 | 13 | 12 | 18.5 |
| 12 | GBR7404R | Interceptor | First 40.7 | Stuart Wilkie | 1.055 | 9 | 11 | 10 | 19 |
| 13 | GBR7207T | Playing Around | First 40.7 | Nick Rawbone | 1.057 | 13 | 12 | 13 | 25 |
| 14 | GBR1602R | Parallel Blue | First 40.7 | Ivan Snell | 1.057 | 14 | 16 | 14 | 28 |
| 15 | GBR8711R | Icarus | J/111 | Andrew Christie | 1.092 | 16 | 16 | 16 | 32 |
| | | | | | | | | | |
| | | IRC Three | | | | | | | |
| 1 | IRL725 | Bengal Magic | J/35 | James Chalmers | 1.015 | 1.5 | 4 | 1 | 2.5 |
| 2 | GBR73R | Salvo | Corby 33 | Peter Morton | 1.038 | 1.5 | 2 | 3 | 3.5 |
| 3 | GBR1250N | Strait Dealer | JPK 1010 | David Franks | 1.012 | 3 | 1 | 5 | 4 |
| 4 | FRA38902 | Raging Bee | JPK 10.10 | Louis-marie Dussere | 1.009 | 4 | 3 | 2 | 5 |
| 5 | BEL3537 | Tontin | A 35 | Wouter Borghijs | 1.03 | 6 | 6 | 4 | 10 |
| 6 | GBR1405R | Elaine | Elan 37 | Mike Bridges | 1.009 | 5 | 5 | 6 | 10 |
| 7 | IRL29832 | Aztec | A 35 | Julian Tickner | 1.034 | 7 | 7 | 8 | 14 |
| 8 | GBR3047L | Niftydrifter | Dufour 40 Performance | Jessica Bowden | 1.023 | 9 | 8 | 7 | 15 |
| | | | | | | | | | |
| | | IRC Four | | | | | | | |
| 1 | GBR1497R | Induljence | J/97 | Nick & Adam Munday | 2 | 1 | 1 | | 1 |
| 2 | GBR9250R | Who's To No | J/92 | Richard Sparrow | 5 | 2 | 3 | | 3 |
| 3 | GBR5261 | Chimp | Half Tonner | Michael Kershaw | 5 | 3 | 4 | | 2 |
| 4 | GBR584 | Chia Chia | Half Ton Welbourn | Alex Eagleton | 9 | 7 | 2 | | 8 |
| 5 | NED118 | Winsome | S&S 41 | Harry Heijst | 9 | 9 | 5 | | 4 |
| 6 | GBR581R | Antix | X 302 | John Allen | 11 | 6 | 6 | | 5 |
| 7 | GBR2697R | Jiggery Pokery | J/97 | Charles Ivill | 11 | 5 | 7 | | 6 |
| 8 | GBR6733R | Black Diamond | Figaro Solo | Mark Brown & Justin Leese | 12 | 4 | 8 | | 9 |
| 9 | NED317 | Cisne | Swan 43 | David Collins | 15 | 8 | 10 | | 7 |
| 10 | GBR3033L | Wild Child | Corby 30 | Brian Wilkinson | 19 | 10 | 9 | | 10 |
| 11 | GBR50R | Espada | Quarter Tonner | Louise Morton | 24 | 12 | 12 | | 12 |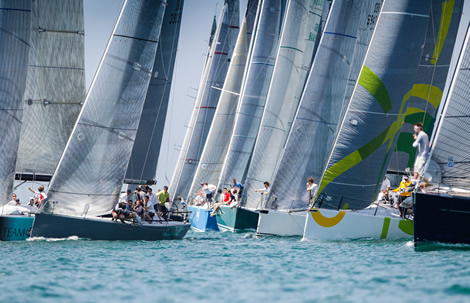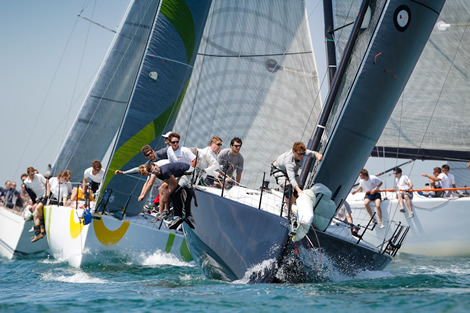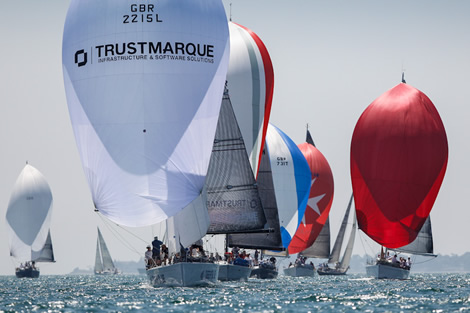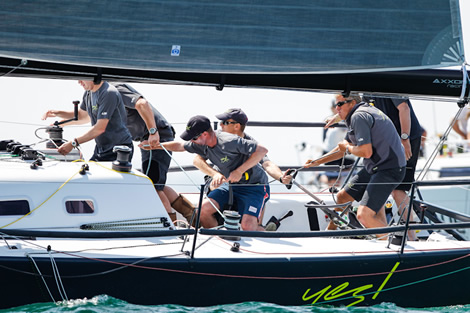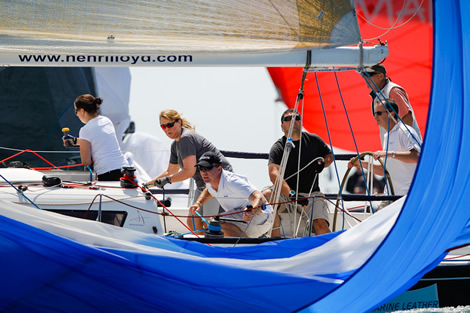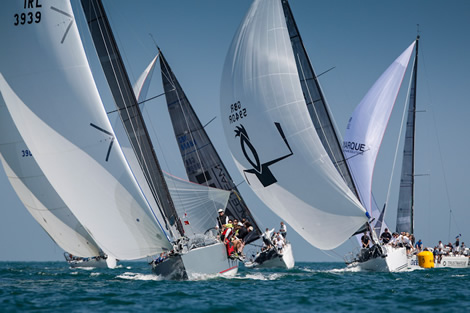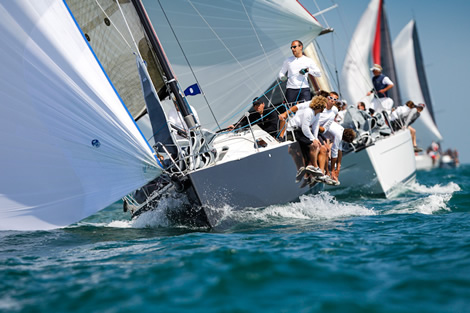 Back to top
Back to top