Team Aqua on fire
The wind kicked in at the RC44 Sweden Cup in Marstrand for the third day of racing, with conditions not dissimilar to The Solent it was the British boats that excelled. Aegir Racing, Nika and Synergy all won races, but an excellent and consistent day from Team Aqua took her to the top of the leaderboard at the halfway stage of the RC44 Sweden Cup, Team Aegir's top performance moved them into second overall and day one leaders, Peninsula Petroleum, slipped back to third.
After a general recall the fleet got away in a building 14 knot southerly breeze. The 12 strong fleet split in two up the first beat, as they converged as one at the top mark, it was the boats favouring the left who had the advantage. Massimo Barranco and Flavio Favini on board Team Italia, rounded first closely followed by Brian Benjamin's Aegir Racing. With the breeze increasing the British team took the advantage, Team Italia gybed inside Aegir at the leeward gate but were unable to get the overlap. Aegir's tactician Ian Williams, who knows these waters well having match raced in the Match Race Sweden on many occasions, defended well for the rest of the race to finish just ahead of the Italians. Team Aqua recovered from seventh to third and Artemis Racing slotted in a sixth after trailing the fleet for much of the race.
By the start of race two the breeze had steadily increased to 16-18 knots with puffs over 20. Katusha were called over early at the start. After another close beat the first three round the windward mark were Team Nika, Aegir and Team Aqua. Nika took advantage of some clear air and proved they have good speed extending their lead to over 200 metres by the finish line. Chris Bake's experienced Team Aqua passed Aegir to take second. Brian Benjamin's team hung on to post their second top three result of the day.
For the final race of the day, conditions remained unchanged, 16-18 knots of breeze and big swell. At the top mark Aleph Racing led from Team Italia which rounded overlapped with Synergy. The Russian team gybed early and tactician Ed Baird chose the favoured leeward gate to head right up the next beat, Aqua followed. Synergy took control to win the race. Team Aqua proved the most consistent team of the day, scoring 3,2,2, to giving them a six-point lead over fellow Brits, Aegir Racing, whose 1,3,4 scoreline moves them up into second overall on equal points with day one leaders Peninsula Petroleum.
On a day where the conditions tested the teams, Team Aqua tactician Cameron Appleton revealed even the most experienced of team's were challenged. "We knew it would be tricky with the breeze building and the waves confused. Chris [Bake] had a good day on the helm; the crew did an excellent job of keeping the boat consistent. We got away unscathed damage wise today considering the conditions, but for sure you have to push hard and if you make one small mistake it can be disastrous. I think a couple of boats blew up shoots because of that. We had a small wipe out on the last run of the last race and we were lucky not to blow our shoot, but you have to push and be on the edge, but if you cross the line it can go bad."
RC44 Sweden Cup fleet race results (after six races)

1. Team Aqua 11 3 1 3 2 2 – 22
2. Aegir Racing 6 6 8 1 3 4 – 28
3. Peninsula Petroleum Sailing Team 2 2 7 7 5 5 – 28
4. Synergy Russian Sailing Team 7 4 2 12 4 1 – 30
5. Artemis Racing 3 1 9 6 8 6 – 33
6. Team Italia 1 9 6 2 10 8 – 36
7. Aleph Racing 8 10 3 5 12 3 – 41
8. Katusha 12 5 5 4 9 9 – 44
9. Team Nika 5 7 10 10 1 12 – 45
10. Ironbound 9 12 4 8 6 7 – 46
11. Bronenosec Sailing Team 4 8 12 9 11 10 – 54
12. RUS7 Sail Racing Team 10 11 11 11 7 11 – 61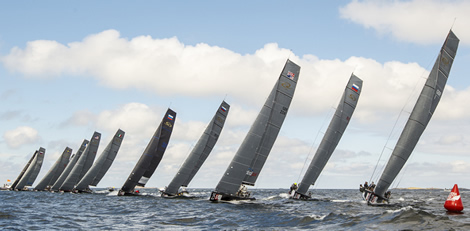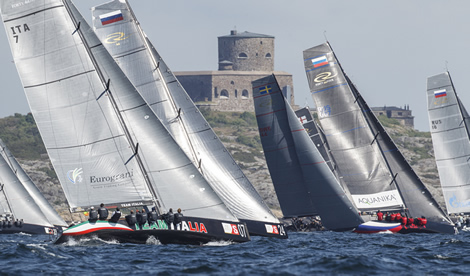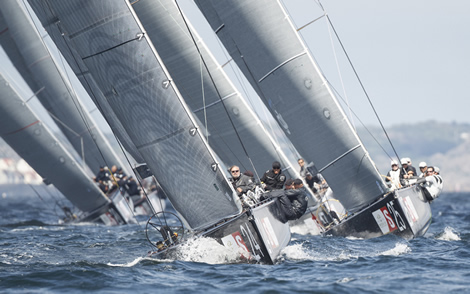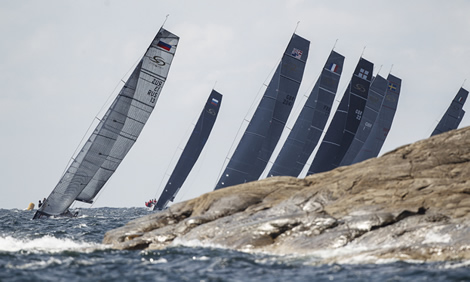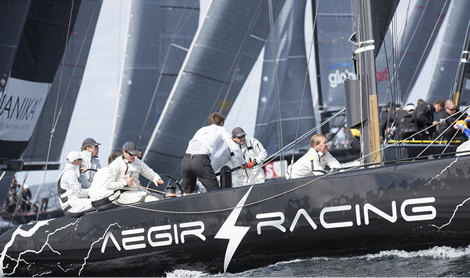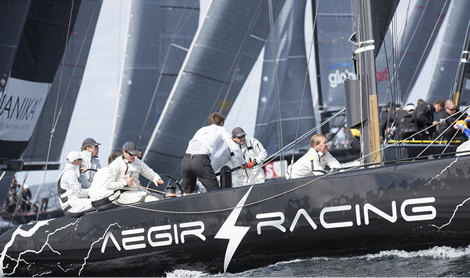 Back to top
Back to top