Fantastica eases into the lead
Another unpredictable day of competition in Portoferraio included more light and tricky breeze, with three races leaving Lanfranco Cirillo's Fantastica first, and overnight leader, Roberto Tomasini Grinover on Robertissima second, both with an equal 27 points each. Vincenzo Onorato's Mascalzone Latino stands firm six points behind in third. This event is clearly still up for grabs.

Andrea Ferrari and his all-amateur crew on Spirit of Nerina took to an early lead in the first race of the day, followed by Japan's Keisuke Suzuki on Swing and Edoardo Lupi's Torpyone in third. Ferrari led the fleet through the gate and soon after, the course was shortened to finish at the second weather mark with Ferrari winning his first ever race in the Melges 32 class.

With the breeze holding steady, the second race got underway with Edoardo Pavesio's Fra Martina ahead at the top marked, but chased aggressively by Onorato. Pavesio went on to win, ultimately holding off Mascalzone with Cirillo third.

A hard-fought victory in race five came for Cirillo, taking him from eighth to first overall. Playing the right side for best pressure, he took control at the first windward mark, while Deneen Demourkas on Groovederci followed in second, while Ferrari was back in the action rounding third. Demourkas won the gate, but speed was on Cirillo's side. Back upwind, Cirillo regained the lead at the final weathermark of the race, Naofumi Kamei's Mamma Auto! moved up for second while Demourkas slid backwards to third. Cirillo won, Kamei had a great race to finish second. Andrea Pozzi's Bombarda found a podium spot to take third.

Competition in Portoferraio continues on Sunday with the final three races of the scheduled eight set to complete.
Full results here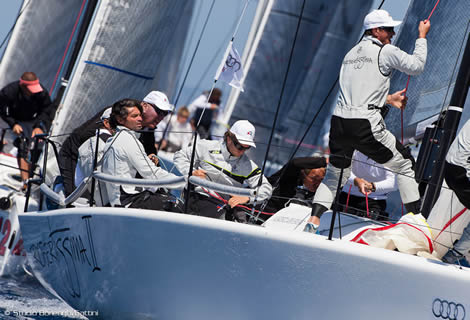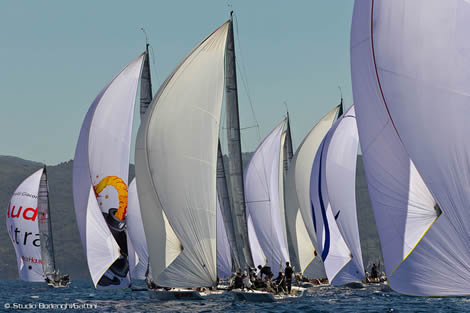 Back to top
Back to top