Another recruit for the Extreme Sailing Series
The Extreme Sailing Series is to be joined at its next events in Istanbul, Turkey and Porto, Portugal by ROFF Cascais Sailing Team.
The Portugese team becomes the second from the Red Bull Youth America's Cup to announce its participation in as many weeks alongside the Swiss crew on Team Tilt. They both join Will Tiller's crew on board GAC Pindar, that is also taking part in the AC45 event on San Francisco Bay next September.
The participation of the new team, sponsored by ROFF, the Municipality of Cascais and the Municipality of Lisbon, will boost the fleet to nine boats in Istanbul with a home nation invitational team to be announced next week prior to the event's start on 20 June.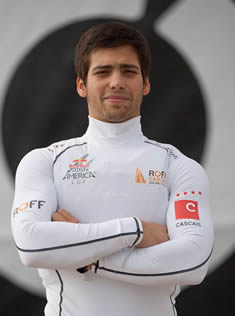 Skipper António Mello and his crew first stepped on board a catamaran earlier this year and quickly made a considerable impression when they qualified to compete in the Red Bull Youth America's Cup.
Mello admits his team's biggest challenge will be getting used to the tight 'stadium style' race course synonymous with the Extreme 40 circuit: "We will take each event one at a time and try to improve as much as we can in the tight racing with a lot of boats. It is a very competitive class, with the best sailors from around the world. Our main goal is to feel comfortable in racing multihulls. The Extreme Sailing Series will be very good training for us and we will learn a lot with the most experienced multihull sailors."
Mello is joined by his regular all Portuguese ROFF Cascais Sailing Team crew including the man in the driving seat, Bernardo Freitas, who represented Portugal in the 49er Skiff at the London 2012 Olympic Games where he finished eighth. João Mello will be the team's mainsail trimmer, Ricardo Schedel on headsail, João Matos Rosa on the bow while both Paulo Manso and Manuel Cunha will act as reserve crew.
The Extreme Sailing Series Istanbul takes place over 20-23 June where the fleet will race from the banks of Istanbul's old town, before entering the second half of the 2013 Series and heading to Porto, and the compact course on the Douro river over 25-28 July.
Back to top
Back to top