Trio tied at the top
Lake Constance remained well behaved for day two of Match Race Germany, the opening event of the 2013 Alpari World Match Racing Tour. A light sub-10 knot northwesterly blowing down the lake allowed Rudi Magg's race management team to hold eight flights, leaving all 12 teams having sailed nine races of this Qualifying stage of the event.
The closeness of the competition off Langenargen is evident from the fact that at the close of play today the top three teams remain tied on seven points, all having lost two races. Among these heavyweights, Ian Williams' GAC Pindar team today beat France's Mathieu Richard and his newly christened GEFCO Match Racing Team, while US Virgin Islander Taylor Canfield and his USone crew beat Richard. Canfield and Williams have to wait until tomorrow before they lock horns.
Equally at the bottom of the leaderboard the two German teams - National Match Racing Champions Sven Erick Horsch/NRV Match Race Team and Laser ace Philip Buhl's STG/NRV Youth Team, respectively on zero and one wins - look set to be packing their bags and heading home tomorrow.
"It was another very good day for us," said Mathieu Richard. "We came from behind several times - we overtook Swinton, Berntsson, Morvan, Robertson." And these passes occurred on different parts of the race course. Particularly intense was the French derby with Pierre Antoine Morvan's Vannes Agglo Sailing Team, where a lengthy dial-up at the top mark saw Richard take off down the run ahead, to lead for the rest of the race.
However one of the two races Richard lost was to his old foe Ian Williams, whose sponsor, GAC Pindar, by coincidence is an international shipping and logistics company, as is Richard's new sponsor, GEFCO.
Williams got the better of his opponent at the start after the French team picked up a penalty for being in the wrong during a dial-down that resulted in a collision. "We got a penalty on the start against us, but we managed to get ahead on the first beat and had a good lead on the first run," said Richard. But his lead wasn't large enough to carry out his penalty, so he had to wait to engage his rival in an attempt to offset it instead. In attempting this Williams got the better of him, overtook and from there it was a comfortable run home for the GAC Pindar team.
It has been a slow start to Match Race Germany for former America's Cup helmsman, Karol Jablonski, but today he claimed some big scalps, including that of Ian Williams. Still to face the two German competitors, the Pole remains very much in the hunt.
Williams explained his match with Jablonski: "We got ourselves into a tangle on the start. We went to try and roll over the top and we didn't quite make it. So he started ahead of us and did a nice job of defending around the course."
There was another collision involving New Zealander Adam Minoprio's Team Alpari FX, this time with Swede Bjorn Hansen and his Mekonomen Sailing Team. In this Hansen was deemed to be in the wrong and at a subsequent hearing was deducted a 0.5 point.
"It was in the pre-start, in the dial up," explained Hansen. "We were on starboard and tried to bear off and get in front of him, but he managed to come all the way down before our boat started to turn, so our stern touched his bow and we got the penalty."
In Langenargen today, as an ambassador of adidas, was German match racing legend, Jochen Schuemann, a double America's Cup winner with Alinghi and owner of four Olympic medals, three (two golds and a silver) match racing in the Soling class.
Schuemann reckons the last time he competed at Match Race Germany was a decade ago with Alinghi. As to the modern day Alpari World Match Racing Tour, he says: "Still the best match racers are here. Match racing is a great discipline in sailing, very helpful as a training tool for every sailor because all the action is compressed - sailing the boat fast, making the right manoeuvres, having a good start - into a short time, under the permanent influence of a strong opponent. It is a great sport with a lot of emotions. And it is really good fun."
Racing continues at Match Race Germany tomorrow with the final four flights of the qualification series. The winner of this – at present Mathieu Richard is looking favourite - will graduate directly to the semi-finals, while the next six head for the quarter finals. With the on-set of the weekend, large crowds are expected at the sizable race village.
Results after Qualifying Round 2
Taylor Canfield (ISV) USone Sailing Team 7-2
Ian Williams (GBR) Team GAC Pindar 7-2
Mathieu Richard (FRA) GEFCO Match Racing Team 7-2
Björn Hansen (SWE) Mekonomen Sailing Team 5.5-3
Phil Robertson (NZL) WAKA Racing 5-4
Johnie Berntsson (SWE) Stena Sailing Team 5-4
Pierre-Antoine Morvan (FRA) Vannes Agglo Sailing Team 4-5
Keith Swinton (AUS) Black Swan Racing 4-5
Karol Jablonski (GER) Jablonski Sailing Team 4-5
Adam Minoprio (NZL) Team Alpari FX 4-5
Philip Buhl (GER) STG/NRV Youth Team 1-8
Sven Erick-Horsch (GER) NRV Match Race Team 0-9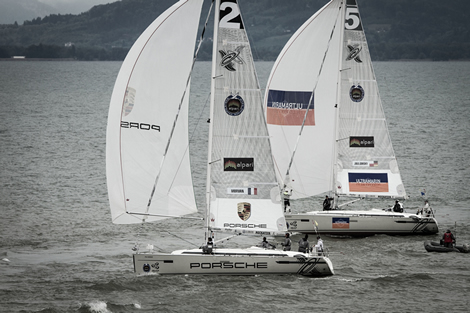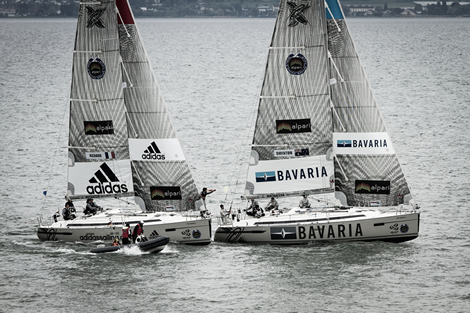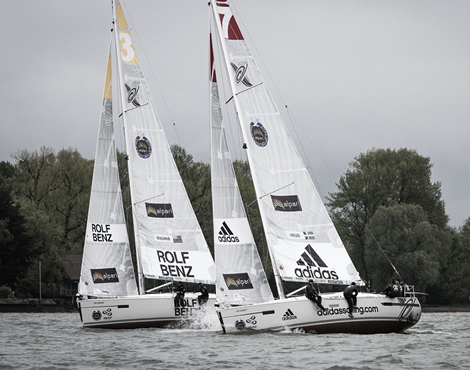 Back to top
Back to top