America's Cup tragedy
Swedish America's Cup Challenger, Artemis Racing has confirmed the death of strategist Andrew 'Bart' Simpson today in San Francisco.
Simpson, the British double Olympic Star medallist, was one of the 11-man crew aboard Artemis Racing's AC72 catamaran when she capsized at 12:30-13:00 PT during training on San Francisco Bay.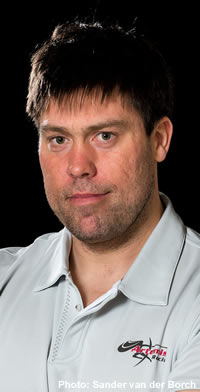 While all the other crewmembers were accounted for, Simpson was trapped underneath the boat. He was recovered but despite attempts to revive him by doctors afloat and subsequently ashore, his life was lost.
"The entire Artemis Racing team is devastated by what happened," said CEO Paul Cayard. "Our heart felt condolences are with Andrew's wife and family."
Later in a statement Cayard added: " Normal 0 false false false EN-GB X-NONE X-NONE MicrosoftInternetExplorer4 Our prayers are with Andrew Simpson's family, his wife and kids and with the rest of his teammates. It is a shocking experience ot go through and we have a lot to deal with in the next few days in terms of assuring everyone's well being. So the boat itsle fis under control but it is certainly not the first of our concerns. We are focused on the people. That is what we're working with an on."
And Torbjörn Törnqvist, Chairman of Artemis Racing, released the statement: "Our thoughts are with Andrew's family, who suffered a tragic loss yesterday—of a son, a father, and a husband. As our friend and teammate, Andrew "Bart" Simpson was central to Artemis Racing, both in the course of racing and our lives. His presence and personality was a binding force and he will be missed. Right now, the primary focus of Artemis Racing is on the well-being of our team members and their families, and the America's Cup competition will remain second to that."
The team has since said that it will conduct a thorough analysis and review of this accident and will be looking at how the risks inherent to such competitive sailing can be limited in the future for the safety of the team and all competitors in the sailing community.
Andrew Simpson, 36, was a very well liked and much admired pillar of the Olympic sailing community and a long term member of Team GBR.
He was a contemporary and best friend of Ben Ainslie and Iain Percy, whom he followed through the British Laser and Finn squads (his immense CV dates back to the Laser Europeans in Hayling Island in 1994).
He moved from the Laser into the Finn for the Athens cycle at the same time as Ben Ainslie. Finally he got to have his own long overdue crack at Olympic glory teaming up with Iain Percy, as crew on the British Star boat for Beijing 2008. Percy and Simpson returned home from China with Star gold. This performance they were heavily touted to repeat at London 2012, and were in good shape to do so, comfortably leading going into the medal race, finally losing it by just two point to the Swedish crew, taking silver in its place.
With Iain Percy signing on to the afterguard of Torbjorn Tornqvist's Artemis Racing America's Cup challenge, Andrew Simpson looked set to stay at home lost London 2012 with his young family, wife Leah and son Freddie. He had just set up a business with his brother in law making composite furniture. However in the night of the long knives that saw Terry Hutchinson ousted at the end of November, and with Iain Percy being bumped up to Sailing Team Director, so it was perhaps inevitable that Simpson would follow his friend and sailing companion out to San Francisco, becoming strategist with the team, a role he has previously fulfilled with TeamOrigin (he had also been tactician for +39 during the 32nd America's Cup.)
At present it is unclear why the capsize of Artemis' first AC72 occurred, however video of the upturned hull shows that the port hull has broken clean off just forward of the rudder/aft beam attachment.
Two other as yet un-named crewmembers were also injured in the capsize.
It is also unclear as yet if this will have any lasting consequence for Artemis Racing. Hopefully there will be some form of investigation to establish exactly what happened, if Simpson's inability to get out from beneath the upturned platform was due to his being unconscious or injured during the capsize or if he was just not carrying a knife with which to cut his way through the trampoline.
We're still in a state of shock over this, having had correspondence with Bart as recently as March over the prospect of the Star returning for Rio 2016.
And so British Olympic sailing losses another of its great sons following John Merricks and Glyn Charles.
John Derbyshire, RYA Performance Director shared his opinion of Simpson's loss: "We're devastated by the news from San Francisco today. Andrew is someone I've worked closely with since the age of 16 – he was a great talent, and a key figure in our World Class Programme over many years culminating in his well-deserved Olympic success. He was a huge inspiration to others, both within the British Sailing Team and across the nation and our deepest sympathies go out to his family at this terrible time."
Stephen Park, RYA Olympic Manager added: "Andrew was a fantastic sailor who got the best out of everyone he sailed with. He was much loved and will be sorely missed by everyone in our close knit team. Our thoughts today are with Andrew's family."
A statement from Oracle Team USA read: ""Today is a sad day for all of us in the sailing community. Andrew Simpson was a great person, a terrific sailor, and a good friend to all of our team. Our thoughts are with his family and the entire Artemis team. He will be dearly missed."
There's video of the upturned hull of Artemis Racing here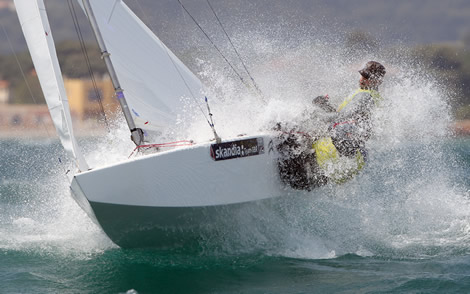 Back to top
Back to top