Russian victory
The first SB20 class Grand Slam event of the season was held this weekend in Hyeres, France.
Three days of racing were scheduled over 3-5 May. A quality fleet representing seven nations arrived to warm sunny 22°C - a welcome change for sailors from our rather cool spring in the UK.
Day one was sailed in a building sea breeze that increased from 12 knots at the start of race one to 22 knots at the end of race four. The first three races were dominated by John Pollard's Xcellent from Royal Torbay Yacht Club, starting well, crossing the fleet and heading hard right. Pollard's team had the speed and strategy to stay ahead.
SB20 Class President Ed Russo sailing for France and the new Russian team of Kirill Frolov, were also fairing well in brand new Sportsboat World boats.
By the fourth race the breeze had built and the fleet was enjoying fast downwind planing conditions. Pollard again led to the windward mark, however gybe sets from Helena Lucas, Jean-Baptiste Bernaz and Jerry Hill took them into the top three places at the bottom mark with Hill finally getting through to first place by the end of the race.
Saturday was a bit hazier and lighter and it looked clear that the sea breeze was unlikely to settle. Instead after a short delay the Race Officer managed to get in three races in 5 knots of patchy shifty breeze. The Brits of Pollard and Hill struggled to find the best way up the first beats in all three races, however Kirill/Frolov and Russo clearly had a much better handle on the conditions, Kirill winning the first two races and Russo scoring a top three in each race.
With no racing on Sunday, as the breeze was even more unsteady and rarely reaching three knots the fleet headed back into port with the Russian team of Kirril/Frolov helmed by Alexey Murashkin winning on countback from Ed Russo, John Pollard was left in third place.
The Russian team were popular winners and this win bodes well for a packed season for this new team. Helena Lucas in her first event picked up the Clarins sponsored prize for first Lady helm/crew team finishing in fifth place, and Michel Boussard's team from Monaco picked up the Masters prize.
With some lively evenings in Bar Sax, the fleet had a really enjoyable event. Many of the competitors now will move on to the next Grand Slam at Malcesine on Lake Garda where 40 boats are expected to compete at the end of May.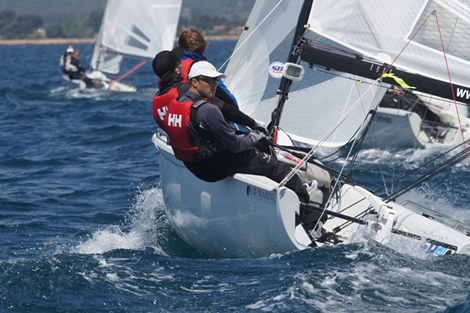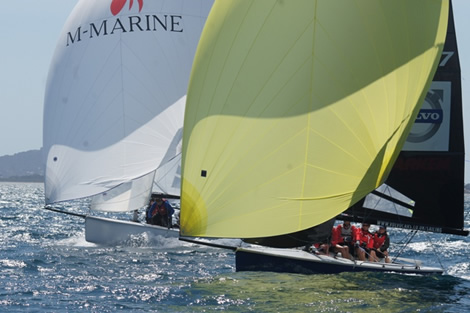 Back to top
Back to top