Three brand new cats, six teams and a chocolate box setting
Grand prix catamaran racing comes to Lake Traunsee, Austria next week (8-12 May) with the much anticipated debut of The Great Cup, star turn at Allianz Traunsee Week.
The Great Cup is being sailed in brand new, state of the art GC32 catamarans, designed by Martin Fischer and built in Dubai by Premier Composites. Competing at this inaugural event of The Great Cup will be the first three GC32s built (a fourth is already en route to Europe from the UAE).
For the Lake Traunsee event, the three carbon fibre catamarans will sail under the flags of the Netherlands, Switzerland and Austria and to maximise the number of teams competing, each boat is being allocated two crews, who will alternate.
Thus, Spax Solution Sailing Team from the Netherlands, skippered by creator of The Great Cup, Amsterdam-based Frenchman Laurent Lenne, and whose four man crew includes Aussie catamaran ace Andrew Macpherson and Swedish Volvo Ocean Race and America's Cup veteran Micke Lundh, will be swapping with another exclusively Dutch crew led by ex-Tornado Olympian Pim Nieuwenhuis. The latter team includes Thijs Visser, who won the new Nacra 17 catamaran class at the Trofeo Princesa Sofia in Palma in March.
From Switzerland, is Olympic Star sailor Flavio Marazzi, whose team will feature Olympic 470 turned Nacra 17 sailor Matías Bühler and young Australian match racer Keith Swinton. The other nominally Swiss team racing on Marazzi's GC32 will be led by former Match Racing World Champion Adam Minoprio, who has among his crew American Hobie Cat ace Andrew Dinsdale.
New Zealander Minoprio admits he will be undergoing a two hulled baptism of fire. "It will be the first cat sailing I've ever done. I am going to be massively under prepared compared to the other guys, but they've got me a top crew who've done a lot of multihull sailing, so they are going to help me out a lot."
Minoprio, who competed in the last Volvo Ocean Race as part of the Emirates Team New Zealand crew aboard Camper, says he is looking forward to The Great Cup: "It is going to be good – it's the first GC32 event, so everything will be pretty relaxed and fun and social. There won't be a huge amount of pressure or expectations. The whole concept of the class looks pretty cool. I am pretty excited to be involved."
Local visitors to Allianz Traunsee Week will be supporting the two AEZ-backed Austrian teams. No catamaran race in Austria is complete without a Hagara and Andreas, elder brother of two time Olympic Tornado gold medallist Roman and himself twice a runner up at the Tornado World Championship, is skippering a boat with an all-Austrian crew, including the experienced Christian Binder. They will be alternating with AEZ Team Austria, the same team of 20-year-olds that in February narrowly missed out on selection for the Red Bull Youth America's Cup.
With three boats, six teams, but with national teams never racing each other, all the crews will have raced each other after six races. The intention is to sail 12 races, or two rounds, per day, provided conditions allow. Races will be simple two lap windward-leewards with a single weather mark and leeward gate. The aim is for races to last no more than 15-20 minutes.
However The Great Cup, when it gets underway next Wednesday, 8 May, will begin with an 'around the lake' race. This will involve the three catamarans sailing from Gmunden, where Allianz Traunsee Week is based, 12km away to Ebensee at the southern end of the lake, and back again, providing competitors with the opportunity to experience the magnificent setting of the snow capped mountain-encircled lake.
But this will be a race with a difference, as The Great Cup's Chief Operating Officer Andrew Macpherson explains: "It will be a relay race, where one team starts and they race to the other end of the lake and then, exactly like a running relay, we'll have an area where they'll do the changeover. It is going to be awesome, particularly as its going to be a Le Mans start off the dock."
While the intention is to have short windward-leeward racing for the remainder of the regatta, from Thursday until Sunday, Macpherson says the format will remain flexible depending on the weather. If the relay race proves to be a hit, they might run it again. Equally if conditions get lively they might attempt some speed runs. "We'll only do that if it is going to work – it is an optional thing."
Through the event a dual scoring system will be running with results for each individual team as well as combined national teams.
More on The Great Cup here
Crew lists:
Austria
AEZ GC32 Racing: Andreas Hagara (AUT), Gerd Habermüller (AUT), Christian Binder (AUT), Peter Steinkogler (AUT)
AEZ GC32 Youth Racing: Alexander Deuring (AUT), Benedikt Höss (AUT), Hanno Sohm (AUT), Max Trippolt (AUT)
Netherlands
Spax Solution Sailing Team: Laurent Lenne (FRA), Andrew Macpherson (AUS), Mikael Lundh (SWE), Olivier Witteveen (NED)
Firefly Team: Pim Nieuwenhuis (NED), Ed van Lierde (NED), Thijs Visser (NED), Mark Van Gelderen (NED)
Switzerland
Marwin Team: Flavio Marazzi (SUI), Mathias Buhler (SUI), Keith Swinton (AUS), Diego Turell (URU)
Team Minoprio: Adam Minoprio (NZL), Andy Dinsdale (USA), Thomas Tschepen (AUT), Diego Stefani (ITA)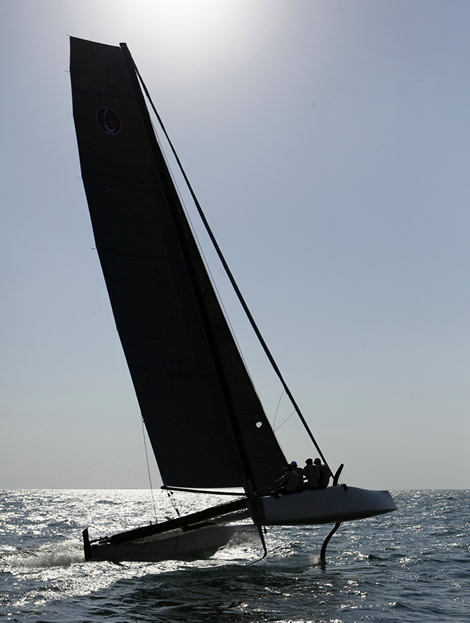 Back to top
Back to top