Jethou and Bella Mente tied
J One, Altair and Jethou lead in the Wally, Maxi and Mini Maxi classes respectively after the first day's racing for the big boats at the Gaastra PalmaVela, organised by the Real Club Náutico de Palma.
After a one hour delay due to the shifting wind, racing started at 13:00 in an 8 knot southeasterly that built to 12 knots during the day. This allowed the three big boat classes to sail two windward-leeward races each of one hour's duration.
Jean Charles Decaux's J One dominated the Wally class winning both races with Thomas Bscher's Open Season and Sir Lindsay Owen-Jones' new WallyCento Magic Carpet 3 tied in second.
Boris Gusev's Swan 90 Altair won both races in the Maxi class where Filip Balcaen Baltic 112 Nilaya is tied with Jean Michel Robert's Virtuelle.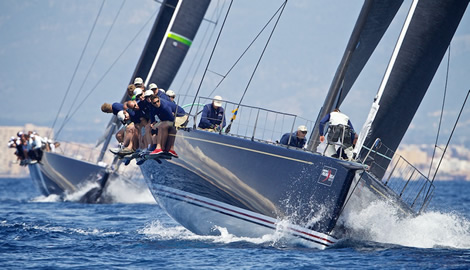 But the tightest competition is of course in the seven boat Mini Maxi class where Sir Peter Ogden's elongated JV60 Jethou (on which the silver fox Brad Butterworth is calling tactics) is tied in first place with American Hap Fauth's JV72 Bella Mente where there is a Mike Sanderson, John Cutler and Ian Moore afterguard, both boats having won a race apiece.
The Soto40s held their official practice race. Four of the South American one designs are competing with Tony Buckingham's Ngoni with a crew featuring former Camper skipper Chris Nicholson and navigator Andrew Cape. "It is only our third day on this boat, and are very pleased," commoned Cape. "We finished second, but have to wait for today's races to see how things will turn up. I hope to enjoy sailing in the Bay of Palma."
The competition starts again tomorrow at 10.00 GMT.
More from Jesus Renedo/www.sailingstock.com

Back to top
Back to top