Return of the forward crossbeam?!
On Sunday in San Francisco, Oracle Team USA rolled the team's new AC72 racing yacht out of the shed to complete tests in advance of this week's launch.
"While we have been racing at the America's Cup World Series in Naples, Italy, the shore and build teams have been putting the finishing touches on our second AC72 here in San Francisco," said General Manager, Grant Simmer. "At the completion of the regatta, we were able to push the new boat out of the shed today and successfully complete a round of load testing. It's a tribute to quality work and dedication of the shore and build teams, together with the input and efforts from the sailing, design and performance teams, to complete the boat on schedule. We're looking forward to the launch this week."
Tests commenced shortly after the America's Cup World Series regatta concluded in Naples, Italy, where Oracle Team USA won the match race and captured the overall ACWS 2012-13 season championship for a second straight year.
"A big day for Oracle Team USA," said skipper Jimmy Spithill. "Tom Slingsby and team won the match racing, and finished second in the fleet racing, meaning OTUSA wins a second consecutive ACWS championship – still the only team to hold the trophy since its inception in 2011. At the same time in San Francisco, the team rolled out our second AC72 and stepped the wing. A huge effort by the designers and shore/build teams. Great to see the depth and talent across the team in action."
PS: As to the supposed forward crossbeam, it looks like it is just on there for the load testing/fitting the bowsprit...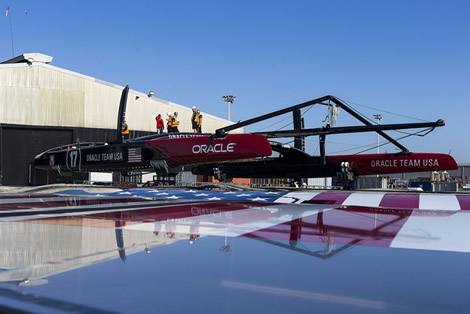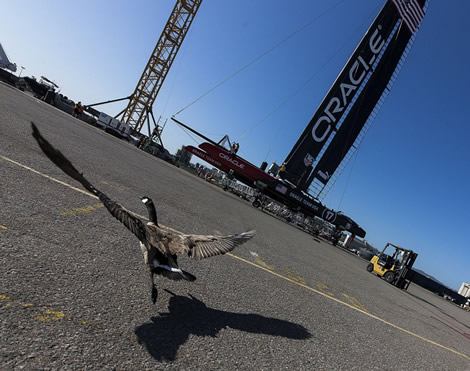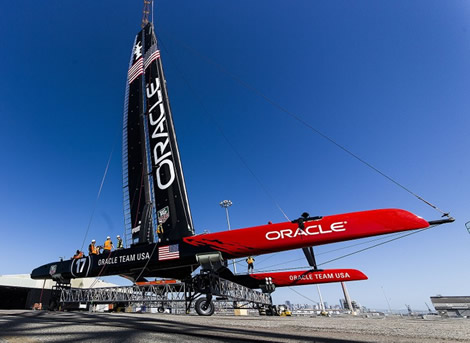 Back to top
Back to top