Recovering from the layday
Well-rested after a layday spent at the beach and enjoying other leisurely pursuits, competitors at Les Voiles de St Barth returned to the race course today.
Despite a forecast that called for rain and increased winds, sunshine and trade winds prevailed, though the breeze was lighter at 12-14 knots. Principal Race Officer Jean Coadou gave the Maxi/Racing, Spinnaker 1,2,3 and Melges 24 classes two races today: counter-clockwise courses of 17 and 14 miles around St Barths. Classics, Non-Spinnaker, and Multihull classes completed one race, a 31 miler around St Barths and all of the nearby islets.
After the initial two days of racing, most of the class leaders had only a slight lead, so the door was open for movement in the rankings. It was an opportunity on which only one boat really managed to capitalise. First-time leader in the highly competitive Spinnaker 1 class was the Swan 53 Music (RSA), which took bullets in both races today and now trails Defiance by one point.
Owner/skipper James Blakemore is originally from Cape Town, South Africa, as is all of his crew. This was Blakemore and Music's first foray in the Caribbean; while the plan had been to compete in just two events - the St. Maarten Heineken Regatta and the Rolex Swan Cup in the BVI - Blakemore decided to do just one more regatta after Music was first in the former and second in the latter.
Before docking out earlier today, Blakemore said: "The courses are really fabulous, and the wind is great. There are some really good downwind legs, with a big swell. You really have to keep on your toes to keep up the boat speed, so helming plays a big part. Technically, I think we have sailed well around the course; we have not had any mishaps, and the crew is very accomplished. We have lost a few seconds here and there, and hopefully we can catch up a bit today."
Blakemore is a supporter of youth sailing and was involved in the South African America's Cup challenger Shosholoza. Among Music's crew are Matthew Whitehead and Dave Shilton, who sailed for the South African team in the recent Red Bull Youth America's Cup selection series in San Francisco. Whitehead was the helmsman for the team on the AC45 catamarans. Though he finished in sixth place, out of contention, Whitehead was upbeat: "It wasn't the result we were looking for, but it was an achievement for our team just to make it to the event. It was an awesome experience."
Leading Spinnaker 1 is Defiance (USA), a Martin 49 chartered by Steve Cucchiaro, an accomplished sailor in his own right, who assembled an all-star crew. Cucchiaro was a two-time All-American Intercollegiate Sailor at MIT and a 470 sailor in the 1980 Olympics. Defiance's crew are friends from all over and include Olympic Gold medalists, national North American champions, and former collegiate all-American sailors.
Dockside before today's racing, Cucchiaro said, "Conditions for this regatta are just as advertised: absolutely fantastic. The race direction and course management have been great, and the competition has been very difficult – we have had to sail our very best. These races today will be shorter, so we have to put an even bigger premium on the start. It will certainly give a chance to the whole fleet to mix it up a bit, and it is great to get the extra racing. I have been told by people who have been to this event before that this has been the toughest competition yet in our class, and there are a lot of really friendly sailors on the other boats, which makes for a really great week."
Jim Swartz' TP52 Vesper (USA) continued her streak of bullets to lead the Maxi/Racing class overall.
Sergio Sagramosa's Lazy Dog (PUR) dropped one race today to Ramanessin (IRE), but still leads by two points.
In the Melges 24 class, it's been the usual back-and-forth battle between Team Island Water World and Budget Marine/Gill.
The Non-Spinnaker class has a mix of experienced sailors and boats that for one reason or another do not have enough crew to manage racing with a spinnaker and all that entails.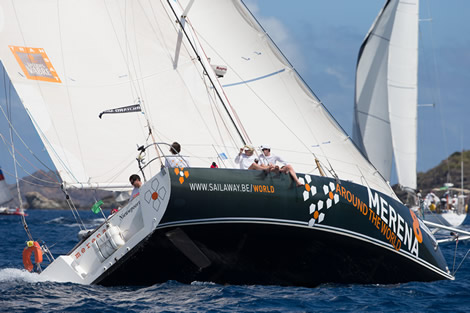 Certainly the Class40 Merena (BEL), owned and skippered by Alexis and Sylvie Guillaume, has enough sea miles under it, but the couple also enjoys sailing with youngsters. They are racing at Les Voiles with friends from Belgium and Guillame's 12- and 14-year old sons and two of their friends' children. Hailing from Brussels, Belgium, the couple has owned their Class40 since it was launched in 2006 as hull #8 of what became a very popular and successful offshore racing class.
For the Guillames, Merena also has proved to be a very capable and comfortable cruising boat. Last year, they sailed from Belgium to Cape Town with the plan to continue around to Australia, but plans changed and they decided to turn around and head back north to Europe, via the Caribbean. With stops in Rio de Janeiro and the island of Martinique, they arrived in St. Barths in time to compete at Les Voiles de St. Barth, joined by friends with which the couple races and cruises.
"New this year, we have the kids on board, and they seem to like the racing very much...that's good news for me!," said Alexis Guillame. "They participate in all of the manoeuvres, pulling the ropes and everything. St Barths is really a place I love. We've been coming here for 15 years. We really like the atmosphere and the fact that everything is cool, easy, and friendly - it's so different from the rest of the Caribbean."
In the Multihull class, Peter Aschenbrenner's 63ft trimaran Paradox (USA) took its third bullet in as many races. The Nigel Irens-designed multihull sped around the 31 mile course in three hours and 26 minutes.
Aschenbrenner, from San Francisco, had Paradox built in France and often has French sailors on board. "The island is beautiful, the beaches are nice, and then there is the French culture," he said. "It is not really like the Caribbean; it is more like a little bit of France in the Caribbean. We get fewer crazy looks here in Saint Barth than on other islands of the Caribbean because the French are so attuned to multihull sailing and have been for decades and they are passionate about sailing. Most of the top multihull sailors are French and so they are way up the curve and see this boat as being normal. Most places you go you are like an alien race!"
Cam Lewis, tactician and navigator onboard, said: "We sailed here on Paradox last year and had a fantastic time. These courses are ideal for multihulls and with the breeze up it is fun. They do a great job with the courses and it is really entertaining. The French, being multihull experts, need to get more boats over for the competition!"
Aschenbrenner and his crew are staying in a villa overlooking the beach at Corossol, with their trimaran anchored below. The villa stay is a prize that event sponsor WIMCO presents to each class winner at Les Voiles de St Barth.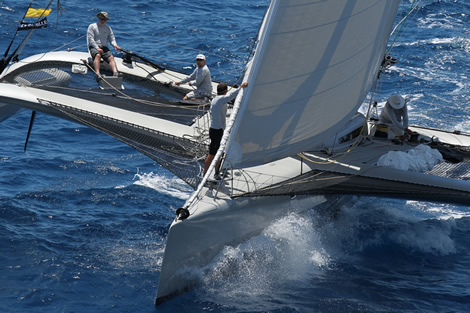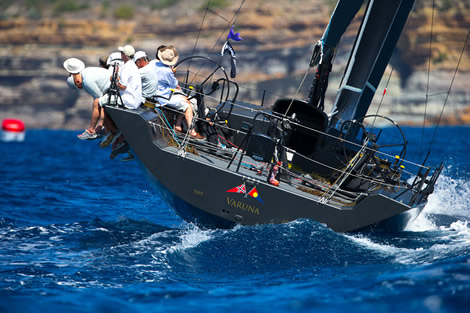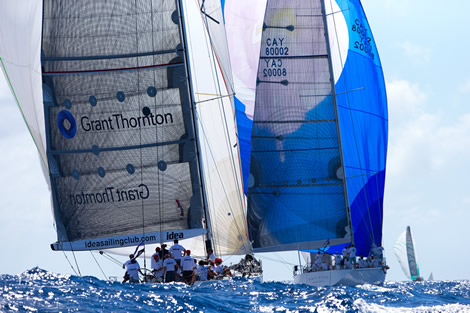 Back to top
Back to top