Adam Minoprio - back in his comfort zone
Friday April 12th 2013, Author:
James Boyd
, Location: none selected
After being initiated into round the world racing through a year long stint as the Emirates Team New Zealand crew's nipper aboard Camper in the last Volvo Ocean Race, Adam Minoprio is now back in his comfort zone. Having won the Alpari World Match Racing Tour in 2009 – at the time he was the youngest skipper ever to do so, aged just 24 - the Kiwi one-on-one specialist returns this season to see if he can prevent Ian Williams and his GAC Pindar team from being the first to ever win the Tour (and the World Championship title) for a fifth time, having last year equalled Peter Gilmour's record of four title wins.
"Since finishing the Volvo I've been looking into where to go with my career," Minoprio told us. "Half way through last season most programs were locked in, so I called all the guys to see if they wanted to do any match racing regattas..."
Minoprio succeeded in getting the band back together and they competed at the Bermuda Gold Cup and Monsoon Cup last autumn. "It was a bit unfortunate in that we didn't get good results, but we had a good time," recalls Minoprio. "It was down to a lack of practice and a bit of bad luck too. In the Monsoon Cup we finished the round robin on six wins which normally guarantees you top eight, but this time the first to ninth place were all on six or seven wins, so there was a massive count back and we popped out of the back of it. If it had gone the other way we would have been second in the Round Robins. But that happens..."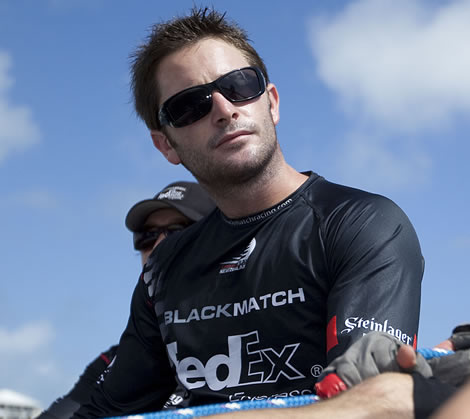 However the two events at the end of last season served to wet Minoprio's appetite. "I thought it would be great doing the Tour again this year, especially with the America's Cup coming to an end and a new cycle starting. If it goes back to monohulls it would be good to be top of the world in the match racing scene again, if that happens..." And that is, of course, a big 'if'. We suspect that a team that wins in flying catamarans is unlikely to want to turn the clock back again...even Grant Dalton.
Minoprio's plans for this season have been made easier by the Tour's sponsor Alpari coming on board to back his team, now called Team Alpari FX. They trialled this arrangement at the Monsoon Cup last year.
For 2013 Alpari is running with 'game changers' as their marketing tag line. They want to push the notion that they are changing the game in their business of Forex trading. Similarly with Minoprio returning to the Tour after a two year absence there is the possibility of his team upturning the applecart and breaking the Ian Williams-GAC Pindar winning streak. And from the start of next season Alpari is about to become the shirt sponsor for West Ham FC (Ian Walker's team...) and with them coming back into the Premier League, they too are set to be 'game changers'. In fact, this season Minoprio and his crew will be wearing black shirts with the same Alpari branding as the Forex trader's football team.
The team Minoprio is sailing with this year is much the same as his Black Match Racing team with whom he won in 2009, including trimmers Tom Powrie and Dave Swete, with Nick Blackman on bow. However they have brought in the added experience of Chris Main as a fifth man when required, on – you guessed it – main sheet. This will be Main's first go on the Tour since his stint with GBR Challenge a decade ago and he'll be fitting events in this year around sailing the Mediterranean Mini Maxi circuit aboard Andres Soriano's new Mills 72, Alegre.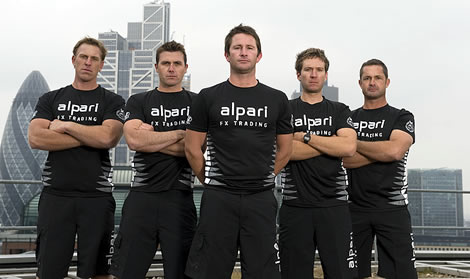 This week Minoprio and the team are over in Long Beach competing at the Congressional Cup, which is effectively a warm-up for the opening event of the 2013 Alpari World Match Racing Tour, Match Race Germany, mid-May.
Minoprio is a Tour Card holder this year, which means his team is automatically invited to all the events (and doesn't have to scrabble around qualifying or scrounging an invite to each, as was the case for all the competitors prior to the Tour Card system being introduced).
The way the eight annual Tour Cards are allocated has also changed in recent years. No more is it a sealed bid system. The top three finishers in a season get automatic invites for the next year, then three others from the top 20 also get them and two wild cards, which we presume is what Minoprio was. To purchase a Tour Card still requires a payment of US$ 55,000 to be made, but Minoprio points out that even the person who finishes eighth (ie last) on the Tour still gets a chunk of annual prize money back at the end of the year, and the winner stands to receive US$ 100,000. And then of course there is additional prize money for each event along the way.
But for the sailors, and in particular those running teams, the Tour Card system has transformed their lives. "The Tour card is about giving some stability to the sailors," says Minoprio. "You can plan your season and know what you are going to do, and it gives us the ability to sell it to a sponsor: 'We have got the Tour card, we are going to do these events, which will be there and there and there and this is what TV will be at those events'."
Tour cards are limited to a maximum of two per nation, and with a particularly strong crop of young Kiwi teams at present, these have this year been limited to Minoprio's crew and that of Phil Robertson. In addition there is Laurie Jury's team and that of Will Tiller, who is now skippering the GAC Pindar Extreme 40 and who has also got himself and his crew a berth in the Red Bull Youth America's Cup.
So how come there are so many good New Zealand match racing teams at present? Partly this is due to the strong youth match racing series that operates between Australia and New Zealand, that has also produced the likes of Torvar Mirsky and Keith Swinton in Australia.
Minoprio also observes that there has been a generation gap in pro-sailing, or specifically the generation who would now be in their 30s just isn't there, particularly in the New Zealand. For example the Emirates Team New Zealand crew are almost entirely in their 40s, the eminent Tony Rey early 50s (but still the fittest of the lot) and all the best known top Kiwi Volvo Ocean Race sailors, like Mike Sanderson, Brad Jackson and Tony Mutter, are also now the wrong side of the big four zero.
"I'm usually the youngest by a long way on all the programs," says Minoprio, now 27. And it is the same for the rest of his crew – Nick Blackman sails on the TP52 Gladiator for example – who also find themselves the youngest on board usually by some 10 years.
"The majority of sailors nowadays are 38 and above. There is a big age gap from people who are 38-40 down to us. I think it is just down to the way sailing has been - there was no space in the world of professional sports when they all tried to get into it," he says of the missing generation, explaining that this was due to those already involved not making enough space for any newbies to get in. "I am lucky that I am young enough that there is a bit of space opening up."
Of course an additional part of the problem more recently is also that the opportunities for pro sailors has dramatically dwindled in part due to the economic downturn. Remember when there were 11 teams and 350 pro-sailors employed in Valencia six-seven years ago, many of whom then graduated on to sail in the 20+ strong fleet of TP52s in 2008? Those days have gone.
And even the Alpari World Match Racing Tour holds a slightly different position to what it once did within international yacht racing. Back in the day it was the proving ground for America's Cup teams. Now the Coutts, Cayards, Spithills, Barkers, etc have all moved on to the America's Cup and now that the fight of the Auld Mug is on two hulls, the Extreme Sailing Series has perhaps taken over as the training ground, the place where Cup teams can get catamaran practice in. For in their preparation for the 34th America's Cup, the priority so far has been for teams trying to get to the stage where they are vaguely proficient in manhandling their airborne 72ft catamaran around the race track. Trying to match race them in any meaningful way hasn't been a luxury afforded to them just yet, with the exception of Luna Rossa and Emirates Team New Zealand's limited amount of sparing in Auckland.
However given that the Louis Vuitton Cup and the America's Cup will be three months solidly of match racing, with the exception of one fleet race on 5 July, one wonders if the Cup teams abandoning the Tour was such a smart move?
Of course, with the America's Cup going twin-hulled, the Alpari World Match Racing Tour, and the World Championship crown that goes to its winner, now represents the pinnacle of monohull match racing. "It is still very tight racing, a tough discipline of sailing," says Minoprio. "I personally enjoy doing it – it is exciting racing, short racing, lots of racing in a day..."
But wonders what would happen if the Coutts, Bairds, Spithills, Barkers, etc did make a return. Would they still be the prize fighters or would their skills be outmoded?
Minoprio believes if they did come back they wouldn't necessarily win straight off. "It would be down to how much training they did and how much funding they had to do a build-up to an event – that would depend on how they went. If Dean [Barker] was to come back to do a match racing event, I'm sure he would be good. If he did a lot of training he could come back and win straight off."
So how much training has Minoprio managed to do prior to this season? Before this week's Congressional Cup, Minoprio and his Alpari team managed a couple of days up against Phil Robertson's crew in Auckland. Otherwise this season it is likely to be the handful of training days that they can shoehorn in before each event.
Like all pro sailors Minoprio has other rides outside of the Tour and this year is expecting to sail on Alessandro Rombelli's Mini Maxi Stig at PalmaVela, Giraglia, Copa del Rey and the Maxi Worlds, (where it looks like he'll be sharing afterguard duties with Paul Goodison) but the other big gig is competing in the Tour de France a la Voile. This event has gone through something of a transformation as it recovers from changing from the Mumm/Farr 30 to the more expensive, larger M34, however this year there are several heavy hitters taking part – with Franck Cammas competing with a Groupama team, while Thomas Coville has a Sodebo team entered on which Minoprio will be sailing.
"Because it is over a whole month they have a big team of 16 or so, so I am only doing a week of it, but it will still be pretty awesome to do."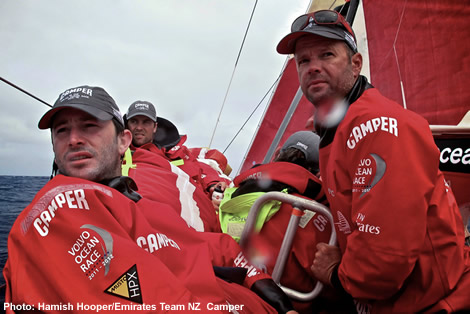 However the big deal of the last couple of years was of course Minoprio's participation in the Volvo Ocean Race aboard Camper. "The Volvo was a fantastic experience, so far one of the greatest experiences of my life, to have sailed around the world," admits Minoprio. " It was an incredible journey with some incredible ups and downs."
An offshore racing rookie, Minoprio survived, despite suffering badly from seasickness. "I got seasick a couple of times in the race, but it was generally the first night out if it was super-rough weather. When we left Auckland it was 50 knots on the wind in some horrific seas, so I had a good spew then. After that no matter how bad the weather got through the leg I was fine. I don't know if it was nerves."
If the occasion arose again then it is likely Minoprio would return to the Volvo Ocean Race. "It would be fantastic to do again, but it depends on the right opportunity."
At present there is not even a rumour about Camper returning for a second crack. Minoprio observes, like Richard Brisius, that there may be few teams at present but some may be starting late to minimise costs: "Last time, Camper only hired the sailors and got them in to work once the boat was in the water. In a campaign wages can make up 60% of the budget."
So not completely an offshore sailor yet? "No, I just like sailing in general. It is not about offshore/inshore or anything, it is about what is right for the time. At the moment the AC isn't even a thought of mine, it is all just happening in these big cats, which is pretty cool to watch. I think I'll be going over there to have a look, but other than that we'll have to watch and wait and see what they want to do. I think it would be pretty awesome to go for a sail on an AC72, foiling you are going along. You can be doing 30-35 knots and you pop up on the foils and you are doing 40 within seconds. It will be a pretty awesome feeling."
But in the short term at least, Minoprio will be trying to make his mark again match racing on one hull.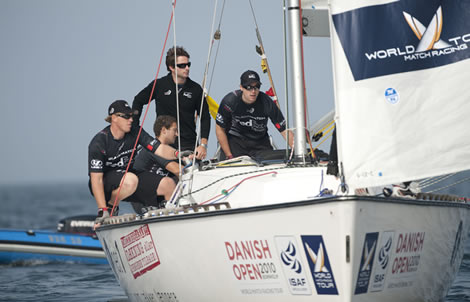 Back to top
Back to top