First Chinese sailor to circumnavigate singlehanded non-stop
After becoming the first Chinese sailor to participate in the Clipper Round the World Race and then with Ian Walker's team aboard Green Dragon in the 2008-9 Volvo Ocean Race, Guo Chuan has succeeded in becoming the first Chinese sailor to circumnavigate the earth non-stop and singlehanded.
Having set off on 18 November 2013 aboard his Akilaria RC2 Qingdao, Chuan arrived back at the Olympic Sailing Centre in Qingdao after finishing at 00:59:06 UTC this morning, making his passage time around the world in a time of 137 days 20 hours 1 minute and 57 seconds.
Soon after Chuan crossed the finish line, he set off flares and waved to the thousands of fans cheering him home, both from on board boats and on the land. Only a few metres short of the pontoon, Chuan jumped into the sea and swam to his wife and two sons, who had been waiting here for his yacht Qingdao's arrival. "In comparison with 137 days, I find the last few hours particularly hard to withstand", said Xiao Li, Chuan's wife.
Amid crowds of people and media, Guo took the central stage and spoke in joy, excitement and tears.
"I'm so on the top of the world. It's such an unbelievable moment. 137 days ago, I wouldn't have imagined I could have a moment like this. It is a moment that could only happen in a dream.
"I want to show my most profound gratitude to my family, my sponsors and my support team. I'd also like to thank the winds that came all the way with me, for their help to propel the boat back home but not for the troubles they made", Guo said in his speech to the cheerful crowd.
Since the 48-year-old sailor left his hometown Qingdao on 18 November 18, the Chinese sailor, now a three time circumnavigator, has rounded Cape Horn and Cape of Good Hope, crossed the Equator twice, and sailed across the Pacific Ocean, the Atlantic Ocean and the Indian Ocean before heading back into the northern hemisphere. Chuan then sailed across the Sund Strait of Indonesia before he crossed the South China Sea and returned to Qingdao eventually.
The adventurer's global route passed through the most dangerous waters on the planet and exceeds 21,600 miles, the benchmark that validates a circumnavigation in accordance with WSSRC rules. His time awaits ratification by the WSSRC and should be announced in the middle of April. Chuan has also set a record for a non-stop circumnavigation singlehanded in Class 40.
"I am extremely happy today," continued Chuan, 47. "I have not seen so many people for such a long time. And today I saw so many, so many relatives, friends, fellow countrymen. I must be the happiest man in the world today.

"It is difficult to describe my feeling at the moment. It is still like a dream, I feel like being in a dream. Sometimes during the journey, I do not know if I could go home. In Cape Horn, when I could not see anything in the wave, I felt it might be too far to go back. Several days ago in Taiwan Strait, I suspected if I could go home with the boat safely. But finally, it is all over.

"I have to say many many thanks to my family, my friends, my sponsors. But I'd like to say 'THANK YOU' to the wind as well. For the whole journey, wind is always accompanying me. It is fighting with me, it is driving me back home."
Dee Caffari, the only woman to have circumnavigated singlehanded in both direction, sent her congratulations to Chuan: "I would like to take this opportunity to congratulate you on your remarkable journey into the history books by becoming the first ever person to sail non-stop around the world in a Class 40.
"The number of firsts you have clocked up in such a short space of time is truly impressive and I hope that you are able to encourage more Chinese into sailing and also get the nation as a whole excited about our sport.
"I have followed your adventure and have loved your honest account of all the trials and tribulations you have faced along the way.
"All that remains for me to do is to raise my hat to you and encourage you to enjoy the accolades that will surely follow and rejoice in this huge sense of achievement.
"Congratulations."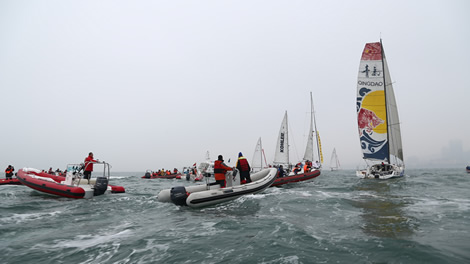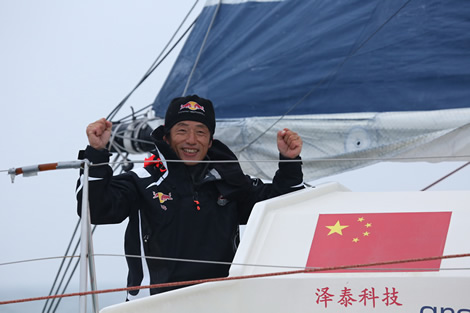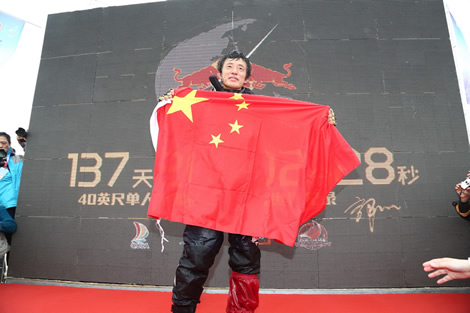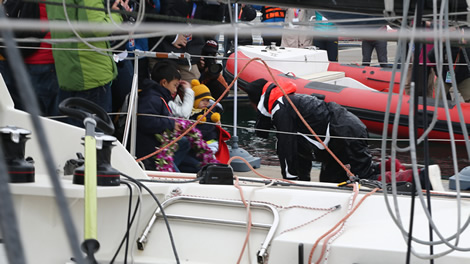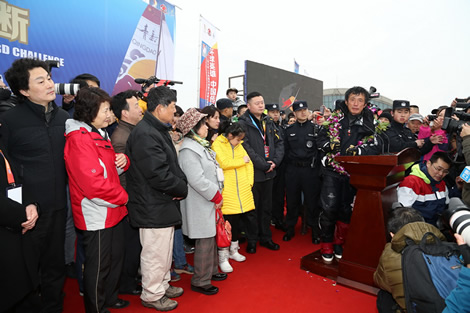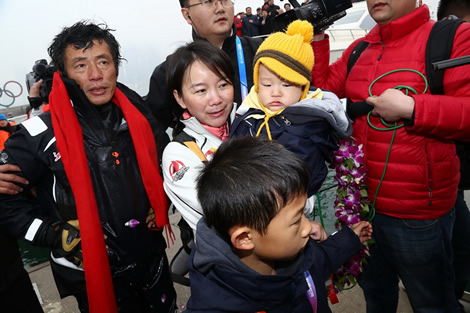 Back to top
Back to top