Brit heavyweights return
For the second event of the 2013 Extreme Sailing Series, British sailing heavyweights Robert Greenhalgh, Andrew Walsh and Rick Peacock are to join the recently announced Team Aberdeen Singapore, skippered by Singaporean Scott Glen Sydney with fellow Singaporean Justin Wong as trimmer.
Aberdeen Asset Management is the Local Partner of the Extreme Sailing Series event to be staged at the world famous Promontory@Marina Bay over 11-14 April.
Team Aberdeen Singapore will race as the invitational team, where local sailors can compete against some of the world's best. Glen, an aspiring Olympic sailor representing Singapore and Asia's highest ranked Laser sailor in the ISAF world rankings, will skipper the boat and also assume the role of tactician whilst Wong, a gold medal winning match racer in the Asian Games, will take on the headsail trimmer position.
Rob Greenhalgh will be on the helm of Team Aberdeen Singapore after he steered the invitational home team, Team Duqm Oman, in Muscat, where he finished fourth.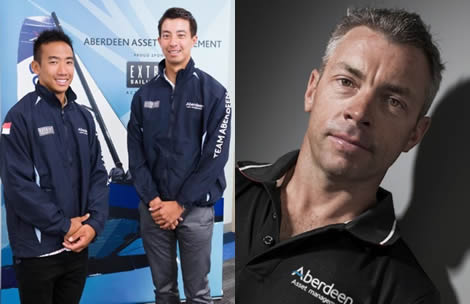 "I'm really looking forward to joining Team Aberdeen Singapore," said Greenhalgh. "The races are a great opportunity to showcase sailing to the Singapore public. With luck, we will have home support, and while it will be a challenge with a new crew in a new venue racing against established world class teams, we promise to put on a good show."
Mainsail trimmer will be seasoned Extreme 40 sailor Andrew Walsh, 31, who has four seasons in the Extreme Sailing Series under his belt. Walsh also sailed with Greenhalgh on Team Duqm Oman in Muscat two weeks ago and the duo will be hoping the consistency on board that will fast track them to success on the Singapore race course. Team GBR 49er Olympic skiff sailor, Rick Peacock, 27, will be the team's bowman, a role he assumed in 2012 aboard GAC Pindar and on the Aberdeen Asset Management-sponsored Extreme 40 in the UK in 2011.
Aberdeen Asset Management Asia Limited Managing Director, Hugh Young, said, "We are delighted to confirm the line-up for Team Aberdeen Singapore. Given our company background, it's wholly appropriate that we have an all Anglo-Singaporean crew. This is exciting for us and I'm sure Singaporeans will quickly identify with our boat once the action starts." Aberdeen Asset Management is providing a three-year sponsorship of the Singapore stopover of the Extreme Sailing Serieswith additional support from Singapore Sports Council.
Eight Extreme 40s will line-up in Singapore for what is expected to be a light wind event held within the confines of Marina Bay over 11-14 April. Fans and spectators will enjoy complimentary access to the Race Village at The Promontory@Marina Bay from 12 April where they can enjoy all-day entertainment, including the return of the NeilPryde Windsurf Racing Series.
Back to top
Back to top