Barking Mad fights back
A three-race day at the Miami Beach Invitational shuffled the fleet like a deck of cards. Struntje Light maintained her lead for the third straight day, but Barking Mad and Enfant Terrible made major moves on Friday as the overall standings scrambled like eggs.
It was a big afternoon for Barking Mad, which stood fifth in the seven-boat fleet after two days of action. Skipper Jim Richardson won the first race then followed with a second and fourth to move up to third overall with 29 points.
"We talked about this being a crucial day of racing and that it was important to put up some strong results," Richardson said. "Our goal was to get close to the lead and give ourselves a chance to win on the last day. It appears that we succeeded."
Barking Mad captured class honours at Quantum Key West in January, but found itself in an unusual position after the opening day of racing here in Miami - last place. Richardson's crew picked up two places on Thursday then really hits its stride on Friday.
"We had a little bit of bum luck the first couple days. We got caught on the wrong end of some shifts," Richardson said. "It has been difficult racing. These conditions are not easy. There are a lot of shifts and they aren't very straight-forward. We started well today, which helped a lot."
In the first race on Friday, held in a 12-15 knot northerly, Barking Mad came off the line in good shape then went hard to the right side of the course. That paid dividends and the three-time world champions rounded the first weather mark in first place. Barking Mad never relinquished that lead, although Flash Gordon 6 made it close at the end.
Enfant Terrible battled with boat speed issues on Wednesday and Thursday, prompting skipper Alberto Rossi and tactician Vasco Vascotto to make some changes to the rig tune. Whatever they did made a difference as the Italian entry won Race 7 then finished third in Race 8 to vault from sixth to fourth in the overall standings.
"We changed something with the trimming from what we had been doing the first two days. We also made changes to the rig because we didn't have it right," Rossi said. "I was pleased because the boat sailed much better today."
Struntje Light finished ahead in the standings for the third straight day, although not without some anxious moments. The German entry had to perform a salvage job in two of Thursday's races to preserve a three-point lead over Plenty.
"That's our new strategy. Fall way behind then come on strong at the end," joked Struntje Light tactician Peter Holmberg. "I would classify today as one of the trickiest I've ever encountered here in Miami. Upwind was very hard to get right. We did a better job downwind and that is what saved the day."
Struntje Light placed fifth in Friday's first race and it appeared the next result would be worse when she rounded the leeward mark in last place. However, the team battled hard on the final two legs to pull back to fourth. It was a similar story, but an even better outcome in Race 8 as Struntje Light rounded the leeward mark in sixth then passed four boats on the last two legs to finish second.
"That's the test of a good team. If you can hang in there when you're not doing well," Holmberg said. "It feels awesome to fight back like that."
It is a typically tight Farr 40 regatta with only 10 points separating the first and fifth place boats. Winds are forecast to lighten a bit on Saturday, but principal race officer Peter 'Luigi' Reggio said there will be no problem getting off two starts to complete the 10-race series. Those top five boats all have a bullet under their belt, so the standings could shuffle some more before all is said and done.
"It's all on going into the final day, as usual in this class," Richardson said.
Based on the close competition so far and the fact results fluctuate wildly from race to race, it is anyone's guess which boat will come out on top. "The boats are so similar in speed and are all sailed so well," Rossi said. "It seems to me that Struntje Light has the best speed, but every boat is capable of winning a race."
Results

1, Struntje Light, Wolgang Schaefer, Germany, 1-2-1-2-7-5-4-2=24
2, Plenty, Alex Roepers, New York, USA, 7-1-3-1-4-4-6-1=27
3, Barking Mad, Jim Richardson, 6-6-4-3-3-1-2-4=29
4, Enfant Terrible, Alberto Rossi, Italy, 4-5-7-5-2-6-1-3=33
5, Flash Gordon 6, Helmut Jahn, Chicago, 3-3-5-6-1-2-7-7=34
6, Charisma, Nico Poons, Monaco, 2-7-2-4-6-7-3-6=37
7, Groovederci, John Demourkas, Santa Barbara, USA, 5-4-6-7-5-3-5-5=40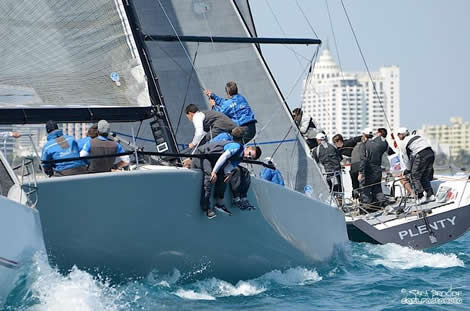 Back to top
Back to top