Penalty shoot-out!
Fledging cat sailors
One of several new crew on the Extreme Sailing Series this year is racing under the familiar colours of GAC Pindar. With Ian Williams and his star-studded crew focussing on becoming the first ever to win the Alpari World Match Racing Tour for a fourth time (the likes of Coutts, Dickson and Gilmour have only won it three times...losers), so William Tiller and his young band of Kiwi match racers are taking over the reins of GAC Pindar Extreme 40 this season.
"It is pretty sweet, it is cool to be here and to be involved with the professional campaign like GAC Pindar," says Tiller of his latest gig.
Tiller's background is as a match racer and while he hasn't to date become a 'Tour card holder' that would get him a regular berth on the Alpari World Match Racing Tour, he and his team have competed in Tour events. Last year these were Korea Match Cup and Match Race France, finishing second in the latter. "This year we hope to get our Tour Card, but it is tough competition. But our biggest goal this year are the catamarans," admits Tiller. He adds, even if they don't get a Tour Card they will still look for opportunities to get entry to Grade 1 match racing events via the wildcard process.
New Zealand remains the most prolific at churning out match racing teams and in addition to Tiller's superbly named Full Metal Jacket Racing, there is Laurie Jury's Kiwi Match Sailing Team, Phil Robertson's Waka Racing while Adam Minoprio is making a come back after his Volvo Ocean Race with Camper/Emirates Team New Zealand. "Even Gavin Brady is coming back!" says Tiller. "I think he is after a Tour Card this year, which will be interesting."
However the big news for Tiller's team is that following the trials in San Francisco last month, Full Metal Jacket Racing has been selected to compete in the Red Bull Youth America's Cup in September. They were part of the first round of trials and come the racing they ended up first on count-back, on equal points with the German team.
But this was not the only criteria on which they were selected: "They gave you an idea of the criteria - 60% on the race results, 20% on your professionalism and 20% on what other sailing you are doing. We feel we performed well in all of the categories they picked on. But they had 10 teams and there was a lot of quality there. We're stoked to get selected," says Tiller.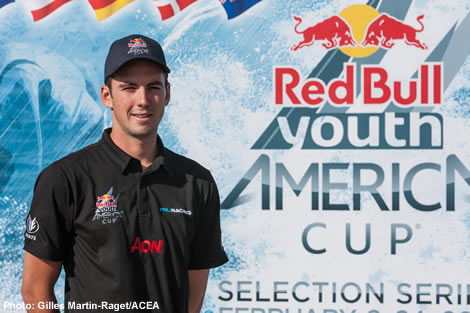 In preparation for this season, Tiller says that after they returned to New Zealand in November last year they ripped into training on catamarans but could only lay their hands on dinghy cats, like F-18s and A-Class.
They were not fortunate enough to be chosen as Emirates Team New Zealand's own squad. "They gave their entry to a Yachting New Zealand entry," says Tiller. "They have got a really strong team and will be hard to beat. We put our team together and most of my guys were named in the Yachting New Zealand squad, but I still managed to get them to come with me!"
The leap up to AC45s was a significant one from the dinghy cats, Tiller admits. "It was hard for the crew work – the runners, etc and the logistics of the crew is pretty hard, but sailing the boat doesn't seem too bad. They are pretty cool. We got some quality coaching there – with Darren Bundock and Sam Newton and Russell Coutts came out one day, plus Kinley Fowler and Kyle Langford and Roman [Hagara and Hans [Pieter Steinacher] obviously. It was a quality week. We learned lots."
In terms of the coaching they received Tiller says that it was fairly low key. "They were more observers, sitting at the back and they let you do what you wanted in training and then they'd just tip in a bit of advice here and there.
"On the first day they showed you how not to capsize. They gave you a rough idea of how to do the crew work, but a lot of the teams had put in their own work and watched a lot of videos, the AC45 World Series and worked it out themselves. The level of the youth sailors is really high and I was surprised at that."
In addition to Tiller's crew, the five teams were selected from the trials were Objective Australia, the STG/NRV Youth Team from Germany, ROFF/Cascais Sailing Team from Portugal and Team Tilt from Switzerland. They will be joined in September by youth crews from existing AC teams with AC45s: Energy Team, Emirates Team New Zealand, Swedish Youth Challenge (supported by Artemis Racing), and the USA45 Racing and American Youth Sailing Force (supported by Oracle Team USA).
In terms of his crew for the Red Bull Youth AC and the Extreme Sailing Series, Tiller has everyone from his match racing line-up apart from his pitman (who's joined the Emirates Team NZ youth AC45 team). They have Brad Farrand on mainsheet, Harry Thurston as trimmer and Shaun Mason on bow. In addition in their squad they also have NZ match racing champion Matt Stevens and Stewart Dodson, son of past Olympian, America's Cup and former North Sail NZ boss, Tom Dodson.
"It feels like it is going alright," says Tiller. In the build-up to the Extreme Sailing Series in Muscat they have been coached by Mark Bulkeley, who at the 11th hour was weaned back to rejoin Team Korea and is currently a man of two polo shirts.
The GAC Pindar team was doing well in practice and were winning a few races. "It doesn't mean that much, but it is good to be up there and to mix it up with the likes of Morgan Larson, who is a top skipper here. We still have lots to learn and we have to steadily improve throughout the event. We'd like to get a podium finish at one of the events."
As to the main isses in coming to terms with the Extreme Sailing Series, Tiller says: "I think getting our crew work sorted will come pretty quickly, but I think the biggest challenges will be getting comfortable driving the boat in all conditions and then also learning the boat on boat situations and how to tactically position yourself in each race to perform well on average. It seems like you can be quite inconsistent, but getting a good average result seems to be the way to win regattas."
The short courses and stadium format are similar in size to those used on the Alpari Match Racing Tour, but there are significant differences in that on the Tour there are typically just two boats racing at any one time "and the match racing boats only do about 6 knots whereas these are doing 20...."
Back to top
Back to top