Emirates Team New Zealand update
We reckon that sailors in the present America's Cup are on about the best gig that has ever been available in sailing. Gone are the 'groundhog day' years of endless and near pointless speed testing on cumbersome version 5 lead mines. Instead modern day Cup sailors are getting to hang out on some of the most cutting edge equipment on the water, truly stepping into the unknown with some of the gear they are using and their on board methodology. They are getting to sail faster than they have ever sailed before and are getting paid top dollar to do so!
While a few months ago few would have bet against the resource rich Oracle Team USA successfully defending the 34th America's Cup, following the US team's costly capsize in October, so Emirates Team New Zealand now seems to be the bookies favourite. The Kiwi team was the first to go foiling in its AC72, has had by far the most time sailing its AC72 and unlike the defender or Artemis Racing (which also lost months thanks to the spontaneous combustion of its first wing), to date has had no major issues with its state of the art flying catamarans (firmly touching wood).
Earlier this month, the Kiwi Cup team was the first (and, to date, the only team) to launch its second generation AC72 and is the only team to be roughly on schedule with the timetable laid out in article 29.2 of the AC34 Protocol.
The team is now into its second wave of testing as permitted by the Protocol (up to 45 days from 1 February to 1 May), although in April, around six weeks from now, they are due to decamp from their Auckland base, bound for San Francisco.
This America's Cup greatly differs from what has gone before in so many ways. For the teams the technologically cutting edge, lighter, more powerful AC72 comes with a far greater risk of major disaster occurring (as Artemis and Oracle can attest) through capsize or severe gear failure, either of which could put a team out of the 34th America's Cup in an instant if not adequately prepared.
For this reason, Emirates Team New Zealand's second boat (technically its second platform – the wing is from the first boat) launched earlier this month includes improvements over the first boat but parts, including major components, are fully interchangeable between the two. Thus if their boat gets written off, they have a fall-back situation.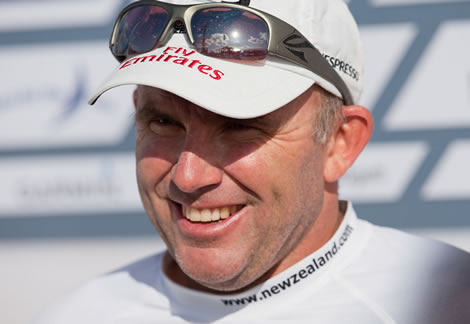 As ETNZ tactician Ray Davies points out: "It's a big Lego set really. It is all a trade-off. In terms of dollars and the time required, we didn't see a big enough gain to make a huge departure from where we were, so we saved a lot using the same moulds."
A second wing is on its way, but the present wing has received much modification. For example the wing initially had a tab on the back of its leading (front) element which has since been removed. Otherwise Davies says the mods have concentrated on the wing's internal control mechanisms "to make it easier to manipulate the twist and camber compared to when we first launched it. So just working out the geometries and what is really required and what horsepower we can put into the hydraulics to control it. We have learned a lot to make it much more usable to get the shapes we want out of it."
Davies adds that thanks to the complexity of the wing (and also due to it being new technology and still relatively unfamiliar), even the most basic mods to it are difficult to implement, while at the same time complying with the wing's minimum weight limit of 1325kg and the lowest position of its VCG, as stipulated in the AC72 class rule.
While Emirates Team New Zealand is technically a two boat campaign, it is only running one sailing team and so won't be two boat testing as in previous Cups. Saying this they have been lining up with their sistership Luna Rossa and although the International Jury has prohibited from having an open data swap, they will certainly have learned much from this.
"It is good," says Davies of their second steed. "There is not a lot of difference, it is definitely in the same family as the old boat, but we are still learning a lot all the time about foiling and non-foiling, etc. There seem to be so many variables - you don't know, what you don't know! You end up on a path and it is very hard to get all the elements right."
One of the most obvious changes between boats is also one of the most important and ground breaking gear – the all-important lifting foils. To date the Kiwi AC72 was initially foiling on its monster S-foils (with a giant hook at the bottom), but has since progressed to the simpler small L-shaped foils similar to the ones Oracle Team USA has been using.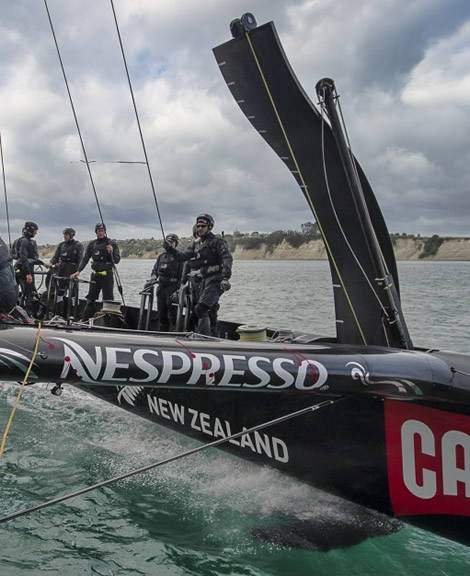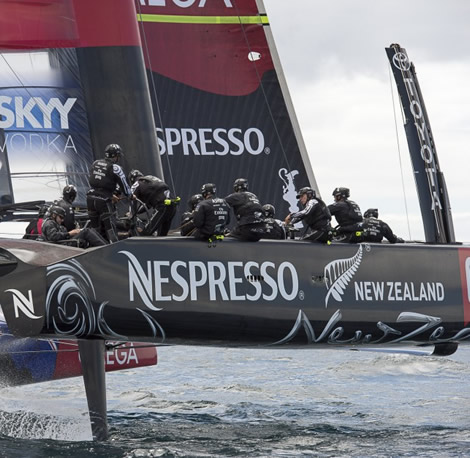 Above - the latest foils lack the S-bend of the first set
Given that these foils can be retracted, inclined and their pitch altered, the name of the game is of course to provide enough vertical lift to make a 5.7-5.9 tonne boat fly (with all the associated benefits of dramatically reducing wetted surface area by eliminating hull drag), while also attempting to prevent leeway and doing so in the simplest, lightest weight, lowest drag manner possible. Both types of foil can achieve this, only that the L-shaped foils offer a lower drag solution and they also go up and down more easily and so require less effort to handle.
"It is just part of a learning curve," continues Davies. "We put the first set of foils in and the evolution began. Now it is trying to get the same characteristics, the same foiling boat with less drag. You see how the Moths have evolved and the AC72s are just like that as well and no one really knows where the limit is."
As Oracle Team USA designer Dirk Kramers told us in September, AC72s are likely to have two fundamental modes – foiling and non-foiling (displacement), as, for example, if it is light there will be no point draging large heavy lifting foils around the race course. When racing is on, it is likely that each day teams will have to look at the forecast and decide which mode they will sail in the night before they go racing as changing mode will require a re-measure. This will be a big, significant call each evening if conditions are looking marginal for the next day.
While it will become pretty evident how much wind/boat speed each of the AC72s needs to foil, the issue isn't completely black and white as the call will also be made based on whether wind speed can go up and down during the day (fortunately races are set to be short, so this issue is minimised). Plus being able to adjust trim of the foils means that they can create more lift, artificially coaxing the hulls out of the water in lighter wind speed. However this increases drag and is still very much part of team's research into 'what is fast'.
"That is a pretty critical part of the equation of where everyone is heading," says Davies, who won't be specific of where Emirates Team New Zealand is at with this. "You can manipulate the foiling [ie by the pitch of the foils] but we have to learn about the trade-offs – is it worth foiling in all conditions, even if you can? And there is a lot to learn about the moding and what we can do around a race course."
Emirates Team NZ designer Guillaume Verdier points out that the hulls of their new AC72 have also been designed around the two modes of immersed or flying. Of the decision over whether a team foils or not day to day, he says: "We could decide for some wind speed or upwind speed to stay in the water - that is not always what you need to fly. The problem is not simply flying, it is how to fly stably."
It also seems to be relatively early days in how the boards are manipulated in terms of up-down, their lateral cant and their pitch as well as who on board operates them. "Oracle don't seem set up to cant theirs and we might change ours," says Davies. "What's certain is that they will be a lot quicker in five years time..."
Davies acknowledges that one of the biggest issues in creating the AC72s for the 34th America's Cup is tailoring them to the tightly confined San Francisco Bay course where boat handling and manoeuvrability will be at an absolute premium compared to straight line speed (as has been most important in the development of boats in past ACs).
"The course is so narrow that we'll end up on very different foils compared to what we would use say in Valencia on an open three mile run," says Davies. "For sure you have to be able to race your boat hard around the course and there is a lot to be picked up in manoeuvres. You definitely have to take that into the equation. So this might be the one time that the fastest boat won't win the America's Cup if it can't turn corners. VMG is the key – a boat might be a rocket ship on one leg, but you have still got to get to the bottom mark and round that in good shape."
And all of this comes down to time in the boat, how familiar the crew is with it, how they can develop the boat to optimise their own efficiency on the ultra-confined AC34 course.
While Emirates Team New Zealand hasn't had a major with their AC72s yet, despite hitting 40+ speeds reaching, they have come close and Davies warns that while they are now confident enough to have lunch on board in irons with the wing stalled, it is still necessary to be vigilant all of the time.
They had a 'holy heart failure' moment on one occasion when they were out in a strong southwesterly and had North Head approaching rapidly and urgently needed to bear away even though they weren't ready. "We were just running out of time to do the manoeuvre and you need speed and everyone to be tuned in," recalls Davies. Fortunately they managed to pull it off without incident.
As on other racing multihulls it pays to have large cajones as often fast equals safe. "You have to push it to be safe, speed is your friend," confirms Davies. "If you are apprehensive you get into more trouble, so it is a bit of a Catch 22. You have to have a lot of confidence, but you have to be tuned in all the time."
While avoiding disaster will be paramount to a successful AC34 campaign, reliability will also be key. "There will be boats not making the start line," advises Davies, "and we have certainly had minor breakages where we've been held up for a couple of hours, that would have prevented us from starting races. You don't have to break something major for that to happen."
Unlike the AC boats they have raced in the past, the AC72s, like all multihulls and fast monohulls, are capable of self-destructing if the loads are not respected. So how confident is ETNZ they when they go sailing their AC72? "We go out and push, but you still get the odd day where it hasn't gone smoothly," admits Davies. "We have clearly had the most time on the water but there is plenty going on and there are a lot of hydraulic functions and with all the salt water, it is a harsh environment for that and there is not a lot of tolerance with the weight limit."
The Oracle Team USA's capsize in the autumn Davies says definitely affected Emirates Team New Zealand's training and how they conducted themselves. "You know that is a very real scenario – it is multihull sailing. You can design a little bit of resistance into that, but all the boats can pitchpole, just like Oracle did. The smallest crew error and you can be on your ear. So you need to emphasise the attention to detail that has to go on on a daily basis, safety, etc."
So come Louis Vuitton Cup time, starting on 7 July does Davies reckon the AC72s will be reliable? "That is the goal, but everyone is struggling. The reality is no, they won't be reliable – there are too many factors going on and everyone is striving for 100% reliability and the tight schedule makes this unrealistic."
Ironically, while it may look precarious, foiling in some conditions may make the AC72s safer. In addition to the reduction in wetted surface area, the foils also serve to substantially dampen pitching, thereby improving air flow over the wing and reducing dynamic loadings. However as is the case with ORMA 60s/MOD70s, the vertical lift their foils produce also helps prevent the leeward bow from digging in (the cause of pitchpoling) meaning that the dreaded bear away around the top mark is no longer so hair raising. However Davies observes that even a standard curved board helps alleviate that.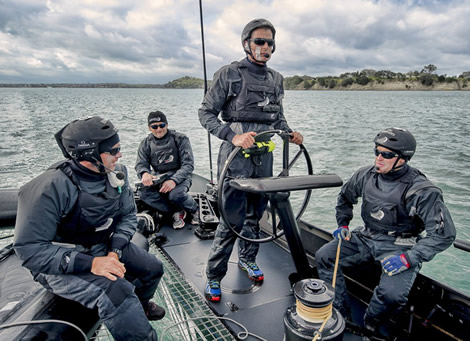 Being airborne also makes for better progress when heading through waves. "We have been out there in up to 30 knots, but you can still have a lot on in 20 knots and a bit of a sea state. It can be comfortable, more so than being in the water, when the stars align and everything. It is a pretty amazing, but it is not the silver bullet."
In terms of Davies' role on board as tactician, this has changed dramatically compared to his role calling tactics on a monohull. There is less squinting into the distance looking for windshifts. On multihulls looking for pressure is way more important and in reality on the short course he says that it will be much more a case of coming up with a strategy and looking at what side of the course is favoured pre-race rather than in the heat of battle, when in reality tactical options will be limited and boats are likely to end up bouncing off the course boundary limits like a pinball. Davies calls layline but spends a lot of time manning the aft pedestal, driving the wing functions and the hydraulics.
With the new AC72s and their unfamiliar wings, teams have had to go back to basics on how it is manned and manoeuvres are choreographed and how the set plays are executed by the 11 permitted crew. As we have stated in past articles, Russell Coutts has specifically conceived the AC72s and 45s Cup so that the boats are physical to sail, everyone (apart from possibly the helmsman) gets a thorough work-out.
For the first time in the America's Cup this could prove more important than straight line speed. "Boat handling will be a big part but the designers can definitely screw it up," says Davies. "You can only hope for a competitive boat and try and do the job. It would be very easy to be left behind."
But we have a nasty feeling that this summer's Louis Vuitton Cup is more likely to be a war of attrition, the last man standing going up against Oracle Team USA.
More images from Chris Cameron
Back to top
Back to top