Check out Mr Svelte
More Olympic muscle for Artemis Racing
Artemis Racing announced today the addition of 2012 Olympic medalists Iain Jensen and Andrew Simpson as well as 2016 Olympic hopeful John Gimson. The newcomers will join the team's decorated Olympians Iain Percy, Santi Lange, Nathan Outteridge and Craig Monk.

Jensen and Gimson will provide sailing and training support for the team including maintenance and logistics for the team's AC45 and F18 fleet, while Simpson will provide weather and tactics support to the afterguard.

"The experience we have on the sailing team, balanced with the youth and enthusiasm John, Iain and Andrew bring to the team is a good mix for us," said Sailing Team Director Iain Percy.
Iain Jensen, as crew for Nathan Outteridge, won the Gold Medal in the 49er class at London 2012. Jensen was 49er World Champion in 2009 and 2011 and 49er European Champion in 2011.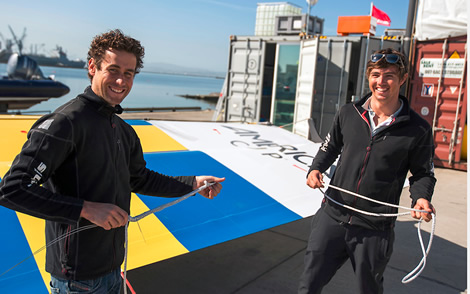 John Gimson is campaigning to represent Great Britain in the Nacra 17 in the Rio 2016 Olympic Games.
Andrew 'Bart' Simpson won gold and silver medals at the last two Olympic Games in the Star Class as crew for Artemis Racing Sailing Team Director Iain Percy. Simpson brings past America's Cup experience from +39 Challenge and Team Origin to his role with Artemis Racing.

"As an America's Cup team, we are investing in the team's future with guys like Andrew, Iain, John and Nathan," said Artemis Racing CEO Paul Cayard. "These young sailors bring talent and enthusiasm to our team. They are the future of the America's Cup."
Back to top
Back to top