Mr Diverse
'Filing' Rob Greenhalgh into one of thedailysail's neat pidgeon holes of offshore/inshore/dinghy is proving problematic for over the course of this season he is undertaking all three...
Having sailed the last three Volvo Ocean Races on the winning ABN AMRO One and then on the less all-conquering Puma and Abu Dhabi Ocean Racing in subsequent races, Greenhalgh can now be described as a round the world veteran. However the former International 14 World Champion and JJ Giltanan winner's heart still lies in small boats and since returning from his third fully crewed round the world race has gone back to school, learning how to sail a foiling Moth, just having fun out on the water.
"Enjoying my sailing is a fairly key part of it - not that I don't not enjoy it ever, it's just there are so many new avenues in the sport, you've got to explore them all and see what's best. 450 or so Moth sailors can't be wrong and it turns out they're not."
Moth
Greenhalgh says he sailed a Moth for the first time last year during the Volvo Ocean Race's Miami stopover. "At that stage I weighed 90kg, but as the race progressed I started losing weight." He ordered a Mach 2 ready for him to use the moment he arrived back from the round the world race. "I got into it as soon as we finished the race. I was still mid-80s at that stage and then I went to the Worlds a month later. I was pretty hopeless."
Uncharacteristically Greenhalgh finished the World Championship on Lake Garda in 19th place. Since then though he has been training hard and consistently, and has also got himself a new boat. "Now I reckon I could knock on the top 10 maybe. The thing is that the bar is just getting lifted all the time. I am sailing the boat 10 times better than I was at the Worlds, but it doesn't mean I'll do any better because there are 20 other people also getting better. It is not about competing against other boats, but rather competing against yourself."
In terms of his hardware he has traded in his Mach 2 for an Exocet, one of the new Kevin Ellway designs built by Maguire Boats in Lymington (read more about this here). The first Exocet pitched up at the Worlds last year and in the hands of Chris Rashley finished seventh behind a top six exclusively of Mach 2s. "But it was the only the first time the boat had been to the Worlds. I think they are pretty good. I like it. Having sailed both I chose the Exocet. It is good in a sea state and it is probably the right boat for Hayling Island. The Mach 2 has been out there for a while now and people have worked them up and got them going quick. In comparison we are only just begun, we have a long way to go with foils and rigs, so a lot got learn and not enough time..."
Greenhalgh points out that Kevin Ellway, like Andrew McDougall, creator of the Mach 2 and Bladerider, both spend considerable time sailing their boats, as well as designing them.
Chris Rashley is on to his second Exocet which is due for delivery in May and will be hull no14.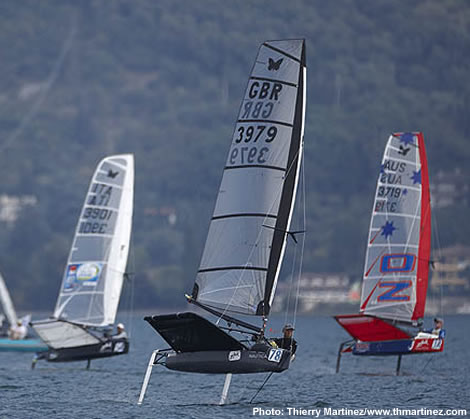 So is the Moth class turning into an arms race? "I think it isn't yet, because there is still enough to be learned about sailing the boat and a few things that are stopping that," says Greenhalgh. "And there are enough guys out there using similar gear so that the arms race hasn't begun. I think it could become an arms race in say two or three years time, when you are looking harder for gains, when you'll have got to start digging down into weight savings, custom foil packages, etc. You have got to allow development - if they didn't allow in foils eight years ago, or whenever it was, then we wouldn't be where we are now. But it does become an arms race, I'm sure the class will put legislation in place to stop that."
While there are different models of Moth out there, the Mach 2 is prevalent at present although there are differences between these in terms of how they are set up and some of their fundamental gear, particularly the 'autolift' mechanism - how the bow wand moves the flap on the trailing edge of the main lifting foil. "Adjustable gearing - everyone has known about it forever, but now it is a case of getting it working properly - basically how sensitive the wand is to flap movement. Mach 2 has got a system you can buy now, which two or three people had at the Worlds last year. So that has moved along a lot on all the boats - controlling your foils and cutting down foils, etc. That is not necessarily expensive to do, it is just a case of knowing what to do and that just comes through time."
Greenhalgh has been putting in a lot of Moth practice since the Worlds. The hardest manoeuvre to master remains the foiling tack, but according to Greenhalgh going through the wind while airborne isn't necessarily fastest. "They look good, but most of the Mach 2 guys won't foil tack. The top guys can pull off a foiling tack, but it doesn't necessarily mean that is faster than touching down and going again. The key with the tack is basically keeping the thing moving."
Having sailed both boats, Greenhalgh says that foiling tacks are easier on the Exocet which has more span on its main foil which in turn develops more lift and is also more stable.
He adds that there is still considerable development going on with rigs, where he believes the Australian manufacturers still hold the lead, partly because they were first to get into foiling but also because they have a stronger domestic fleet regularly competing.
The Moth Worlds this year are in Hawaii, hosted by the Kaneohe Yacht Club and five to seven boats are expected to head there from the UK. While Hawaii is known for its huge waves, Kaneoche is on the east side of Honolulu and racing will take place in a relatively protected bay with flat water.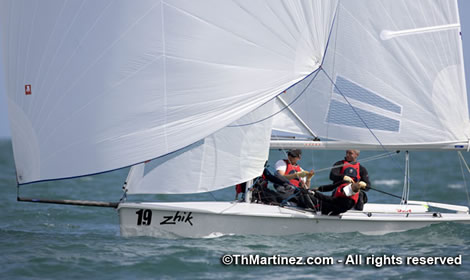 SB20
Moth sailing is a small part of Greenhalgh's sailing since the end of the Volvo Ocean Race. In December he was out at Hamilton Island competing in the SB20 World Championship where he ended up finishing fourth. However the SB20 has now been sold. "I would like to keep it, but I just can't see myself sailing it that much and they are big boats and expensive to keep. And there is less and less domestic sailing going on. It would be great going to events and being able to crack it out at the weekend to go and do a good open meeting in the Solent. But there seems to be less and less of that."
Back to cats
But the big news is that after winning the first Extreme Sailing Series back in 2007 aboard Basilica and following that up with a second to Alinghi's first the next year, Greenhalgh will be making his return to the 40ft one design cat circuit next month when the 2013 season gets underway off The Wave, Muscat.
Greenhalgh will be taking over from Morgan Larson at the helm of the second Oman Sail boat (Leigh McMillan is back again on the stick of the 2012 season winner, The Wave, Muscat). At present the sponsor of the boat is only backing Greenhalgh's team for next month's ESS regatta in Muscat, although Oman Sail is hoping to extend this across the season.
"I am looking forward to it," says Greenhalgh. "My brother [Peter – who sails on The Wave, Muscat] has done it every year since it started, even in 2005 in Sanxenxo [at the start of the Volvo Ocean Race that year]. He's the veteran Extreme 40 sailor. Talking to my brother, he says things have changed a bit. Obviously there are five people on the boat now." In his day it was only four plus a guest.
In Muscat Greenhalgh intends to sail with Will Howden and Nasser al Mashari, who were with Larson's team in 2012, plus Bleddyn Mon, who is the nipper on board and former GAC Pindar helmsman/crew Andrew Walsh.
"We hope we can continue, but at the moment we're doing it as a one event thing and hoping that the sponsor can get signed up at the first event."
But this is not all...
Greenhalgh has also signed up with Fred Eaton's Canadian team, the present holder of the International C Class Catamaran Championship (aka the Little America's Cup), for this year's event, due to be held in Falmouth in September.
Greenhalgh's exact capacity with the team has yet to be decided, but he expects to be either sailing or coaching in September and will be heading out to Toronto 'when the weather gets a bit better' to help them with the development of their latest C-Class catamaran, another design by Steve Killing (now part of the Emirates Team NZ design team).
Eaton's team won the last Little America's Cup with Canaan and have since built another new C-Class catamaran for what is set to be one of the most interesting events due to be held this season. "I think there will be 10-12 boats, although there is talk of 16 boats. We'll see."
At this stage, all of the C-Class teams are playing their cards closely to their chest regarding their new designs and it seems likely that while there will be refinement to the three-element wings, the principle design issue this time (as it is with the big America's Cup) will be over whether to foil or not and in the conditions above which one foils (as it also is with the big America's Cup).
"I'm sure there is a lot of catch-up for some of these teams, getting the wing sorted out," says Greenhalgh. "I guess our team is in a situation where the wings are in pretty good shape and it is more about deciding what else to work on."
Beyond this Greenhalgh thinks it unlikely that he'll be able to prevent himself from getting an A-Class catamaran before the year is out.
Big boats
Back to big boats and this is also a possibility of Sir Keith Mills dusting off the TeamOrigin TP52 off for a few regattas this season although these plans are fairly embryonic and look unlikely to include many of the old TeamOrigin posse since most are now tied up with the America's Cup, even Star crew Andrew Simpson has disappeared off to Artemis Racing (where Iain Percy is of course...)
And then there's ICAP Leopard. At present Greenhalgh is on board Mike Slade's 100 footer for the RORC Caribbean 600 and will be back again for the Rolex Fastnet Race and a few other events Slade has planned for the year.
And the next Volvo? Greenhalgh says he is hoping to do it with his own team. "We are working towards that, but times are tough right now finding money. Mike Sanderson [who Greenhalgh sailed with aboard ABN AMRO One in 2005-6] is the principle behind it all. It would be great if we did get something together, but if we don't, I'd definitely look to join another team, as long as it is right. I don't have to do it."
Greenhalgh says he likes the new 65ft Volvo One Design. "I think it will be a good boat. It will be good for the race, it is just unfortunate that it is bad timing financially."
Busy boy...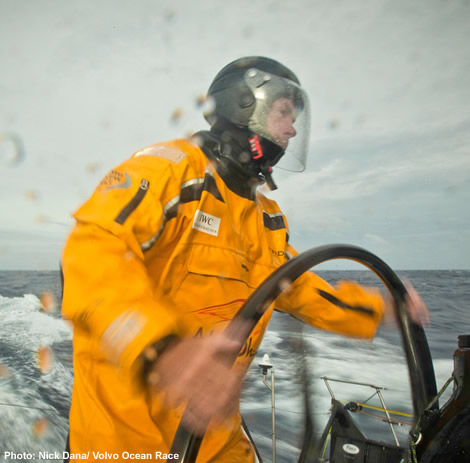 Back to top
Back to top