GBR Youth Challenge en route to San Francisco
One of the many exciting developments with the 34th America's Cup is the advent of the Red Bull Youth America's Cup. Since it was announced during the America's Cup World Series event in Venice last May, exact details of this event has been slowly emerging regarding the selection process and teams due to take part in the event, to be held on San Francisco Bay over 1-4 September, immediately before the America's Cup itself.
Youth sailing is a subject close to the heart of Oracle Team USA skipper James Spithill, who before he skippered USA 17 to victory in the 33rd America's Cup was best known as being the youngest ever skipper in the America's Cup, after he was initially given the helm of Syd Fischer's Young Australia at the tender age of 21.
The aim of the Red Bull Youth America's Cup is to provide more aspiring youth sailors with a similar opportunity to the one provided to Spithill back in 2000.
Happily, after they didn't quite make the list of teams set to take part in the selection trials over 18-24 February in San Francisco, since then GBR Youth Challenge has been given a slot.
"Originally we looked at the proposal in August time and it didn't seem particularly feasible and it wasn't set out and it wasn't well planned," says James French, the 20-year-old who is leading the campaign. "But in about October, the Notice of Race got updated and the selection series was announced. So we put an entry in and unfortunately we weren't given a place at the selection trials originally when they were first announced, but we were a reserve team and then one of the other teams dropped out, so we got given their place."

The squad of GBR Youth Challenge sailors, who must be under 25 by the time of the event, at present comprises Trystan Seal, Andy Sinclair, Adam Lees, Peter Austin, Tom Forrester-Coles but has also gained the catamaran experience of Tornado sailor Adam Piggott, who competed in the Extreme Sailing Series aboard the GAC Pindar Extreme 40 last year and Bleddyn Mon. Mon, a two time runner up at the 29er Worlds, is now part of Team GBR's 49er squad, last year raced on the Extreme Sailing Series on Leigh McMillan's series-winning The Wave, Muscat before being displaced by Hannah Mills.
In addition to Piggott and Mon, and F18 sailor Andy Sinclair, the connection between the GBR Youth Challenge sailors is the British Keelboat Academy and within that specially the crew of the Farr 45 Kolga on which French usually sails.
According to French, while the BKA is not officially involved in their campaign, they are certainly supportive and Head Coach Luke McCarthy has been giving them advice.
So is the Red Bull Youth America's Cup as attractive as it sounds? "The America's Cup is my goal for later in my sailing career and I think for most of the team it is the same," says French. "To have a stepping stone to move on and getting to run our own project, sail on the AC45s and to get a chance to learn and have the coaching on those boats and experience racing at that sort of level....it is a pretty amazing opportunity for young sailors."
Aside from getting the team together in record time, finding the necessary funding is also top of the agenda at present. Thankfully funds have been found to make it to the selection trials, courtesy of Tony Lawson's Team Concise. However they are still on the hunt to raise more in order to charter an Extreme 40 from Offshore Challenges on which they can train early next month.
"Offshore Challenges have been quite supportive in proposing that we use an Extreme 40 and they are making it viable for us to do that," says French. Fortunately there is an Extreme 40 in Cowes which they could use if an agreement can be reached.
To get to the selection trials costs around £10,000, which they have covered. To get some time in on an Extreme 40 is another £10,000, which they don't have covered yet (this will include providing some corporate sailing days for whoever stumps up). However if they are selected to compete in the main event in San Francisco in September, then French says they will need in the order of £150,000 minimum. "About 50% of that goes towards all the entry fees and damage deposits and insurance and the other 50% goes towards logistics and training."
French says that they are talking to companies to try and raise the extra money for training prior to the selection trials but acknowledges that the time scale is extremely tight, given that the organisers only confirmed their entry week before last. "It has all come about rather quickly."
February's selection trials look set to be similar to those run by Oracle for the US contenders in December. According to French, they will get some training time in on the AC45, then 18 races will be held of which they will get to sail in nine. Separate selection trials are being held in February for two groups, six in each using Oracle Team USA's three AC45s.
Obviously an AC45 with its wing is some way on from an Extreme 40 and mostly definitely a big hike up from a Farr 45. Given that training time will be limited – the Italian team has been training on an Extreme 40 while the Swiss team have been out on a D35 - the experienced Extreme 40 sailors will certainly be GBR Youth Challenge's biggest asset.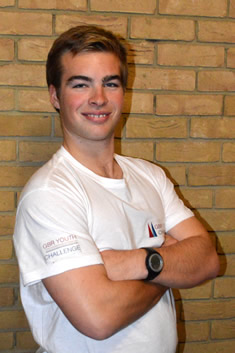 At present French will be on the helm unless one of the others proves better and one can imagine that he will quickly be displaced by one of the Extreme 40 sailors. "If it turns out that one of the other guys is far faster, then that wouldn't be an issue. We'll try it and see," says French.
For the selection trials they intend to take a squad of seven out to San Francisco plus a coach, and they are at present in discussions over whom this might be – certainly someone with prior AC45 experience who can advise them using the wing would be a good plan.
It seems a little unclear on how teams will be selected once they have been through the trials. Certainly the race results will be a key factor, but the selectors will also look at crew fitness and probably arbitrary factors such as a team's fiscal ability to make it to the main event.
French says the selectors are aiming to choose between four and six teams from February's 12 triallists. Those chosen will be in addition to the Red Bull Youth America's Cup teams being fielded by the AC teams themselves. While it is expected that Oracle and all three of the AC34 challengers will put forward their own national teams, it is understood that China Team and Team Korea (who both have AC45s) are also looking to enter teams.
According to French, there is no tie up between the GBR Youth Challenge and JPMorgan BAR, principally due to Ben Ainslie's team being in a slight hiatus now that the America's Cup World Series this year has been reduced to what is currently looking like a one regatta affair. "They are very supportive, but they aren't in a position to back the team at this stage," says French.
The GBR Youth Challenge recently announced a partnership with Slam, who are to be the team's official clothing partner.
Alessandra Aondio, Marketing Manager for Slam said "We are delighted to be supporting Team GBR Youth Challenge as it is offers us a fantastic opportunity to launch our skiff collection in the UK market. We wish the team every bit of luck for the selection series in February."
Back to top
Back to top