Swiss Red Bull Youth AC team revealed
A team of Swiss French-speaking sailors, aged of less than 25 years, will attempt to qualify for the Red Bull Youth America's Cup to be held in September 2013 in San Francisco on AC 45 wingsail catamarans.
Team Tilt will fly the colours of Jiva Hill and Tag Heuer and will train on Lake Geneva on a Decision 35 catamaran.
Team Tilt will compete on behalf of the Societe Nautique de Geneve, has been invited to participate in the selection trials for Red Bull Youth America's Cup. These will be held over 9-24 February in San Francisco and will be used to decide upon the teams that will qualify to compete in the finals in September, one week before the America's Cup itself.
Alex Schneiter, team leader of the project, states the following after the qualification of the team in view of the Selection Series: "This first selection [12 projects have been selected from over 30 applicants] is excellent news for the team and the result of an incredible team work within such short time constraint.
"The project was initiated at the end of September and within two months we had to build up a solid structure, including a search for sponsors, acquiring a catamaran for the purpose of a training, matching the ambitions of the project, selecting a team and putting in place a sailing program as well as physical training to get our sailors to the highest level. It is mission accomplished and we are proud of this first result! This will open us the doors to a participation to the final selections on the AC45 in San Francisco. This is obviously a huge challenge, but the team is more motivated than ever!"
The skipper of the team will be the young and talented sailor Lucien Cujean, who has been involved in recent years on the most competitive boats on Lake Geneva, such as the Decision 35 or M2 catamaran. Cujean has also competed at several important international regattas such as the Tour de France à la voile in which he was part of the winning amateur team.
Intensive training started at the beginning of November on Lake Geneva aboard a Decision 35.
Two prestigious partners have rapidly been convinced by the seriousness and ambition of the project: Jiva Hill Park Hotel and the watchmaker TAG Heuer. Jean-Christophe Babin, Chairman and CEO of TAG Heuer said: "As a Swiss watchmaker, we are full of enthusiasm and very proud to commit ourselves alongside a young and dynamic Swiss team. Team Tilt and Tag Heuer sail on the same waters: high technology, precision, tradition and sound competitiveness."
Team Tilt will also participate in the D35's Vulcain Trophy 2013 and hopes to benefit from the exceptional level of the sailors competing on this circuit to help ready them for the Red Bull Youth America's Cup next summer.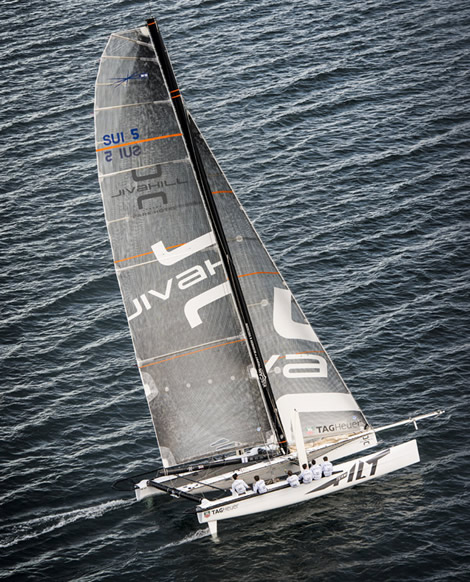 Back to top
Back to top