Final day leaves three boats tied at the top
It was a gripping finish on the deciding day at the UON SB20 World Championships at Hamilton Island with Geoff Carveth sailing into the class history books, crowned SB20 world champion for the third time.
It was the closest finish at any SB20 worlds with Carveth's British WKD team, Glenn Bourke's Australian entry, Club Marine, and the Rodion Luka skippered Team Russia all wrapping up their series tied on 41 points after six days and 12 races. A countback was needed to separate the ultimate victor from second and third.
"Going into race two today we decided to take a risk. We gambled for a better ranking and took the right hand side of the course," said Carveth. "It's the only time, during the whole event that the right hand side paid off. Glenn and Rodion went left and suddenly the chance came. When we finished we were in disbelief that we'd put the number of boats between us.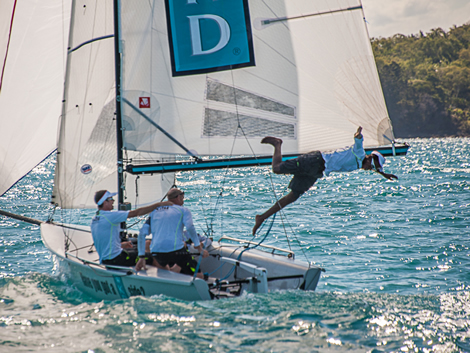 "The crew have worked really hard. We trained hard here just days before the event started. Lesley and Squirrel really got up to speed and Roger has been fantastic. He's broken his run of seconds at SB20 world championships!"
WKD's South African bowman, Jim Asenathi, leapt off the boat once the result was known while the crew of Roger Hudson, Lesley Dhonau and Carveth embraced, then fell in, joining Jim for a victory swim.
"We've got to say a huge thank you to WKD and Joe Woods for making it possible for us to be here," Carveth added.
Hamilton Island CEO Glenn Bourke almost added another world title to his belt: "I have the utmost respect for the two guys we tied with," said Bourke. "It's testament to Geoff's talent and their crew work that they kept working their way out of deep positions, particularly in the last six races."
Team Russia's helmsman Rodion Luka was gracious in defeat, "Geoff is a great mate and I am happy that he won. We'll be back for another event and we look forward to that. Hamilton Island is beautiful and a great place to sail. The competition has been so tight, it's not often you have three boats tied on points at a world championship".
Winds were easterly and shifty for the final day of competition at 7-9 knots for the first race and up to 14 knots for the decider. Denis Thompson pulled his black flag out again in race 11 after three general recalls due to wind shifts and antsy crews. On the fourth attempt the fleet got away cleanly. Three SB20s were pinged and individually recalled in the final race 12.
A countback separated first and second, Team Russia and Club Marine, with WKD, a mere three points off the frontrunners heading into today's final two sprints. The tension on the dock this morning was palpable with a world title riding on the final act for the three contenders, and points still to be claimed for those with their sights on the minor placings.
Competition at the UON SB20 World Championships began last Friday in light to moderate ESE breezes and after Monday's layday, midway through the competition, fresher ENE winds made for a very different set of conditions and a change in gears for the one design fleet of 42 international entries representing nine countries.
"I'm very pleased for Hamilton Island that we've had a range of conditions and such depth of talent for this truly international competition," said Bourke. "I think the island put on a great regatta and the race management was outstanding. I feel Hamilton Island has come of age in terms of running world class sailing events."
Bourke also took the opportunity to acknowledge a number of valuable event partners. "I would like to acknowledge UON not only for their naming rights, but for entering two boats and being an active part of these world titles. Events Queensland gave us tremendous support to run a truly international event by assisting with shipping the SB20s to the island, which in turn attracted many overseas competitors and their families to the Whitsundays."
The SB20 class will hold their 2013 World Championship in Hyeres in the south of France next September.
Full results below
Back to top
Results:
| | | | | | | | | | | | | | | | | |
| --- | --- | --- | --- | --- | --- | --- | --- | --- | --- | --- | --- | --- | --- | --- | --- | --- |
| Pos | Boat | Skipper | Nat | R1 | R2 | R3 | R4 | R5 | R6 | R7 | R8 | R9 | R10 | R11 | R12 | Tot |
| 1 | WKD | Geoff Carveth | GBR | [17.0] | 5 | 2 | 1 | 10 | 1 | 1 | 4 | 8 | 4 | 3 | 2 | 41 |
| 2 | Club Marine | Glenn Bourke | AUS | 3 | [10.0] | 4 | 5 | 6 | 2 | 6 | 2 | 4 | 1 | 1 | 7 | 41 |
| 3 | Team Russia | Rodion Luka | RUS | 6 | 4 | 1 | 3 | 2 | 8 | 4 | 3 | 2 | [15.0] | 2 | 6 | 41 |
| 4 | The Beard | Robert Greenhalgh | GBR | 4 | 8 | [15.0] | 9 | 9 | 4 | 6.0G | 1 | 1 | 7 | 5 | 4 | 58 |
| 5 | Bango Powered bySLAM | Ben Saxton | GBR | 1 | 1 | 9 | 11 | 1 | 6 | 7.0G | [15.0] | 5 | 11 | 8 | 10 | 70 |
| 6 | Hyeres2013 | Rouxel Thomas | FRA | [13.0] | 6 | 10 | 8 | 11 | 13 | 2 | 11 | 3 | 3 | 7 | 3 | 77 |
| 7 | One Design Sailing | Ian Brown | AUS | 8 | 15 | 3 | 4 | 5 | 5 | [43.0B] | 6 | 7 | 2 | 16 | 13 | 84 |
| 8 | Aquaholics | Anna Basalkina | RUS | 12 | 7 | 14 | 6 | 3 | 9 | 8 | 7 | 12 | 5 | [19.0] | 9 | 92 |
| 9 | ALTEA | Andrea Racchelli | ITA | 10 | 3 | [24.0] | 7 | 13 | 7 | 5 | 10 | 13 | 9 | 15 | 1 | 93 |
| 10 | Stenghele | Pietro Negri | ITA | 5 | 2 | 8 | 15 | [22.0A] | 3 | 3 | 13 | 22 | 22 | 17 | 19 | 129 |
| 11 | Darling Associates | Chris Darling | SCO | 15 | 9 | 12 | 10 | 7 | 17 | 19 | [21.0] | 11 | 6 | 20 | 8 | 134 |
| 12 | sportsboatworld.com | Jerry Hill | GBR | 2 | 16 | 17 | 2 | 8 | 11 | 7 | 17 | 17 | 16 | 24 | [27.0] | 137 |
| 13 | Harry powered by Und | Andrew Oddie | GBR | 21 | 23 | 6 | [35.0] | 4 | 16 | 16 | 5 | 10 | 10 | 10 | 25 | 146 |
| 14 | Karabos | Nick Rogers | AUS | 11 | 17 | [21.0] | 13 | 19 | 10 | 11 | 16 | 14 | 13 | 13 | 21 | 158 |
| 15 | UBER3 | Adrian Peach | GBR | 9 | 11 | 27 | [31.0] | 20 | 12 | 9 | 12 | 6 | 21 | 25 | 14 | 166 |
| 16 | Sailboat Deliveries | Sarah Allan | GBR | 7 | 25 | 32 | [43.0S] | 31 | 14 | 10 | 9 | 15 | 14 | 11 | 12 | 180 |
| 17 | Zeus | Ed Russo | FRA | 28 | 14 | 11 | 25 | 21 | 22 | 15 | [32.0] | 9 | 31 | 6 | 15 | 197 |
| 18 | Flirtatious | Chris Dare | AUS | 18 | 18 | 18 | 17 | [33.0] | 21 | 29 | 14 | 19 | 26 | 9 | 17 | 206 |
| 19 | And Then | Peter Jones | AUS | [34.0] | 12 | 7 | 30 | 17 | 18 | 24 | 20 | 27 | 19 | 23 | 11 | 208 |
| 20 | Typhoon | Craig Nicholls | AUS | [33.0] | 29 | 25 | 21 | 22 | 19 | 13 | 8 | 28 | 12 | 21 | 22 | 220 |
| 21 | New Caledonia1 | TUGDUAL Piriou | FRANC | 22 | 19 | 19 | 28 | 12 | 20 | 14 | 19 | 24 | 23 | 22 | [43.0C] | 222 |
| 22 | WYSIWYG V | Stephen Fries | AUS | 20 | 20 | 5 | 20 | 34 | 24 | 12 | 25 | 34 | [37.0] | 30 | 20 | 244 |
| 23 | New Caledonia2 | Alan Quere | FRANC | [31.0] | 27 | 22 | 14 | 28 | 15 | 22 | 30 | 25 | 27 | 4 | 31 | 245 |
| 24 | Black Rat | Troy Forrest | AUS | 16 | 21 | 31 | 12 | 18 | 23 | 21 | 31 | 21 | 30 | [33.0] | 30 | 254 |
| 25 | Jump! | Dennis Winstanley | AUS | 25 | [33.0] | 30 | 16 | 24 | 25 | 17 | 27 | 31 | 29 | 32 | 5 | 261 |
| 26 | Marine Tech | Gareth Owen | UAE | 32 | 22 | [42.0] | 29 | 25 | 32 | 20 | 29 | 16 | 8 | 26 | 23 | 262 |
| 27 | Blue Tac | Trevor Martin | AUS | 26 | 31 | 13 | 26 | 29 | 28 | 35 | [36.0] | 26 | 20 | 12 | 16 | 262 |
| 28 | Still Out of control | Mark Wolfenden | AUS | 14 | 30 | 20 | 24 | 16 | 29 | 27 | 38 | [39.0] | 24 | 35 | 28 | 285 |
| 29 | Wedgewood | David Graney | AUS | 30 | 28 | [36.0] | 34 | 23 | 33 | 28 | 22 | 23 | 25 | 18 | 24 | 288 |
| 30 | Geronimo | Simon Hume | GBR | [43.0R] | 40 | 26 | 23 | 14 | 26 | 18 | 33 | 36 | 32 | 14 | 32 | 294 |
| 31 | Borgo Scopeto | Giulia Tobia | ITA | [38.0] | 13 | 37 | 27 | 30 | 27 | 31 | 26 | 30 | 18 | 27 | 29 | 295 |
| 32 | Cube II | Martijn Buitenhuis | NED | 24 | 24 | 23 | 22 | 27 | 35 | [43.0B] | 28 | 33 | 33 | 31 | 18 | 298 |
| 33 | Dart Vader | Mark Prince | AUS | 23 | [37.0] | 34 | 18 | 32 | 37 | 25 | 24 | 29 | 17 | 29 | 35 | 303 |
| 34 | Purple Patch | Callum Burns | AUS | 19 | 32 | 28 | 37 | 35 | [43.0B] | 43.0B | 18 | 20 | 28 | 34 | 26 | 320 |
| 35 | Got a bit on | Matt Wenke | AUS | 27 | 26 | 40 | 40 | 26 | [43.0F] | 26 | 23 | 18 | 38 | 28 | 36 | 328 |
| 36 | Mountain Goat Racing | Mike McLean | AUS | 35 | 34 | 16 | 33 | [42.0] | 31 | 23 | 35 | 35 | 34 | 38 | 37 | 351 |
| 37 | Chota Hazri | Chris Kameen | AUS | 29 | 35 | 33 | 19 | [41.0] | 30 | 30 | 37 | 32 | 36 | 36 | 34 | 351 |
| 38 | UON Hamilton Island | Tim Henderson | AUS | 36 | 36 | [41.0] | 32 | 39 | 39 | 33 | 40 | 37 | 35 | 39 | 33 | 399 |
| 39 | NURI | Andrea Zanforlin | ITA | 37 | 38 | 38 | 38 | 37 | 34 | 32 | [41.0] | 40 | 40 | 37 | 39 | 410 |
| 40 | Squalo Bianco | Paris Stowell | AUS | 39 | [42.0] | 39 | 39 | 36 | 36 | 34 | 34 | 38 | 39 | 40 | 38 | 412 |
| 41 | Sidewinder | Declan Keogh | AUS | 41 | 39 | 29 | 36 | 40 | 38 | [43.0B] | 39 | 41 | 41 | 41 | 40 | 425 |
| 42 | Oceanburo Discover S | John Gardiner | AUS | 40 | 41 | 35 | 41 | 38 | 40 | 36 | 42 | 42 | 42 | [43.0C] | 43.0C | 440 |
Back to top