Bourke on a charge
Places at the UON SB20 World Championship at Hamilton Island have shuffled with each race, but there has been one constant - Oleg Zherebtsov and Rodion Luka's Team Russia, which has occupied the top spot since day two.
This afternoon Glenn Bourke and his Club Marine crew of Andrew York and Greg Macallansmith caught up to the leaders. Bourke's second, fourth and bullet in the last race on day five has put them on equal 33 points with Team Russia and second on a countback.
The formidable Russian crew dropped their worst result, a 15th in race 10. They and the Australian Club Marine team led by Hamilton Island's CEO are heading into the final day pressure cooker barely separated.
"I will try to focus as much as I can," said Luka this afternoon. "There is a lot of pressure but I have experience. Tomorrow will be like the first day of racing. We will have dinner tonight and save some energy for tomorrow."
Bourke says his latest results reflect the fact he's getting comfortable with the level of competition. "I'm getting into the rhythm of the event, it's coming at the right time and we are improving a little bit each day. Tomorrow will be won and lost on who gets off the start line well."
Bourke, a multiple Laser world champion, says the buzz of international competition is a thrilling experience. "It's the most exciting thing you can do in your year".
Geoff Carveth's WDK (GBR) is third on 36 points and still in the hunt while Robert Greenhalgh's The Beard is fourth overall with 49 points.
The penultimate day of competition produced more superb sailing in the tropical Queensland Whitsunday Islands in the 10 knot average NE breezes.
Race 8 was a clean start. Race 9 was another general recall for the jumpy fleet at the sharp end of their world title followed by individual recalls for two SB20s, including the aptly named Still Out of Control (Mark Wolfenden), which tangled with the Italian SB20 Nuri while trying to re-start.
The top mark roundings were loud and lively as the fleet bunched up, and the downhill runs were spectacular with a straight line of spinnakers against the afternoon glare of another perfect summer's day. The area is crying out for water but the afternoon thunderstorms typical of this time of year have stayed away.
Sydney-based Craig Nicholls picked up his best result of the series, an eighth in race 8 with Typhoon. Nicholls has paired up with Scott Glaskin, a 16ft skiff state champion from Royal Perth Yacht Club and Morgan White, one of Australia's most sought after bowmen whose dance card is full for the Australian summer calendar including the Rolex Sydney Hobart, Club Marine Pittwater & Coffs Harbour Regatta, Festival of Sails and Farr 40s.
Having never sailed an SB20 previously, Nicholls and his cohorts had 45 mins training two days out and two hours the day before the world championship commenced last Friday.
"Coming into the world titles the Typhoon crew were happy to wing it, falling back on their experience in other classes," admitted Nicholls.
Two of the crews black flagged in race 7 yesterday, after being called OCS, were reinstated last night and this morning. The Beard and Ben Saxton's Bango Powered by SLAM sought redress and the international jury decided in favour of the two British crews. Both have been granted average points up to the end of race 10.
The forecast for tomorrow's final two races is SE to NE winds 10-15 knots. Principal Race Officer Denis Thompson has scheduled an 1100 start so the SB20s being shipped back to Europe can be packed into containers before most crews head off Friday to be home in time for Christmas.
Results:
| | | | | | | | | | | | | | | |
| --- | --- | --- | --- | --- | --- | --- | --- | --- | --- | --- | --- | --- | --- | --- |
| Pos | Boat | Skipper | Nat | R1 | R2 | R3 | R4 | R5 | R6 | R7 | R8 | R9 | R10 | Tot |
| 1 | Team Russia | Rodion Luka | RUS | 6 | 4 | 1 | 3 | 2 | 8 | 4 | 3 | 2 | [15.0] | 33 |
| 2 | Club Marine | Glenn Bourke | AUS | 3 | [10.0] | 4 | 5 | 6 | 2 | 6 | 2 | 4 | 1 | 33 |
| 3 | WKD | Geoff Carveth | GBR | [17.0] | 5 | 2 | 1 | 10 | 1 | 1 | 4 | 8 | 4 | 36 |
| 4 | The Beard | Robert Greenhalgh | GBR | 4 | 8 | [15.0] | 9 | 9 | 4 | 6.0G | 1 | 1 | 7 | 49 |
| 5 | Bango Powered bySLAM | Ben Saxton | GBR | 1 | 1 | 9 | 11 | 1 | 6 | 7.0G | [15.0] | 5 | 11 | 52 |
| 6 | One Design Sailing | Ian Brown | AUS | 8 | 15 | 3 | 4 | 5 | 5 | [43.0B] | 6 | 7 | 2 | 55 |
| 7 | Hyeres2013 | Rouxel Thomas | FRA | [13.0] | 6 | 10 | 8 | 11 | 13 | 2 | 11 | 3 | 3 | 67 |
| 8 | Aquaholics | Anna Basalkina | RUS | 12 | 7 | [14.0] | 6 | 3 | 9 | 8 | 7 | 12 | 5 | 69 |
| 9 | ALTEA | Andrea Racchelli | ITA | 10 | 3 | [24.0] | 7 | 13 | 7 | 5 | 10 | 13 | 9 | 77 |
| 10 | Stenghele | Pietro Negri | ITA | 5 | 2 | 8 | 15 | [22.0A] | 3 | 3 | 13 | 22 | 22 | 93 |
| 11 | sportsboatworld.com | Jerry Hill | GBR | 2 | 16 | [17.0] | 2 | 8 | 11 | 7 | 17 | 17 | 16 | 96 |
| 12 | Darling Associates | Chris Darling | SCO | 15 | 9 | 12 | 10 | 7 | 17 | 19 | [21.0] | 11 | 6 | 106 |
| 13 | Harry powered by Und | Andrew Oddie | GBR | 21 | 23 | 6 | [35.0] | 4 | 16 | 16 | 5 | 10 | 10 | 111 |
| 14 | Karabos | Nick Rogers | AUS | 11 | 17 | [21.0] | 13 | 19 | 10 | 11 | 16 | 14 | 13 | 124 |
| 15 | UBER3 | Adrian Peach | GBR | 9 | 11 | 27 | [31.0] | 20 | 12 | 9 | 12 | 6 | 21 | 127 |
| 16 | Sailboat Deliveries | Sarah Allan | GBR | 7 | 25 | 32 | [43.0S] | 31 | 14 | 10 | 9 | 15 | 14 | 157 |
| 17 | New Caledonia1 | TUGDUAL Piriou | FRANC | 22 | 19 | 19 | [28.0] | 12 | 20 | 14 | 19 | 24 | 23 | 172 |
| 18 | And Then | Peter Jones | AUS | [34.0] | 12 | 7 | 30 | 17 | 18 | 24 | 20 | 27 | 19 | 174 |
| 19 | Zeus | Ed Russo | FRA | 28 | 14 | 11 | 25 | 21 | 22 | 15 | [32.0] | 9 | 31 | 176 |
| 20 | Typhoon | Craig Nicholls | AUS | [33.0] | 29 | 25 | 21 | 22 | 19 | 13 | 8 | 28 | 12 | 177 |
| 21 | Flirtatious | Chris Dare | AUS | 18 | 18 | 18 | 17 | [33.0] | 21 | 29 | 14 | 19 | 26 | 180 |
| 22 | Black Rat | Troy Forrest | AUS | 16 | 21 | [31.0] | 12 | 18 | 23 | 21 | 31 | 21 | 30 | 193 |
| 23 | WYSIWYG V | Stephen Fries | AUS | 20 | 20 | 5 | 20 | 34 | 24 | 12 | 25 | 34 | [37.0] | 194 |
| 24 | New Caledonia2 | Alan Quere | FRANC | [31.0] | 27 | 22 | 14 | 28 | 15 | 22 | 30 | 25 | 27 | 210 |
| 25 | Marine Tech | Gareth Owen | UAE | 32 | 22 | [42.0] | 29 | 25 | 32 | 20 | 29 | 16 | 8 | 213 |
| 26 | Still Out of control | Mark Wolfenden | AUS | 14 | 30 | 20 | 24 | 16 | 29 | 27 | 38 | [39.0] | 24 | 222 |
| 27 | Jump! | Dennis Winstanley | AUS | 25 | [33.0] | 30 | 16 | 24 | 25 | 17 | 27 | 31 | 29 | 224 |
| 28 | Blue Tac | Trevor Martin | AUS | 26 | 31 | 13 | 26 | 29 | 28 | 35 | [36.0] | 26 | 20 | 234 |
| 29 | Borgo Scopeto | Giulia Tobia | ITA | [38.0] | 13 | 37 | 27 | 30 | 27 | 31 | 26 | 30 | 18 | 239 |
| 30 | Dart Vader | Mark Prince | AUS | 23 | [37.0] | 34 | 18 | 32 | 37 | 25 | 24 | 29 | 17 | 239 |
| 31 | Wedgewood | David Graney | AUS | 30 | 28 | [36.0] | 34 | 23 | 33 | 28 | 22 | 23 | 25 | 246 |
| 32 | Geronimo | Simon Hume | GBR | [43.0R] | 40 | 26 | 23 | 14 | 26 | 18 | 33 | 36 | 32 | 248 |
| 33 | Cube II | Martijn Buitenhuis | NED | 24 | 24 | 23 | 22 | 27 | 35 | [43.0B] | 28 | 33 | 33 | 249 |
| 34 | Purple Patch | Callum Burns | AUS | 19 | 32 | 28 | 37 | 35 | [43.0B] | 43.0B | 18 | 20 | 28 | 260 |
| 35 | Got a bit on | Matt Wenke | AUS | 27 | 26 | 40 | 40 | 26 | [43.0F] | 26 | 23 | 18 | 38 | 264 |
| 36 | Mountain Goat Racing | Mike McLean | AUS | 35 | 34 | 16 | 33 | [42.0] | 31 | 23 | 35 | 35 | 34 | 276 |
| 37 | Chota Hazri | Chris Kameen | AUS | 29 | 35 | 33 | 19 | [41.0] | 30 | 30 | 37 | 32 | 36 | 281 |
| 38 | UON Hamilton Island | Tim Henderson | AUS | 36 | 36 | [41.0] | 32 | 39 | 39 | 33 | 40 | 37 | 35 | 327 |
| 39 | NURI | Andrea Zanforlin | ITA | 37 | 38 | 38 | 38 | 37 | 34 | 32 | [41.0] | 40 | 40 | 334 |
| 40 | Squalo Bianco | Paris Stowell | AUS | 39 | [42.0] | 39 | 39 | 36 | 36 | 34 | 34 | 38 | 39 | 334 |
| 41 | Sidewinder | Declan Keogh | AUS | 41 | 39 | 29 | 36 | 40 | 38 | [43.0B] | 39 | 41 | 41 | 344 |
| 42 | Oceanburo Discover S | John Gardiner | AUS | 40 | 41 | 35 | 41 | 38 | 40 | 36 | [42.0] | 42 | 42 | 355 |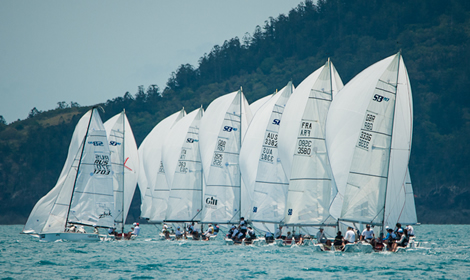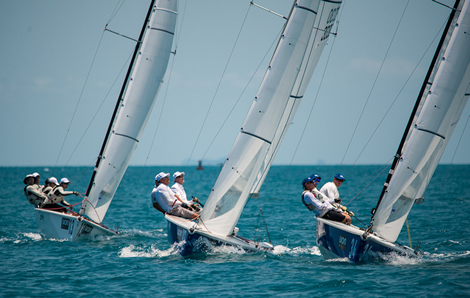 Back to top
Back to top