Team Russia still showing the way
At the half way point at the UON SB20 World Championship at Hamilton Island, the Russian team spearheaded by Oleg Zherebtsov and his Ukrainian helm Rodion Luka is still leading the international fleet of 42 sportsboats.
In a first-class display of tactics and crew work, sailing wunderkind Ben Saxton and his Great Britain team closed the gap on the clubhouse leader with a bullet in today's only race. Saxton's Bango Powered by SLAM is now seven points off the leading Team Russia.
Australia's Glenn Bourke and his Club Marine crew have held onto third overall but lost their grip on the countback that had them on equal points with Saxton at the close of racing yesterday. This will only motivate the cool multiple world champion racing with bow number 07, which has some island staff referring to their boss as '007'.
"There were a couple of opportunities we didn't grab with both hands but in the light airs we are not unhappy with our sixth today," said Bourke, the CEO of Hamilton Island.
Ian Brown's One Design Sailing has moved into fifth overall. Dual Olympic gold medallist Malcolm Page, who is on the mainsheet, said: "Conditions today were fickle. When you got it wrong you paid big. There's a lot to play for, and a lot to lose. We are happy to be where we are, it's a bit better than I expected. We are just sailing our own races."
Ian Brown is also pleased with their current standing on the results sheet. "We are working hard at maintaining our place" he said this afternoon. Between now and the end of the series Brown is hoping to find some time to tweak the rig. Tomorrow's layday could be opportune except "A few are playing golf tomorrow and they need a silly buggy driver…that might be me" the skipper conceded.
Today's big mover was Russia's Anna Basalkina and her in-form SB20 crew on Aquaholics. The Olympic 470 and Yngling sailor picked up a third place today to be sixth overall.
"It's quite difficult in the light winds, we took a good start today and kept our left side and that was the right way. Downwind we were fast, I am happy," the pleased skipper said. "I will try to come in the top three, that's the golden place".
On the steamy conditions Basalkina commented: "It's hot compared to other countries and cities where I've sailed, it's hard to keep concentration going". While the locals are swimming in the warm Whitsunday waters, the reputation of some of Australia's sea creatures has so far kept the Russian crew in the boat and unwilling to take a gamble on a refreshing dip.
Also breathing down the necks of the top tier is the Italian team of Stenghele, led by Pietro Negri and eighth overall, and UK entries, Geoff Carveth's WDK, fourth overall, Jerry Hill's sportsboatworld.com, seventh overall, and Rob Greenhalgh's The Beard, ninth overall.
The race committee signalled a postponement before today's one and only race. Patience paid off and it wasn't long before a 5-6 knot ENE breeze came to answer competitors' prayers, cooling baking bodies and setting things in motion for what ended up being a consistent fifth race of the 12 race series.
The light ENE winds ran out of puff just as the backmarkers cruised through the finish line under spinnaker. Cloud cover threw a blanket over the race course and with no sign of anything promising on the horizon the race committee lifted anchors and all boats headed back to Hamilton Island marina where crews are now enjoying an early mark.
Tomorrow is the one and only layday for the SB20 sportsboat fleet contesting their world title. Racing will resume on Tuesday and conclude on Thursday, 20 December.
Results:

| | | | | | | | | | |
| --- | --- | --- | --- | --- | --- | --- | --- | --- | --- |
| Pos | Boat | Skipper | Nat | R1 | R2 | R3 | R4 | R5 | Tot |
| 1 | Team Russia | Rodion Luka | RUS | 6 | 4 | 1 | 3 | 2 | 16 |
| 2 | Bango Powered bySLAM | Ben Saxton | GBR | 1 | 1 | 9 | 11 | 1 | 23 |
| 3 | Club Marine | Glenn Bourke | AUS | 3 | 10 | 4 | 5 | 6 | 28 |
| 4 | WKD | Geoff Carveth | GBR | 17 | 5 | 2 | 1 | 10 | 35 |
| 5 | One Design Sailing | Ian Brown | AUS | 8 | 15 | 3 | 4 | 5 | 35 |
| 6 | Aquaholics | Anna Basalkina | RUS | 12 | 7 | 14 | 6 | 3 | 42 |
| 7 | sportsboatworld.com | Jerry Hill | GBR | 2 | 16 | 17 | 2 | 8 | 45 |
| 8 | The Beard | Robert Greenhalgh | GBR | 4 | 8 | 15 | 9 | 9 | 45 |
| 9 | Hyeres2013 | Rouxel Thomas | FRA | 13 | 6 | 10 | 8 | 11 | 48 |
| 10 | Stenghele | Pietro Negri | ITA | 5 | 2 | 8 | 15 | 22.0A | 52 |
| 11 | Darling Associates | Chris Darling | SCO | 15 | 9 | 12 | 10 | 7 | 53 |
| 12 | ALTEA | Andrea Racchelli | ITA | 10 | 3 | 24 | 7 | 13 | 57 |
| 13 | Karabos | Nick Rogers | AUS | 11 | 17 | 21 | 13 | 19 | 81 |
| 14 | Harry powered by Und | Andrew Oddie | GBR | 21 | 23 | 6 | 35 | 4 | 89 |
| 15 | UBER3 | Adrian Peach | GBR | 9 | 11 | 27 | 31 | 20 | 98 |
| 16 | Black Rat | Troy Forrest | AUS | 16 | 21 | 31 | 12 | 18 | 98 |
| 17 | WYSIWYG V | Stephen Fries | AUS | 20 | 20 | 5 | 20 | 34 | 99 |
| 18 | Zeus | Ed Russo | FRA | 28 | 14 | 11 | 25 | 21 | 99 |
| 19 | And Then | Peter Jones | AUS | 34 | 12 | 7 | 30 | 17 | 100 |
| 20 | New Caledonia1 | TUGDUAL Piriou | FRANC | 22 | 19 | 19 | 28 | 12 | 100 |
| 21 | Still Out of control | Mark Wolfenden | AUS | 14 | 30 | 20 | 24 | 16 | 104 |
| 22 | Flirtatious | Chris Dare | AUS | 18 | 18 | 18 | 17 | 33 | 104 |
| 23 | Cube II | Martijn Buitenhuis | NED | 24 | 24 | 23 | 22 | 27 | 120 |
| 24 | New Caledonia2 | Alan Quere | FRANC | 31 | 27 | 22 | 14 | 28 | 122 |
| 25 | Blue Tac | Trevor Martin | AUS | 26 | 31 | 13 | 26 | 29 | 125 |
| 26 | Jump! | Dennis Winstanley | AUS | 25 | 33 | 30 | 16 | 24 | 128 |
| 27 | Typhoon | Craig Nicholls | AUS | 33 | 29 | 25 | 21 | 22 | 130 |
| 28 | Sailboat Deliveries | Sarah Allan | GBR | 7 | 25 | 32 | 43.0S | 31 | 138 |
| 29 | Dart Vader | Mark Prince | AUS | 23 | 37 | 34 | 18 | 32 | 144 |
| 30 | Borgo Scopeto | Giulia Tobia | ITA | 38 | 13 | 37 | 27 | 30 | 145 |
| 31 | Geronimo | Simon Hume | GBR | 43.0R | 40 | 26 | 23 | 14 | 146 |
| 32 | Marine Tech | Gareth Owen | UAE | 32 | 22 | 42 | 29 | 25 | 150 |
| 33 | Purple Patch | Callum Burns | AUS | 19 | 32 | 28 | 37 | 35 | 151 |
| 34 | Wedgewood | David Graney | AUS | 30 | 28 | 36 | 34 | 23 | 151 |
| 35 | Chota Hazri | Chris Kameen | AUS | 29 | 35 | 33 | 19 | 41 | 157 |
| 36 | Got a bit on | Matt Wenke | AUS | 27 | 26 | 40 | 40 | 26 | 159 |
| 37 | Mountain Goat Racing | Mike McLean | AUS | 35 | 34 | 16 | 33 | 42 | 160 |
| 38 | UON Hamilton Island | Tim Henderson | AUS | 36 | 36 | 41 | 32 | 39 | 184 |
| 39 | Sidewinder | Declan Keogh | AUS | 41 | 39 | 29 | 36 | 40 | 185 |
| 40 | NURI | Andrea Zanforlin | ITA | 37 | 38 | 38 | 38 | 37 | 188 |
| 41 | Oceanburo Discover S | John Gardiner | AUS | 40 | 41 | 35 | 41 | 38 | 195 |
| 42 | Squalo Bianco | Paris Stowell | AUS | 39 | 42 | 39 | 39 | 36 | 195 |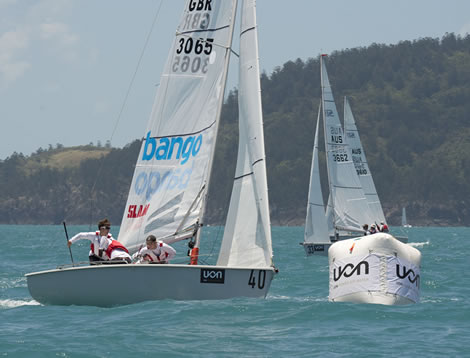 Back to top
Back to top