Mini Maxi, TP52 and a Transatlantic
Tuesday October 30th 2012, Author:
James Boyd
, Location: none selected
Rán's Niklas Zennström and his wife Catherine continue to sail more days per year than many professional sailors... With Niklas on the helm, this season they have continued to campaign both the Rán TP52 and Mini Maxi, and on the occasional weekends when they are not racing these there is always the Farr 45 on the Solent. And as a fresh adventure over the winter months they have chartered Mike Slade's maxi ICAP Leopard to compete in the Yacht Club Costa Smeralda's Transatlantic Superyacht & Maxi Regatta, from Tenerife to Virgin Gorda, starting on 25 November.
At present Zennström is particularly relishing the challenge of sailing the TP52, to the extent that he was recently allowed himself to be elected President of the class. "All the boats are so close. Previous years it has been come down to the last event. This year it came down to the last race," says the Skype co-founder.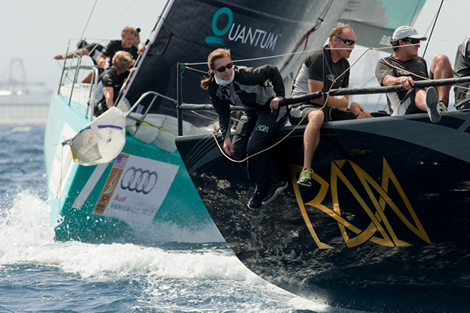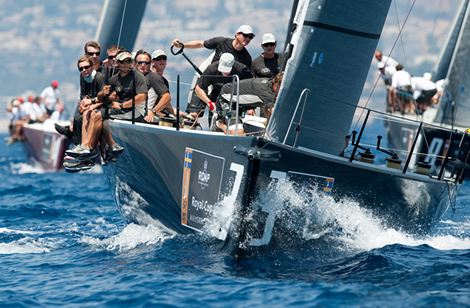 This has only been Zennström's second year in the TP52 class and this season Rán ended up third overall in the inaugural 52 Super Series. "I think that is okay," he says. "If you look at the boats that are ahead of us [Audi Azzurra and Quantum Racing], they are pretty good teams. So I don't think we should be too disappointed with that. We have been a little bit inconsistence, whereas they have been so consistent.
"For us it is a case of still learning and we need to minimise our mistakes, which is what it is all about. Like in Porto Cervo: we had two bad races, we were leading the coastal race and we sailed into a wind hole and everyone passed us. Then on the last day we had a really good start and it was stupid of us to be OCS, otherwise we would have been ahead of Azzurra. So there are these small mistakes. We know we need to continue to improve, but we are happy to be in the chase."
There may only have been five TP52s competing regularly on the 52 Super Series this year, but with the America's Cup teams departed to focus on not breaking their wingsail catamarans and there now being no second tier teams, the remaining boats are very evenly matched. All five are winning races, despite having different hull shapes and optimisations, resulting in their own slight quirks – Gladiator fast in the light, Audi Azzurra and Quantum Racing good upwind, etc. But as Zennström points out "they are very very small differences. When the fleet was bigger, with Team New Zealand, it was a big benefit to be stronger upwind, because if you were weak upwind you would get pushed back. Now we are not that strong upwind, but if we can go round just behind them we are very strong downwind, more so when it is breezy." So places can be picked up on the run.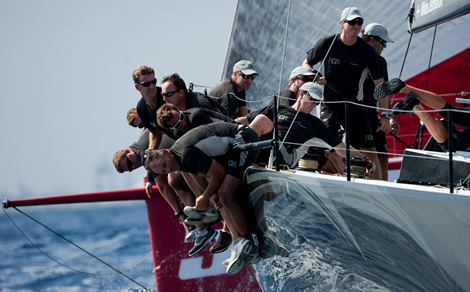 Business
In addition to becoming TP52 Class President, Zennström is, along with Matador/Azzurra's Alberto Roemmers and Quantum Racing's Doug de Vos, one of the triumvirate of stakeholders in the new 52 Super Series, rescuing the circuit at the beginning of this year after the demise of the Audi MedCup.
"Obviously I think that the way the MedCup was run was great, but it was designed for a climate where there was more money from sponsorship and advertising," says Zennström . "Unfortunately that wasn't economically sustainable for them. It was a pity, but we felt it was the natural thing for us to set up more of an owner-owned circuit."
A cornerstone of the MedCup's business model was deriving income from venues, but when this started drying up, particularly in Spain, and Audi began making demands to get the MedCup to visit Kiel [as Audi All4One did this year], the interests of owners and organisers diverged.
Now Zennström says they, the owners, can set the agenda for what goes on both in the class and the 52 Super Series with the aim of putting it on a solid footing for the future.
As to where this might all be leading, Zennström says there is the possibility of turning the 52 Super Series into a profit-making business at some point, but the primary aim is to maintain a circuit that enables the stakeholders to enjoy their pastime.
"We understand that to get this to be somehow sustainable is going to take some time. We are committed to that – the first thing this year was to stabilise things, let's go racing and keep the good things of the Audi MedCup, which was the racing, and maybe we don't need all that commercial hospitality."
While sponsors were coming in on an event-by-event basis this season, their contribution wasn't enough to cover the costs of running the circuit and its events. However Zennström points out: "Our first objective was to create this new circuit and make sure that we are turning the corner on entries. This year has been very much a transitional year and we have to build it slowly. In this economy if you can get one more boat racing you are doing well. We want to try to stabilise this and build a circuit with a bit more longevity."
A key aim is obviously trying to tempt in new teams and attract back old ones – but where will they come from? Zennström says that there are two different target groups. One is private owners who like to helm and relish the challenge of competing against the best sailors in the world – he and Gladiator owner Tony Langley being the prime examples - while the others are the more commercial teams with pros helming, like Quantum Racing or Audi All4One.
Over recent years, the class has taken great steps to contain costs. With the TP52 having just completed its eighth season in Europe, the days of radical design leaps and the need to build a new boat each year are over. Teams spend their time focussing on the minutiae, by, for example, tweaking gear that might provide a team with a handling improvement gaining them a second or two in a manoeuvre. Zennström says he prefers this because it means less boat work and more time sailing.
With no deluge of new builds each year now (Audi Azzurra was the only new TP52 this season) so secondhand values have improved. "And it is pretty reasonable now with the number of sails that we have," Zennström continues. "Logistics, moving the boats - if you keep it in the Med, it is not so expensive because the boat can move around on its own keel. Then it is crew costs – we are sailing these boats with 12 people, so that is contained. For sure it is a big step up from a Soto 40, but the boats are much cheaper to race than a Wally or a big Swan. With the 52 it is all about sailing with the best crew."
To lure in new teams, Zennström feels he needs to dispel one of the myths about TP52 racing: "There has been the perception that this is so high end that you have to be an America's Cup team or you have to throw money at it. One thing today is that you cannot throw money at it because you don't benefit from building a boat every year and the sails are limited."
Although he adds that racing aginst teams like Audi Azzurra and Quantum Racing, both packed with ex-America's Cup sailors (as his own crew on Rán is), you are up against some of the best in the world, but an owner-driver can still beat them. In fact there is some tradition of this with both Torbjorn Tornqvist and Peter de Ridder winning the MedCup in past seasons. "The difference is that Quantum and Azzurra - they are more consistent," Zennström continues. "We see that when we come into a really tight situation with [Quantum Racing skipper] Ed Baird. They are usually pretty good at coming out on top."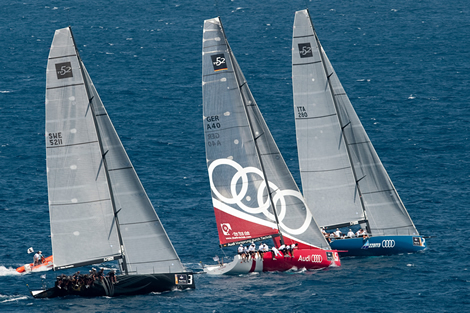 IRC
There is a school of thought that the 52 class should dispense with the box rule and instead race under IRC. However Zennström points out that if this occurred then it would instigate an arms race. Racing as a TP52 under the class' box rule, they aren't allowed to get big spinnakers or to increase their stability for example, so they don't spend the money on that, which they would without the box rule.
However because the boats are so close, Zennström says that IRC is doing a good job creating a level playing field when the TP52s have competed against IRC 52s this year. In addition to the boats that joined in with the 52 Super Series this year, Quantum Racing sailed in TP52 trim at Key West earlier this year and, with Doug de Vos on the helm, showed the potentially faster US IRC 52 fleet a clean pair of heels. And on the 52 Super Series this year Audi All4One has been racing with a heavier keel and even with Jochen Schuemann on the wheel, hasn't exactly destroyed the competition. So provided it is in the ball park, the boat isn't the key – winning comes down more to flawless crew work and time spent on the water.
"From a boat point of view it is not a big issue," Zennström confirms. "What we created here - we want to have boat-for boat-racing. If you finish 1m ahead of another one on the finish line you should win." Which of course you don't get racing under IRC.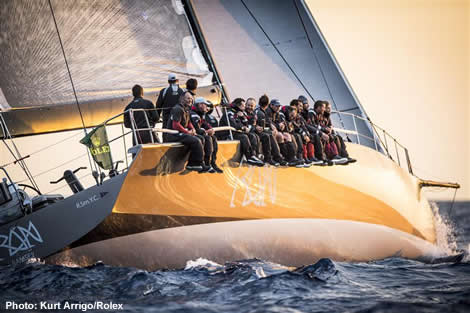 The big boat
The Rán Mini Maxi program hasn't had the best end of season. They comfortably won Copa del Rey, but were unable to defend their Mini Maxi World Championship title, won this year by American Hap Fauth and his new Bella Mente. And despite looking good for their winning handicap honours in last week's Rolex Middle Sea Race for a while, the mid-fleet ended up coming out on top overall.
For the Rán program, in addition to continuing with the 52 in 2013, the big thing will be attempting to secure the coveted handicap win in the Rolex Fastnet Race. Having won the last two races, winning it for a third consecutive time would equal the record of the only boat to have won the race three times - the pilot cutter Jolie Breeze. However Zennström is also keen to win back the Mini Maxi World Championship title in 2013.
Despite getting a little old compared to the newer competition, the Rán Mini Maxi has proved to be competitive this year against newcomers Stig and Bella Mente. "For them it is the first year they were racing and we know it takes some time to get these boats to work and you can see with Stig it is a very good boat, but they are still learning it. They were not that consistent at the Maxi Worlds. But when they get it going, it is fast. Next year it is going to be harder at the Maxi Worlds."
Interestingly while the Mini Maxi class was in hiatus over the last couple of seasons, this year two news boats, Stig and Bella Mente, were launched while, with his Mills 68 sold, Andres Soriano is having a new Mark Mills 72 footer built in Spain, ready for next season. So while the Mini Maxis appear to be on the ascent again, the TP52 class in the Med is perhaps a season behind in this respect, having just had their worst season in terms of boat numbers, but with a solid foundation in the trio of owners behind the circuit, maybe now it is back on track will be enough to attract a fresh crop of competitors.
Given that the 68ft Alegre and the ex-Alfa Romeo/Shockwave have moved on to enthusiastic new owners, one gets the impression that perhaps one way to entice new owners into both the Mini Maxi and TP52 classes is to keep the turnover of boats continuing.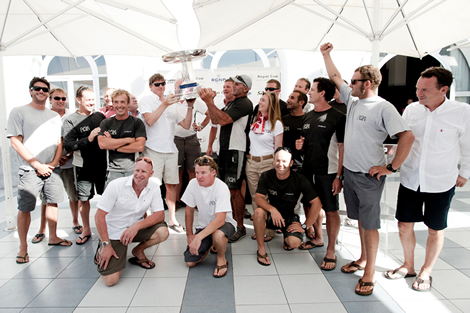 Back to top
Back to top