ICAP Leopard - racing harder than ever
We have been led to believe over the last year that Mike Slade's 100ft maxi, ICAP Leopard, has been converted into a cruising boat, albeit still a blisteringly fast one, and that she would retire into a life of gentle luxury charter. But in fact this is far from the case.
Yes, this spring the giant maxi did have a cruising interior fitted (as was always planned from her inception at the Farr office back in 2006-7) but there is no let-up in her intensive race programme, owner Mike Slade maintaining a strong appetite to campaign his famous boat.
As Leopard's long term skipper and project manager Chris Sherlock puts it: "I am doing more racing in the next 12 months than I have ever done with this boat. Except I have got to put it into six weeks of term charter as well!"
The charter role of ICAP Leopard always been an impressive feature of her program - the boat actually runs at a profit... but thanks to the newly installed accommodation in the forward acreage of her long hull, she can not only day charter but term charter now too.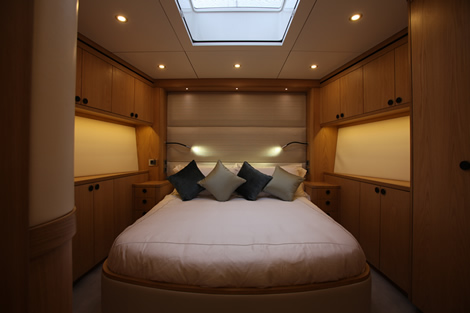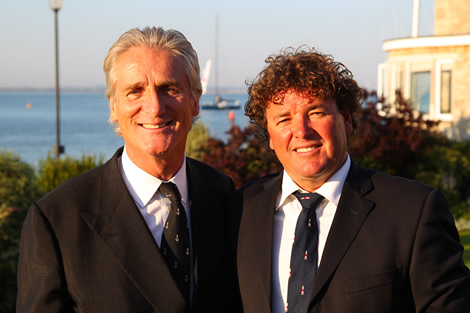 Mike Slade (left) with Chris Sherlock
As Sherlock explains: "Mike turned around and said 'we have been racing for four or five years. I want to live on my boat again'."
The bow area, previously open, now features a full width owner's stateroom forward, and then heading aft, two further guest cabins on either side and then two smaller cabins, which have ICAP Leopard's substantial twin daggerboard cases hidden within them. Like a proper superyacht, there is carpeting which Sherlock acknowledges is "not very boatie" but makes a huge difference in reducing noise.
Interior design work was carried out by Mark Tucker at Design Unlimited, who also performed the same role on Charles Dunstone's new WallyCento Hamilton.
To make the changes, nine months of work was shoehorned into six months with people on the job seven days a week, 12 hours a day, for, as Sherlock points out, any extra days spent on this would equate to lost charter or corporate day sailing revenue.
The transformation was carried out at Southampton Yacht Services at Saxon Wharf. The Leopard program and Sherlock have been long term customers of SYS – their first refit job with them was 20 years ago and remarkably the most of the same shipwrights are still there, even the electrician, who once upon a time worked on Slade's Ocean Leopard back in 1988.
Sherlock ran his own team of 20 people working on the project, SYS had a further 20-30 and overall he reckons about 100 people were involved in the refit: "I needed quite a bit of technical help from the SYS Design Office for the systems and what not."
Sydney-based OLectric were recalled to upgrade the ICAP Leopard's complex electrical systems. They were involved since the maxi yacht was originally launched. Just to give a couple of examples out of several hundred, their system can be used to change the line-speeds on the powered winches or the load at which each winch automatically changes gear - all controllable from their own touch screen displays, mounted down below or at each helm position. The system operates all the electrics, the lights, engine leg, and of course also the extensive hydraulics and beyond. But with the charter fit-out the electrics have had to be extended still further and there is added tankage for fresh water, waste, etc.
"I got OLectric to redesign it because in four and a half years it was trouble free – amazing," says Sherlock. "And I know how to operate that equipment now, so I didn't want to go too far in another way."
Neville Hutton handled the construction of extra composite bulkheads, while SYS built the interior woodwork, all finished in American oak. "The boss [Mike Slade] loved the Oyster interiors," says Sherlock. "But instead of making it out of wood it is all out of foam and Nomex and all the headlinings are Nomex."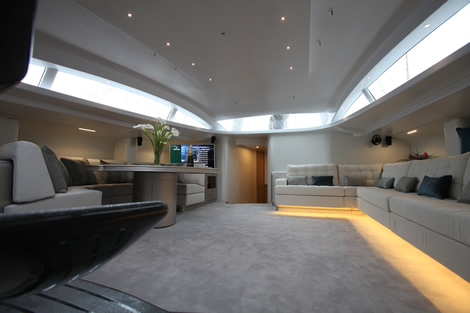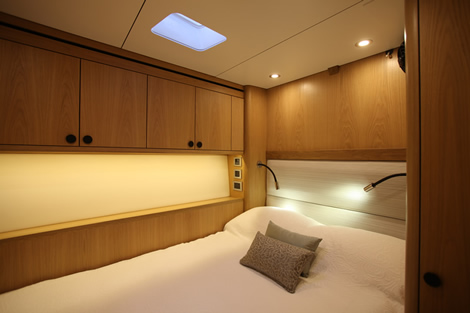 Down below we particularly liked the carbon fibre head units. Impressively there are now not one but two companies that manufacturer these (check out page 22 of this brochure), although if you are thinking about buying such a nice and appropriately hi-tech potty for your bathroom, they come with a cool 4,500 Euros price tag.
While the galley has been upgraded in line with ICAP Leopard's new role as a term charter boat, they have also upgraded the whole navigation system and electronics, with new touch screens (replacing one of the previous bulky switch panel), a radar and back-up radar, etc. There is now air conditioning throughout and a comprehensive monitoring and alarm system, as required to meet Lloyds classification.
In addition to the interior work, ICAP Leopard also received a new exterior paintjob, metallic blue livery replacing her previous silver. She has new sails and new Future Fibres RDS rigging for her original Southern Spars mast.
"Future Fibres have been great for us," Sherlock advises. "Looking at putting a new project together, I personally would not split the rig and the rigging. I think you have either got to go Future Fibres mast and rigging or Southern Spars, but we have got to live with what we have got."
In terms of performance, the name of the game as ever is displacement and according to Sherlock they have managed to minimise the weight of the refit to "about 3 and a bit tonnes", leaving Leopard at 48.5 tonnes in IRC measurement trim, 1.5 less than the new Hamilton, by absolutely no coincidence at all. "That was the design brief - that we had to stay under that magic 50 tonnes IRC empty weight." Although when sailing, she is above 50 tonnes.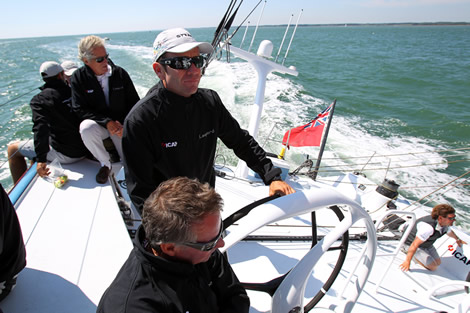 "We are still alright as far as the weight and the rig is concerned," Sherlock continues. "The boat was always designed to have the interior, so in fact we have been sailing around for the last four and a half years with all the crew weight forward. Now we are all crew weight aft, because of the weight up at the front. So there is a compromise - you can't just put 3.5 tonnes on your boat and not pay a price for it. But we are five years old, we are not going to come across Dunstone [ie Hamilton] and arguably Leopard is still one of the fastest, if not the fastest cruising superyacht."
In addition to these performance compromises, Leopard is a charter boat and thus needs to comply with various different regulations, in her case those of the Marine Coastguard Agency's Large Yacht Code (LY2). Part of this is that she meet the requirements of an official classification body so she was type approved by Lloyds for her engineering and electrics and DNV for her hull, deck and scantlings. Sherlock says if you go with one or the other for the complete classification you end up with an overly heavy boat. However this wouldn't be possible again.
"Half way through the build the MCA issued a notice saying that you have to be one class or another. Thankfully we had it in writing and we were okay. But you will not get a [performance] 100 footer through it again."
The only opportunity Hamilton and ICAP Leopard have had to line up this summer was when they competed in the Superyacht Cup in Cowes in July when Charles Dunstone's newer boat came out on top. However Sherlock observes that the two boats are not designed for the same thing. Hamilton is mostly an inshore boat, optimised for windward-leewards, whereas ICAP Leopard excels offshore, particularly reaching when she can fly her big A3s and A5s.
While ICAP Leopard is a canting keel boat with twin daggerboards and a draft of 5.5m, the new Hamilton has a lifting keel that drops to 6.2m, so Sherlock says this indicates her having a righting moment higher than Leopard's. Leopard's is around the 100,000kgm ark, compared to Wild Oats XI's at 80,000kgm while Speedboat (formerly Rambler 100) was up to 120,000kgm.
Unfortunately the Superyacht Cup may have been the only occasion when the two boats will directly line up against each other. Both boats took part in Les Voiles de St Tropez, but were racing in separate classes, Hamilton competing in the Wally class.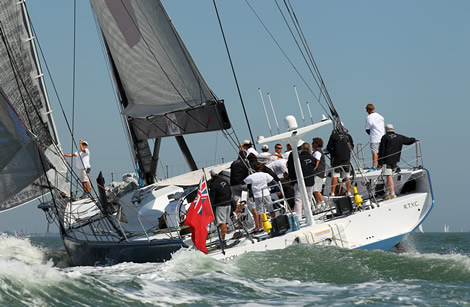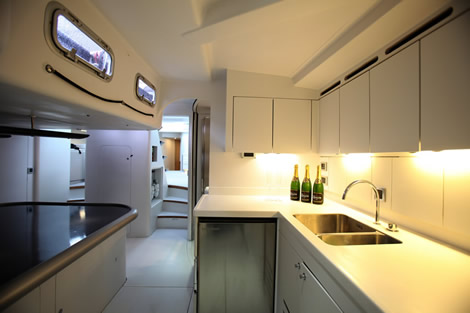 "It is a real shame," says Sherlock. "It really winds me up that all these boats aren't sailing together, but that's another story." Apparently they did make overtures to see if ICAP Leopard could compete in the WallyCento class, somehow grandfathered in, but the price of buying 'the badge' was a little exorbitant. Sherlock is not overly bothered by this. "We are not a Wally at the end of the day. It might have helped them with their numbers but they are not interested, and rightly so."
After a busy summer in the UK with JPMorgan Round the Island Race, down in Weymouth for the Olympic Games, Aberdeen Asset Management Cowes Week, the St Malo Race, etc ICAP Leopard then headed for the Med where, as mentioned, she competed at the Voiles de St Tropez. She is now en route to Tenerife and once there will await the start of the Yacht Club Costa Smeralda's Transatlantic Maxi and Superyacht Regatta, starting on 26 November, bound for the YCCS' new club house in Virgin Gorda, BVI.
For this the boat has been chartered to Niklas Zennström (and so is entered as Rán Leopard). On board will be the Rán Mini Maxi crew in addition to Leopard's five regulars – captain, engineer, mate, stewardess and chef. The dry run for a Rán Volvo Ocean Race campaign? Tim Powell thinks not.
In the Transatlantic race Rán Leopard's main competition will be Niyala, the Reichel-Pugh 112 and Cape Arrow, the Southern Wind 100 and Peter Harrison's Soyana.
"So we have someone to race against," says Sherlock. "We don't look at IRC, but we'll hope to have a good knock at that as well. The biggest disappointment is that Hetairos isn't doing it."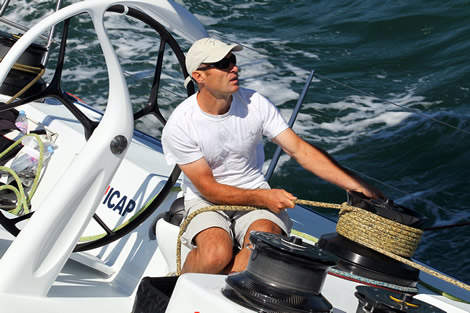 Once across to the Caribbean the schedule for ICAP Leopard is intense. She is scheduled to compete in the RORC Caribbean 600, the St Barts Bucket, Antigua Sailing Week and Heineken St Maarten regatta, of course with term charters shoehorned in between for which she is now fully booked. All these regattas Mike Slade wants to take part in, although Sherlock adds they are still looking for parties interested in coming in on a 50-50 basis, as they have done in the past.
Now that ICAP Leopard's accommodation allows her to do term charter, they have had to roll out the toys and Sherlock maintains that theirs is one of the few yachts offering diving these days. They carry all the tanks on board along with a 4.8m Ribeye tender. Sherlock is personally a Dive Master and has all the appropriate insurance, etc. But the best bit remains being able to sail between the islands at 20 knots with ease.
"We match wind speed, so going from Antigua to Guadeloupe, if it is 22 knots it will do 22 knots. It is not just a spurt. This thing sits on 22 knots. So it is great sailing," Sherlock enthuses.
After the Caribbean, Leopard heads up to New York for some corporate work with sponsor ICAP before returning across the pond. This schedule unfortunately sees her back in the UK in the middle of June, ie too late to make her annual jaunt Round the Island.
Typically chartering ICAP Leopard for a week costs 50,000 Euros plus add-ons such as food.
"The main clientele that I am aiming at are mum, dad and the kids - teenagers or in their early 20s with partners - so a similar set up to the Slades," says Sherlock. "It works well as a family boat."
Quite some family boat.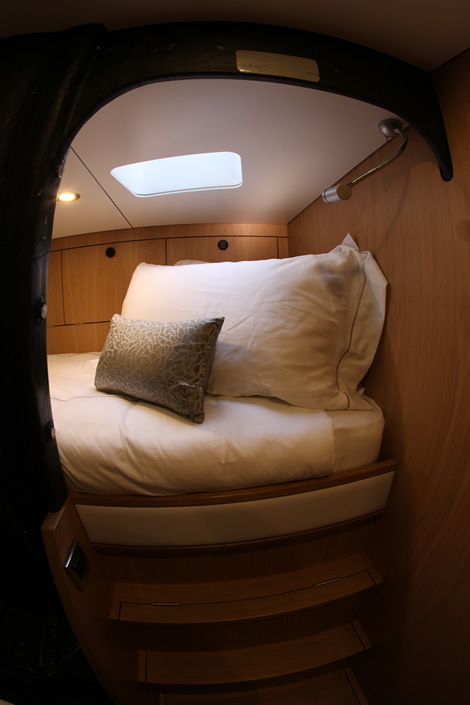 Back to top
Back to top