The quest to revitalise the TP52
From its peak participation, when more than 20 boats took part in the 2007 and 2008 seasons of the Audi MedCup, numbers of TP52 competing have been in sharp decline. In 2009 the circuit was down to just 13 boats, further dropping to 11 in 2010 and just seven in 2011.
This came as little surprise with the severe economic downturn, particularly across Europe and Spain, combined with the increasingly competitive nature of the fleet and the resultant escalating costs that have been time and again proved the bane of box rule classes.
With just five to eight boats competing in this year's newly christened '52 Super Series' it is easy to assume that the TP52 class in Europe is soon to demise. But there is one very significant factor preventing this: rather than being owned by a commercial entity, as was the case with the Audi MedCup, behind the new '52 Super Series' are three of the big players in the class - Doug de Vos, Niklas Zennström and Alberto Roemmers - all gentlemen of 'adequate resources'. In short it will be they, and not market forces, that determine the fate of the class and they are showing no signs of wanting it to end.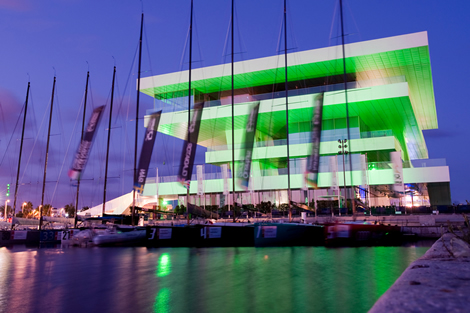 As TP52 Class Manager, Rob Wieland summarises: "They wanted this and the class to continue after the MedCup, because they consider the boats and the racing to be too good to disappear."
The new entity running the TP52 racing in Europe came about after a suggestion the Quantum team and Doug DeVos, who has experience in US sports, his family owning the Orlando Magic basketball team.
The new look 52 Super Series this year has of course been very different to the Audi MedCup. The MedCup's massive staff and its impressive acreage of hospitality tents haven't disappeared, they are both just smaller.
With Santa Monica no longer involved, there is a new sports marketing company behind the circuit in the form of Valencia-based Jacaranda Marketing run by Germans Mirko Groschner and Lars Böcking. Both were previously involved in the 32nd America's Cup, bringing the Deutsche Telecom deal to Team Shosholoza, for whom they then handled the communication and marketing. On the Audi MedCup they assisted with the German Platoon campaign and since 2008 they have been working with Audi both on projects emanating from the car giant's HQ in Germany (such as the All4One and Azzurra sponsorships, the German Olympic sailing team, etc) and with Audi Spain. On the MedCup, as it was, they handled the sponsorship fulfilment, the extensive hospitality program and the branding of the two Audi TP52s.
"We are really happy we can keep the 52s rolling," says Böcking, who now manages the 52 Super Series. "They are still the best monohulls and I also like it because it is very competitive and there's the image - the boats are fast and high tech and it represents everything that sailing stands for."
A key difference between how the old and new circuits is that the 52 Super Series has more integration with the yacht clubs at the venues they visit such as the Real Club Nautico de Barcelona or the Yacht Club Costa Smeralda.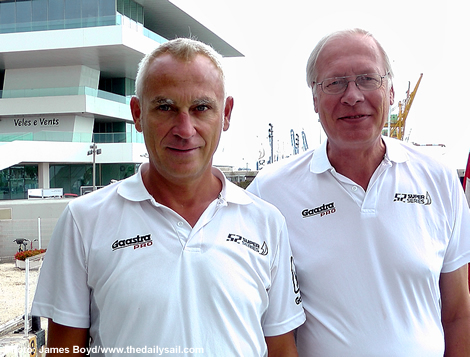 Above: Jacaranda Marketing's Lars Böcking with Rob Weiland
"The whole concept is one of integration with the clubs because they help us with infrastructure," says Böcking. "So it is going back to the roots on sailing and its strengths. They [yacht club members] are well educated people and in the end it is much easier to sell those strengths rather than build up something that isn't there [like the MedCup]. In Barcelona [at the MedCup event] last year about 200,000 people came, but of those 100,000 were tourists..."
Böcking views 2012 as being a 'transition' year for the TP52s, attempting to stop the rot caused by the demise of the MedCup. They have to build up 'the product' and that means doing all they can to increase the number of boats competing and to show that 52 Super Series is alive and well and still offers the highest level of inshore keelboat fleet racing available in our sport. That, he observes, is far harder than simply marketing it: "The feedback we have got is really positive, talking to clients and sponsors. They know the concept will work [because of the MedCup] and at the end of the day it is about budget - without the big artificial approach, the budget decreases."
While the 52 Super Series doesn't have a title sponsor, giving the impression that Audi has completely finished with the TP52s, in fact that isn't the case. The German car manufacturer has been supporting the circuit on an event-by-event basis, albeit in a lower key way, with cars in the venues, plus the backing of the All4One and Azzurra teams.
As Rob Wieland puts it: "I think we both feel that after MedCup, it would be like remarrying your ex-wife. Perhaps we need more time to grow first apart and then together again. Or we find a marriage in different roles."
According to Böcking Audi Spain was happy with its involvement this season, but at this stage it isn't showing signs that it wishes to increase its involvement. However he adds that their more organic, grass roots approach to running the circuit are not only more solid foundations for the future when they come to get a title sponsor, but the scale of the sponsorship being sought is substantially less than for the MedCup.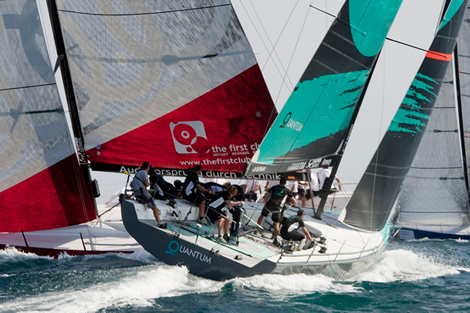 The product has also changed. With the three owners behind 52 Super Series, the main interest is now in keeping them happy rather than a company. Also now without the 'MedCup' tag, they have more freedom to travel and four of the European TP52s are heading to the USA this winter for Key West Race Week and a stand-alone event in Miami. Visiting the USA is also a drive to entice more owners from that side of the Atlantic to compete in Europe (as Peter Cunningham's PowerPlay did this season).
Over the course of this year they have been stepping up the media side bringing in Virtual Eye tracking and having live commentary (but not live video) from the water and Böcking says that the next step is to enlarge the media distribution and communication side. Here the drivers have also changed – rather than pushing a brand it is more about plugging the circuit, with the aim of encouraging more teams and owners to take part.
They recognises that in the present economic climate any growth in numbers will come from private owners looking to up their game and race at the pinnacle of the sport, just as Niklas Zennström and Gladiator owner Tony Langley have.
One potential issue we have noted in the past with the class is that there remains a mix of owner-drivers and pro-drivers. While we saw Peter de Ridder win at the helm of Mutua Madrilena in 2006 followed by Torbjorn Tornqvist with Artemis in 2007, since then the winners have always been pro drivers, such as Terry Hutchinson or Ed Baird on Quantum Racing or Dean Barker with Emirates Team New Zealand.
However for the owners currently involved, having the opportunity to line-up against some of the best helms in the world is the attraction. Böcking tells of a conversation he had with PowerPlay owner Peter Cunningham. "He said to me 'for me as a person it is better to be third against the best sailors in the world than winning a small little local regattas.'"
But owner-pro issue extends beyond this as the private owners simply want to have good racing while the teams with corporate backing such Quantum Racing or the Audi boats need to achieve some marketing from the circuit.
With the present structure it seems like the ideal business model would be a non-profit/small profit one, whereby sponsorship covers the management and running of the circuit.
"For sure the interest is that everything is organised well, that we go to nice places, it would be great to have a sponsor for transport, but the actual sailing they are not looking to finance that through all of this," says Wieland of what the owners are gunning for.
The aim for 2013 is to get a minimum of six TP52s racing regularly at every event. As Wieland puts it: "We have to slowly progress out of this big hole we were in and to make it feel worthwhile for everyone and to make this a success. I am not too negative about that."
This season, in addition to the five regulars - Quantum Racing, Rán, season champions Audi Azzurra Sailing Team, Gladiator and Audi All4One – several other 52s have dipped in and out of the circuit. PowerPlay raced the Audi Sardinia Cup and Copa del Rey (not part of the 52 Super Series circuit) as did the Jean-Luc Petithuguenin's Paprec. At Copa del Rey they were also joined by Turkish owner Ergin Imre and his Provezza 7 (the 2008 generation Desafio/Cristabella) featuring British 470 medallist Nick Rogers as skipper/helmsman.
Another on the periphery of the circuit this year has been Aquila (the 2008 Mutua Madrilena) which Felix Riedl campaigns mostly out of Croatia, but which this year took part in Copa del Rey.
Of all of these, the five regulars are expected back for 2013. PowerPlay is up for sale as Peter Cunningham spends a year focussing on setting up a new company. Wieland is hoping that Proveza will compete in more events.
To oil the wheels, the program for 2013 was published back in the summer. "We finish in Porto Cervo next year and I hope to get one or two more boats there – so seven or eight," says Wieland. "I secretly hope to see one boat coming from the States, but they haven't signed on the dotted line. Also there are three or four boats for sale either here or in America, so those will get new owners and if they aren't Australians you have a good chance they will participate in some events."
When Quantum Racing took part at Key West Race Week earlier this year there was talk of more US-based TP52s such as Jim Swartz's Vesper and Austin and Gwen Fragomen's Interlodge making the trip across from the US, but in the end only PowerPlay came.
"I feel we have to slowly grow together," says Wieland. "In Europe the level is higher than in America and my feeling is that we have to go to America first and we will have to get to know each other and then I hope it is not going to be a problem for us to go that way and for them to come this way. The funny thing is that around the world there are still 20 TP52s racing at a good level just as there in 2008, only they're not in the same place..."
Australia, in particular, is on the ascent with many top ex-MedCup boats now there, including Emirates Team New Zealand's winner from 2009-10, now Marcus Blackmore's Hooligan. A mini circuit for the 52s is developing down under with three events due to be held in Sandringham, Brisbane and Sydney over the coming season. At present seven teams have committed to these events, although Wieland says there are currently around 15 boats that could take part down there.
Unlike the 52 Super Series, the Aussies have chosen to pump up the age allowance, which is added on top of the IRC TCC. Wieland doesn't view this as being the best way forwards, but it certainly represents the cheapest alternative. "You will have slow boats that unavoidably will have to tack away because someone is on their wind and they won't be able to defend themselves against the newer generation boats... But from a financial point of view it is very simple and I can see why they have chosen it."
Like the 52 Super Series, the Aussies are racing with a crew of 13 and are considering sail limitations. They are also proposing a different type of windward-leeward course with a downwind start, half way down the run. This Wieland says should keep the boats compressed around the leeward gate and might prove more spectacular.
Unfortunately despite fighting talk at Key West in January the US class isn't so buoyant. At present Interlodge is the sole US boat to go up against the Europeans next spring. But Wieland remains optimistic: "My feeling is that we will still see eight boats, but I don't know which ones."
At some point Weiland has the dream that the European, American and Aussie fleets will all gather together at a 52 World Championship. "I think where the Aussies are going and where we are going, if we both get to fleets of 10 boats and keen people that it is unavoidable."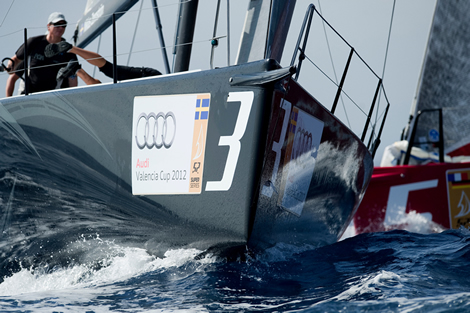 An issue that has been addressed this year, but which remains topical, is how to integrate the 'IRCed'52s into the TP52 fleet when they are out of class. The compelling argument in favour of TP52s staying within the rule is that they can race boat-for-boat and not on handicap. The TP52 rule now places a firm cap on costs, limiting sails, etc. Rob Weiland argues there is the potential for an IRC 52 campaign to cost an owner substantially more than a TP52 one, although one wonders if any actually do. "If that [IRC] was the only requirement all these guys would go outside class and do stupid things like having two keels, two masts, two suits of sails to adapt to the conditions for each event and it would get totally out of control. This is the only way to keep a cap on spending."
To encourage the IRC52s to race against the TP52s this season, boats can compete with an IRC TCC of <1.390, which is typically around 6 points more than in-class TP52s (although at Copa del Rey, the TP52s had TCCs of 1.340-1.360).
The wide-sterned Franco-German Audi All4One has been an exception this year. She took a detour in the summer to compete at Kiel Week on Audi's behalf and, in order to make her more competitive in light conditoins, 200kg was taken out of her. In this faster configuration she did manage to win at Copa del Rey, where she had the maximum TCC of 1.3890. However even then they only beat the in-class Audi Azzurra by one point.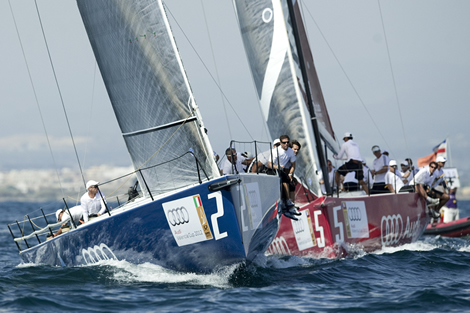 A lot of what is permitted is determined by Wieland and his considerable experience in such matters. "No one has come to me and said it wasn't working," he states. "In fact that I have heard no comments other than positive ones, but I am being very closely watched by the guys who are in the TP52 box."
He adds though that while the IRC52s have had 'keel jobs', typically using the same bulb but lowering it by 10cm and with a hollowed-out fins and carbon fibre rigging, to date none of the IRC 52s (aside from Audi All4One for Copa del Rey) have taken the opportunity to raise their rating to the full 1.390 permitted.
It was interesting to note though that Quantum Racing, with Doug de Vos steering, destroyed the IRC competition at Key West in January racing in TP52 trim. Unquestionably this was down to their time in the boat and its refinement compared to the US teams.
If older boats (ie more than three years old) wish to participate with the TP52s, Wieland says he is encouraging that they be sped up by for example being made lighter and their draft increased. This is substantially preferable to an age allowance as it means that the boats can be competitive with newer ones. "If you are slower, you sail behind other boats in dirty air and what kind of allowance do you give to that? So we'd rather give them the opportunity to speed up so that they can compete with equal weapons. It is a little bit artificial, but I don't see any other way to attract teams that sail less or are less professional. The comment that I have heard most from the IRC guys is that they feel it is not their boat that is the problem. 'We have enough speed. Probably it is our sails or the way they do it.'"
Beyond this, one errs into difficult territory. Should there be some sort of incentive for amateur crews for example?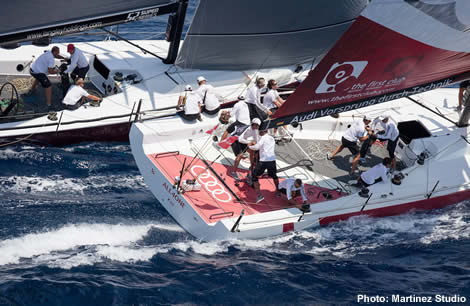 Wieland believes that one of the main issues the circuit has in attracting new boats is the perception that it is just too competitive. "That may be the case. Part of that comes from the past when Team New Zealand and Luna Rossa were there. America's Cup teams - they leave a trail of problems behind them!"
He also observes that early generation TP52s earned themselves a reputation for being too-Mediterranean inshore-orientated and were not suitable for taking offshore. This is now no longer true - the new generation boats are suitable for say the Newport-Bermuda or the Rolex Fastnet Races, although if he were doing the Sydney-Hobart he might add one more ring frame...
As to the TP52 rule, there is a possibility that this could be tweaked further to bring parity between the two genres of 52. One option for example is going for carbon rigging, which would make the TPs a little stiffer.
So is this a class in difficulty? Yes. In decline, we hope not.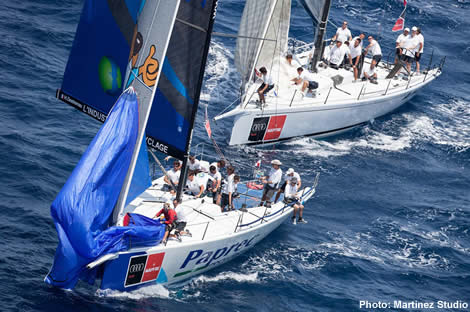 Back to top
Back to top