Three bullets for Peninsula Petroleum
Four more races were held on the Adris RC44 World Championship's penultimate day off Rovinj, Croatia. While up until this morning there had been a different winner in every race, today John Bassadone's Peninsula Petroleum upset the apple cart, scoring three wins.
"We had a very good day today, we sailed very well," said a beaming Bassadone. "The crew work was ten out of ten. Vasco [Vascotto] took us the right way, we started in the right place most of the time and we had good boat speed."
The day far exceeded Bassadone's expectations: He would be more than satisfied with a top five result from this World Championship. Instead Peninsula Petroleum lies second overall.
Perhaps most odd about this regatta is that this week's warm, light conditions have appeared as innocent and benign – although still more than adequate to provide good racing for the RC44s – as they have proved challenging for the crews.
"Most important today were the starts," Bassadone advised. In races two and three Peninsula Petroleum ended up locking horns with the Steve Howe-steered Katusha. In the first Katusha was early, luffed hard forcing Bassadone to avoid them, then won the pin, making Peninsula tack away or live in her dirty wind. In the second there was an equally intense scrap resulting in the two boats touching, but on this occasion Katusha was penalised, Bassadone's team getting the upper hand – the end result was the difference between a 12th and a win.
Today Peninsula Petroleum tried to win the pin in all four starts. The team's high tempo Italian tactician Vasco Vascotto explained this was due to his feeling the left side of the course would pay with the wind not expected to veer beyond 200°.
Otherwise Vascotto was pleased – "we might drink a beer…" – but added it was important to keep calm going into tomorrow.
Despite the leaderboard behaving as a rollercoaster ride yet again today, Chris Bake's Team Aqua put in the most consistent performance of the 15 boats. She never scored lower than a sixth and goes into the final day with a healthy nine point lead over Peninsula Petroleum, which in turn narrowly squeezed Igor Lah's Ceeref out of second place by just one point.
"The results – they are all over the place," admitted Team Aqua's owner/helmsman Chris Bake. "Everyone has had great races and bad races. But it is hard out there – it feels a lot harder than it looks: It is really shifty, it can get pretty bumpy and you have a lot of conflict between the tide and the wind and the wind has a bias to go right so you get a twisting wind that is fickle. You get a pretty consistent tide and you get a little bit of chop and it is hard to keep the boat going. You never really feel like you are there. It is not very forgiving at all."
If Team Aqua can keep her performance as consistent as it was today then she will be in good shape tomorrow.
In the overall season's fleet racing championship Team Aqua is under threat from Torbjorn Tornqvist's Artemis Racing, the only other boat to win a race today, after they have been struggling all week to get on the podium. "We've been trying hard but we're only half way there," said Tornqvist. "We still have our ups and downs, but today is a step forward. There's one day left to go, we are behind, but anything can happen here – we have seen that this week. You can go from top to bottom."
RC44 class newcomer Brian Benjamin admitted that his Aegir Racing didn't have her best day. In race three they broke their boat's retractable bowsprit, but after some nimble footwork by the shore crew this was replaced prior to the start of the final race.
"It has been good," said Benjamin of the regatta. "We're enjoying it. We were hoping to do a little better today. There is a just a lot of competition, a lot of good guys, a lot of good boats that are all prepped up. And the boats are all the same, so you all end up at the same place at the same time."
With Team Aqua holding a nine point lead going into the final day, Chris Bake's team is holding true to form, quietly coming good as the regatta progresses. She is now in a strong position to defend her 2012 RC44 season championship title as well as win the World Championship.
Results:
| | | | | | | | | | | | | | |
| --- | --- | --- | --- | --- | --- | --- | --- | --- | --- | --- | --- | --- | --- |
| Pos | Boat | Owner | R1 | R2 | R3 | R4 | R5 | R6 | R7 | R8 | R9 | R10 | Tot |
| 1 | Team Aqua (GBR 2041) | Chris Bake | 1 | 3 | 4 | 4 | 14 | 3 | 5 | 6 | 2 | 3 | 45 |
| 2 | Peninsula Petroleum Sailing Team (GBR 1) | John Bassadone | 4 | 9 | 2 | 2 | 10 | 12 | 1 | 12 | 1 | 1 | 54 |
| 3 | RC44 TEAM CEEREF (SLO 11) | Igor Lah | 5 | 5 | 3 | 11 | 3 | 2 | 2 | 4 | 8 | 12 | 55 |
| 4 | Katusha (RUS 007) | Gennadi Timchenko | 6 | 8 | 12 | 6 | 2 | 10 | 3 | 2 | 5 | 9 | 64 |
| 5 | Artemis Racing (SWE44) | Torbjorn Tornqvist | 14 | 7 | 6 | 5 | 6 | 5 | 6 | 1 | 4 | 10 | 64 |
| 6 | Synergy Russian Sailing Team (RUS 13) | Valentin Zavadnikov & Leonid Lebedev | 7 | 1 | 9 | 3 | 7 | 11 | 13 | 10 | 3 | 5 | 69 |
| 7 | Team Nika (RUS 10) | Vladimir Prosikhin | 2 | 12 | 5 | 8 | 5 | 1 | 11 | 14 | 11 | 6 | 75 |
| 8 | AEZ RC44 Sailing Team (AUT44) | Rene Mangold | 9 | 6 | 16 | 13 | 12 | 6 | 4 | 9 | 9 | 2 | 86 |
| 9 | No Way Back (NED 18) | Pieter Heerema | 13 | 15 | 1 | 7 | 11 | 14 | 9 | 8 | 7 | 4 | 89 |
| 10 | RUS-7 Sail Racing Team powered by AnyWayAnyDay.com (RUS7) | Kirill Podolosky | 8 | 2 | 7 | 14 | 15 | 4 | 12 | 7 | 6 | 15 | 90 |
| 11 | Ironbound (USA 1) | David Murphy | 3 | 4 | 16OCS | 12 | 4 | 15 | 14 | 3 | 14 | 14 | 99 |
| 12 | AFX Capital Racing Team (ITA 7) | Massimo Barranco | 12 | 14 | 11 | 1 | 13 | 9 | 7 | 15 | 13 | 7 | 102 |
| 13 | Aleph Sailing Team (FRA17) | Hugues Lepic | 15 | 10 | 10 | 9 | 1 | 13 | 10 | 13 | 10 | 11 | 102 |
| 14 | MAG Racing (POL44) | Krzysztof Krempeć | 10 | 11 | 13 | 15 | 9 | 8 | 15 | 5 | 12 | 8 | 106 |
| 15 | Aegir Racing (GBR22) | Brian Benjamin | 11 | 13 | 8 | 10 | 8 | 7 | 8 | 11 | 16DNF | 13 | 107 |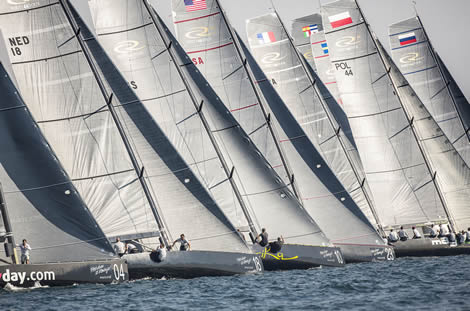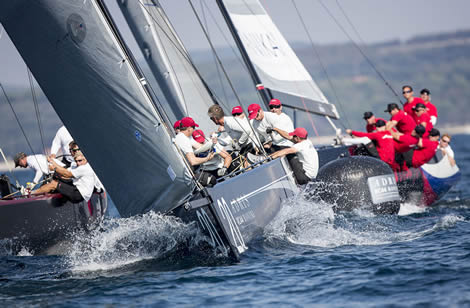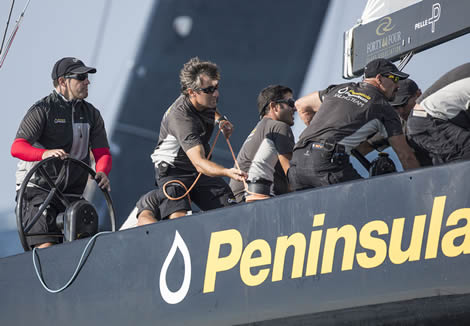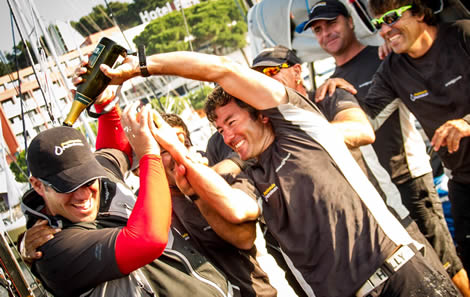 Back to top
Back to top