Grand finale in Croatia
The RC44 season has its grand finale this week in Rovinj on Croatia's Istrian peninsula. In addition to this being the five event match racing and fleet racing series' 2012 showdown, it also stands alone as the class' 2012 World Championship.
Racing gets under way for the 15 teams tomorrow with the concluding match races. Based on the aggregate of events throughout this season, Valentin Zavadnikov and Leonid Lebedev's Synergy Russian Sailing Team holds a three point lead over Hughes Lepic' Aleph Sailing Team from France. Synergy has as its match racing helm American Ed Baird, a three time Match Racing World Champion and winning helmsman in the 32nd America's Cup. He is up against talented Frenchman Mathieu Richard, twice runner-up in the Match Racing World Championship.
"I think really the biggest part of why we are leading now is the strength of the team and how they have prepared in the years past," says Baird, who only joined the RC44 class this season. "For me the biggest challenge was how to laugh in Russian because they are having a lot of fun on the boat and they are really a great group of guys."
The match racing championship is on-going through the RC44 season, with it taking place on the first day of each regatta. The pairing list for tomorrow indicates that if she is on form and wins all her matches Synergy Russian Sailing Team could be uncatchable for the championship title after flight four. If she is not on form then any of three teams is capable of catching and overhauling her: Behind Aleph by one point is Chris Bake's Team Aqua with Gennadi Timchenko's Katusha another point adrift – the two boats having Kiwis Cameron Appleton and Brad Butterworth as their respective match racing helms.
Over Thursday until Sunday the owner-driver fleet racing series resumes, this section of the regatta doubling as the Adris RC44 World Championship. At present in the 2012 series, leader is Chris Bake's Team Aqua, winner of the RC44 Puerto Calero and Sweden Cups, but it is still possible for Torbjorn Tornqvist's Artemis Racing to catch them, currently three points behind.
Crucially the performance of Bake's team, one of the oldest in the class, has been so consistent this season, that their worst regatta has been a 4th. With each team able to discard their worst result of the season this means that Bake's team is going to be hard to beat for the series title (it would require Artemis Racing to win in Rovinj and for Team Aqua to finish no worse than 3rd).
"We have had a great run this year," says Team Aqua tactician, Cameron Appleton. "It's down to the guys who we have on board – most of them have been with Chris since the beginning. We work well together, we support each other and we believe in each other – that is our secret. We are always looking to lift our ability and our own style of sailing, but we are against 14 other teams which are keen and eager to do the same thing and have the same goals – that makes it tough. All the teams are strong and every day you just have to make sure you are more consistent than the others. Then you'll be in great shape at the end."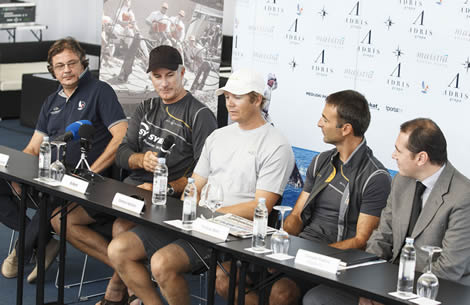 Among the 15 teams jockeying for the World Championship title is the circuit's latest recruit – Aegir Racing, skippered by Britain's Brian Benjamin. Their boat is the former Oracle Racing, that last competed in 2011. "It is very exciting, very well run – it's difficult to think of anything negative to say," says Benjamin of the RC44 Class. With Guy Barron running the boat, Aegir Racing's crew is mostly Spanish, including Volvo Ocean Race sailors Roberto 'Chuni' Bermudez de Castro and Jaime Arbones, plus sailmaker Juan Meseguer.
New to the class, having only raced in it previously in Cascais at the end of March, Benjamin says that they managed to get a week of training in prior to this regatta. Like Ceeref's Igor Lah and No Way Back's Pieter Heerema, Benjamin intends to helm during the match racing tomorrow: "That will be another training session for us," he says. "It is good for learning the boat. They have to put up with me!"
This week the weather looks set to be light, the sea breeze developing if the sky is clear and the sun can warm the land. As Baird summarises: "Light air always gives you more time to think: Sometimes it is thinking about the next gain, sometimes it is thinking about the last mistake you made and how far ahead everyone else is. It is a different challenge but when the sun is out, light airs is not so bad."
Today the crews have been enjoying some late autumnal Croatian sunshine as they competed in the practice race.
Tomorrow the match racing is scheduled to get underway at 0930 UTC.
Overall Match Race Ranking
(After four events)
1 Synergy Russian Sailing Team – 20
2 Aleph Sailing Team – 17
3 Team Aqua -16
4 Katusha – 15
5 No Way Back – 12
6 Artemis Racing – 11
7 Team Nika – 11
8 CEEREF RC44 Sailing Team – 10
9 AEZ RC44 Sailing Team – 10
10 RUS7 Sail Racing Team – 10
11 Peninsula Petroleum Sailing Team – 9
12 Puerto Calero – 6
13 AFX Capital Racing Team – 3
14 Ironbound – 1
15 Aegir – 0
Overall Fleet Race Ranking (after four events)
1 Team Aqua – 4
2 Artemis Racing – 7
3 Katusha – 8
4 Aleph Sailing Team – 14
5 Peninsula Petroleum Sailing Team – 14
6 CEEREF RC44 Sailing Team – 15
7 Synergy Russian Sailing Team – 15
8 AEZ RC44 Sailing Team – 16
9 Team Nika – 24
10 No Way Back – 24
11 Ironbound – 29
12 Puerto Calero Sailing Team – 31
13 RUS 7 Sail Racing Team – 33
14 AFX Capital Racing Team – 33
15 Aegir Racing – 40
Back to top
Back to top