Samba Pa Ti claims the title
The final day of competition at the 2012 Melges 32 World Championship, hosted by the New York Yacht Club, had spectators on the edge of their seats for the last race of the ten part racing series.
John Kilroy Jnr on Samba Pa Ti triumphed over the 33 strong fleet to claim the Melges 32 World Champion ship title.
"We've worked so hard for so long to accomplish this," commented Kilroy during the awards ceremony. "We won in Key West, then felt as though we were a little off track. Officially, we are back where we need to be with this incredible win, a win I consider one of the most treasured I have ever won."
Kilroy was joined on board by tactician and Laser Gold medallist Paul Goodison and crew Federico Michetti, Harry Melges III, Luca Faravelli, Martino Tortarolo, Justin Smart and Marco Carpinello.
Second overall was Alec Cutler on Hedgehog with tactician Richard Clarke and in third, a deserving Steve Howe on Warpath with Morgan Larson on tactics.
Race number ten provided more surprises under overcast skies, light and shifty breezes out of the Northeast. Keisuke Suzuki from Japan on Swing, with tactician Jesper Radich put the fleet on alert when he challenged and overtook John Taylor's Ninkasi with Jeff Madrigali on tactics. Suzuki slowly but surely acquired a monster lead as the race progressed, then gained more momentum and extended furthermore earning over a two minute lead at the finish for the win. Edoardo Lupi's Torpyone had a great race finishing second, while Alex Jackson on Leenabarca claimed third.
Full results below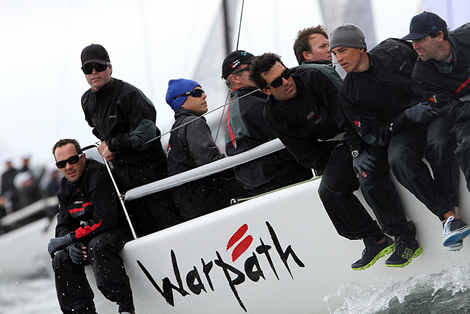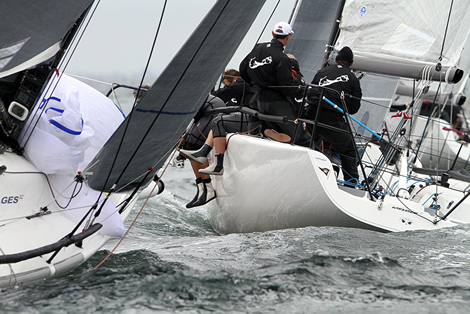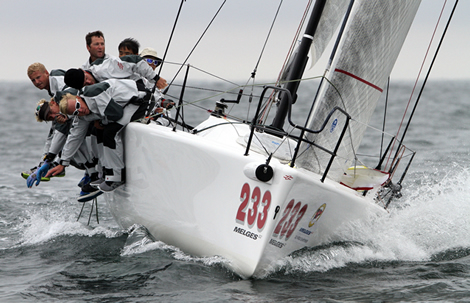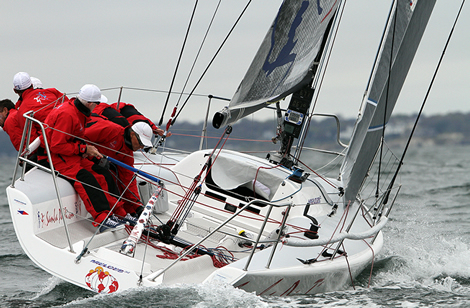 Back to top
Final results:
| | | | | | | | | | | | | | | | |
| --- | --- | --- | --- | --- | --- | --- | --- | --- | --- | --- | --- | --- | --- | --- | --- |
| Pos | Sail no | Yacht | Owner | R1 | R2 | R3 | R4 | R5 | R6 | R7 | R8 | R9 | R10 | Dis | Tot |
| 1 | USA 13131 | Samba Pa Ti | John Kilroy | 20 | 8 | 1 | 12 | 1 | 1 | 1 | 2 | 8 | 5 | [20] | 39 |
| 2 | BER 1 | Hedgehog | Alec Cutler | 5 | 7 | 2 | 4 | 7 | 6 | 4 | 4 | 11 | 10 | [11] | 49 |
| 3 | USA 32917 | Warpath | Stephen Howe | 2 | 15 | 4 | 7 | 8 | 3 | 8 | 3 | 12 | 20 | [20] | 62 |
| 4 | USA 230 | Pisces | Benjamin Schwartz | 4 | 1 | 19 | 2 | 4 | 13 | 11 | 14 | 2 | 19 | [19] | 70 |
| 5 | USA 169 | Bliksem | Pieter Taselaar | 7 | 16 | 6 | 11 | 5 | 11 | 7 | 1 | 9 | 18 | [18] | 73 |
| 6 | USA 2 | Goombay Smash | William Douglass | 3 | 3 | 12 | 29 | 9 | 9 | 3 | 21 | 7 | 14 | [29] | 81 |
| 7 | ITA 2121 | Mascalzone Latino | Vincenzo Onorato | 12 | 2 | 13 | 19 | 19 | 7 | 6 | 5 | 1 | 22 | [22] | 84 |
| 8 | ITA 229 | Bombarda | Andrea Pozzi | 1 | 6 | 9 | 3 | 2 | 26 | 21 | 6 | 30 | 16 | [30] | 90 |
| 9 | ITA 487 | Torpyone | Edoardo Lupi | 8 | 4 | 3 | 6 | 22 | 22 | 22 | 19 | 6 | 2 | [22] | 92 |
| 10 | SUI 1 | Robertissima 1 | Roberto Tomasini Grinover | 6 | 21 | 5 | 20 | 3 | 14 | 16 | 9 | 3 | 24 | [24] | 97 |
| 11 | USA 128 | Argo | Jason Carroll | 9 | 27 | 14 | 31 | 13 | 2 | 14 | 13 | 14 | 7 | [31] | 113 |
| 12 | USA 180 | Volpe | Ryan DeVos | 13 | 9 | 10 | 24 | 21 | 12 | 2 | 22 | 17 | 8 | [24] | 114 |
| 13 | USA 136 | Rougarou | Andy Lovell Burt Benrud | 14 | 5 | 16 | 13 | 6 | 4 | 30 | 15 | 16 | 25 | [30] | 114 |
| 14 | USA 174 | Leenabarca | Alex Jackson | 28 | 24 | 11 | 9 | 30 | 10 | 10 | 12 | 15 | 3 | [30] | 122 |
| 15 | ITA 212 | Fantastica | Lanfranco Cirillo | 11 | 14 | 7 | 26 | 16 | 15 | 23 | 24 | 5 | 12 | [26] | 127 |
| 16 | JPN 233 | Swing | Keisuke Suzuki | 15 | 13 | 34/DNF | 1 | 23 | 25 | 17 | 20 | 19 | 1 | [34] | 134 |
| 17 | IVB 007 | INTAC | Mark Plaxton | 23 | 11 | 8 | 25 | 18 | 20 | 26 | 10 | 13 | 6 | [26] | 134 |
| 18 | USA 1215 | Delta | Dalton DeVos | 26 | 18 | 15 | 18 | 11 | 23 | 9 | 30 | 10 | 9 | [30] | 139 |
| 19 | JPN 199 | Mamma Aiuto | Naofumi Kamei | 16 | 10 | 22 | 14 | 10 | 24 | 19 | 8 | 31 | 17 | [31] | 140 |
| 20 | USA 157 | Mojo | Steve Rhyne | 19 | 12 | 27 | 16 | 17 | 8 | 15 | 23 | 22 | 13 | [27] | 145 |
| 21 | USA 184 | Bronco | Michael Dominguez | 18 | 23 | 23 | 21 | 12 | 17 | 18 | 16 | 4 | 21 | [23] | 150 |
| 22 | SWE 321 | Inga From Sweden | Richard Goransson | 32 | 19 | 34/OCS | 22 | 15 | 29 | 5 | 7 | 29 | 15 | [34] | 173 |
| 23 | JPN 218 | Esmeralda | Makoto Uematsu | 21 | 28 | 17 | 10 | 14 | 19 | 27 | 11 | 26 | 31 | [31] | 173 |
| 24 | USA 211 | Arethusa | Philip Lotz | 25 | 25 | 18 | 5 | 26 | 18 | 25 | 28 | 23 | 11 | [28] | 176 |
| 25 | USA 134 | Catapult | Joel Ronning | 10 | 17 | 29 | 30 | 29 | 5 | 20 | 27 | 21 | 30 | [30] | 188 |
| 26 | USA 201 | Groovederci | Deneen Demourkas | 17 | 29 | 25 | 17 | 24 | 21 | 32 | 26 | 18 | 28 | [32] | 205 |
| 27 | JPN 203 | Yasha Samurai | Yukihiro Ishida | 24 | 22 | 24 | 27 | 20 | 16 | 33 | 17 | 27 | 32 | [33] | 209 |
| 28 | JPN 5095 | SLED | Takashi Okura | 34/DNF | 34/DNC | 20 | 8 | 32 | 31 | 12 | 31 | 20 | 26 | [34] | 214 |
| 29 | USA 208 | Celeritas | Malcolm Gefter | 22 | 26 | 30 | 23 | 27 | 33 | 24 | 18 | 24 | 27 | [33] | 221 |
| 30 | USA 1315 | Ninkasi | John Taylor | 31 | 20 | 26 | 33 | 28 | 27 | 29 | 32 | 33 | 4 | [33] | 230 |
| 31 | USA 126 | Flat Stanley | T. Sheehan / T. McSweeney | 30 | 34/DNF | 28 | 32 | 25 | 28 | 13 | 29 | 28 | 23 | [34] | 236 |
| 32 | USA 162 | Zetiana | Alexis Michas | 27 | 31 | 21 | 15 | 31 | 32 | 28 | 25 | 32 | 33 | [33] | 242 |
| 33 | JPN 210 | Quetefeek | Daisuke Kimura | 29 | 30 | 31 | 28 | 33 | 30 | 31 | 33 | 25 | 29 | [33] | 266 |
Back to top