All change at the top
Three more races were held today at the 2012 Melges 32 World Championship. With two more days left to race, the pressure to do well is intense as Bombarda's Andrea Pozzi, with tactician Gabriele Benussi, sit atop the leaderboard ahead by two points.
Second overall is John Kilroy Jnr on Samba Pa Ti who felt the full effects of a great day of successful racing with Paul Goodison on tactics. Ben Schwartz on Pisces, with Chris Rast as tactician, is now third. Tied on points with Schwartz, seated fourth and fifth respectively are Steve Howe's Warpath and Alec Cutler's Hedgehog.
The day started out with light, challenging and very shifty conditions. With the breeze at only 5-7 knots, every mark rounding meant that the NYYC Race Committee had to work just that much harder to keep up with the ever shifting wind. Japan's Keisuke Suzuki, with tactician Jesper Radich, on Swing played the shifts just right enabling him to turn up the heat in Race One and establish a massive lead from the get-go. Suzuki lead, then extended throughout the race securing an almost 10-boat length advantage to win over second place finisher Schwartz. Pozzi was third.
Kilroy claimed an event milestone as his team currently is the first challenger at Worlds to carry three bullets in their scoreline. Kilroy came on strong and focused in the second and third race of the day taking both wins, landing him an impressive second place overall, up from yesterday's eighth position.
Pozzi had a great first two races, which ultimately helped him sustain the lead, finishing third and second. Roberto Tomasini Grinover on Robertissima had a nice day to take third in race two. Finally, Jason Carroll's Argo Team looked to be back on track as they finished second in Race Six of the championship, followed by Howe in third.
Defending Melges 32 World Champion William Douglass showed up on the course today with his Goombay Smash crew in the most unusual of sailing attire - complete head-to-toe, day-glo orange, skin-tight body suits (with matching shoes nonetheless).

Two more races, with the option for a third, are scheduled for Friday, September 28 with a start of 11.00.
Results:
| | | | | | | | | | | | |
| --- | --- | --- | --- | --- | --- | --- | --- | --- | --- | --- | --- |
| Pos | Sail no | Boat | Skipper | R1 | R2 | R3 | R4 | R5 | R6 | Dis | Net |
| 1 | ITA 229 | Bombarda | Andrea Pozzi | 1 | 6 | 9 | 3 | 2 | 26 | [26] | 21 |
| 2 | USA 13131 | Samba Pa Ti | John Kilroy | 20 | 8 | 1 | 12 | 1 | 1 | [20] | 23 |
| 3 | USA 230 | Pisces | Benjamin Schwartz | 4 | 1 | 19 | 2 | 4 | 13 | [19] | 24 |
| 4 | USA 32917 | Warpath | Stephen Howe | 2 | 15 | 4 | 7 | 8 | 3 | [15] | 24 |
| 5 | BER 1 | Hedgehog | Alec Cutler | 5 | 7 | 2 | 4 | 7 | 6 | [7] | 24 |
| 6 | USA 2 | Goombay Smash | William Douglass | 3 | 3 | 12 | 29 | 9 | 9 | [29] | 36 |
| 7 | USA 169 | Bliksem | Pieter Taselaar | 7 | 16 | 6 | 11 | 5 | 11 | [16] | 40 |
| 8 | USA 136 | Rougarou | Andy Lovell Burt Benrud | 14 | 5 | 16 | 13 | 6 | 4 | [16] | 42 |
| 9 | ITA 487 | Torpyone | Edoardo Lupi | 8 | 4 | 3 | 6 | 22 | 22 | [22] | 43 |
| 10 | SUI 1 | Robertissima 1 | Roberto Tomasini Grinover | 6 | 21 | 5 | 20 | 3 | 14 | [21] | 48 |
| 11 | ITA 2121 | Mascalzone Latino | Vincenzo Onorato | 12 | 2 | 13 | 19 | 19 | 7 | [19] | 53 |
| 12 | ITA 212 | Fantastica | Lanfranco Cirillo | 11 | 14 | 7 | 26 | 16 | 15 | [26] | 63 |
| 13 | USA 128 | Argo | Jason Carroll | 9 | 27 | 14 | 31 | 13 | 2 | [31] | 65 |
| 14 | USA 180 | Volpe | Ryan DeVos | 13 | 9 | 10 | 24 | 21 | 12 | [24] | 65 |
| 15 | USA 157 | Mojo | Steve Rhyne | 19 | 12 | 27 | 16 | 17 | 8 | [27] | 72 |
| 16 | JPN 199 | Mamma Aiuto | Naofumi Kamei | 16 | 10 | 22 | 14 | 10 | 24 | [24] | 72 |
| 17 | JPN 233 | Swing | Keisuke Suzuki | 15 | 13 | 34/DNF | 1 | 23 | 25 | [34] | 77 |
| 18 | IVB 007 | INTAC | Mark Plaxton | 23 | 11 | 8 | 25 | 18 | 20 | [25] | 80 |
| 19 | JPN 218 | Esmeralda | Makoto Uematsu | 21 | 28 | 17 | 10 | 14 | 19 | [28] | 81 |
| 20 | USA 174 | Leenabarca | Alex Jackson | 28 | 24 | 11 | 9 | 30 | 10 | [30] | 82 |
| 21 | USA 1215 | Delta | Dalton DeVos | 26 | 18 | 15 | 18 | 11 | 23 | [26] | 85 |
| 22 | USA 134 | Catapult | Joel Ronning | 10 | 17 | 29 | 30 | 29 | 5 | [30] | 90 |
| 23 | USA 211 | Arethusa | Philip Lotz | 25 | 25 | 18 | 5 | 26 | 18 | [26] | 91 |
| 24 | USA 184 | Bronco | Michael Dominguez | 18 | 23 | 23 | 21 | 12 | 17 | [23] | 91 |
| 25 | USA 201 | Groovederci | Deneen Demourkas | 17 | 29 | 25 | 17 | 24 | 21 | [29] | 104 |
| 26 | JPN 203 | Yasha Samurai | Yukihiro Ishida | 24 | 22 | 24 | 27 | 20 | 16 | [27] | 106 |
| 27 | SWE 321 | Inga From Sweden | Richard Goransson | 32 | 19 | 34/OCS | 22 | 15 | 29 | [34] | 117 |
| 28 | JPN 5095 | SLED | Takashi Okura | 34/DNF | 34/DNC | 20 | 8 | 32 | 31 | [34] | 125 |
| 29 | USA 162 | Zetiana | Alexis Michas | 27 | 31 | 21 | 15 | 31 | 32 | [32] | 125 |
| 30 | USA 208 | Celeritas | Malcolm Gefter | 22 | 26 | 30 | 23 | 27 | 33 | [33] | 128 |
| 31 | USA 1315 | Ninkasi | John Taylor | 31 | 20 | 26 | 33 | 28 | 27 | [33] | 132 |
| 32 | USA 126 | Flat Stanley | T. Sheehan / T. McSweeney | 30 | 34/DNF | 28 | 32 | 25 | 28 | [34] | 143 |
| 33 | JPN 210 | Quetefeek | Daisuke Kimura | 29 | 30 | 31 | 28 | 33 | 30 | [33] | 148 |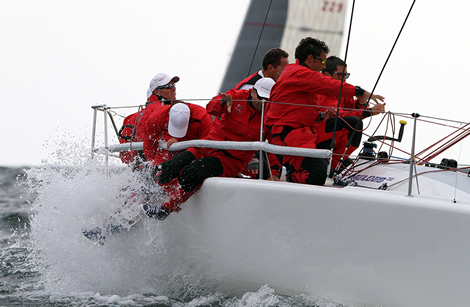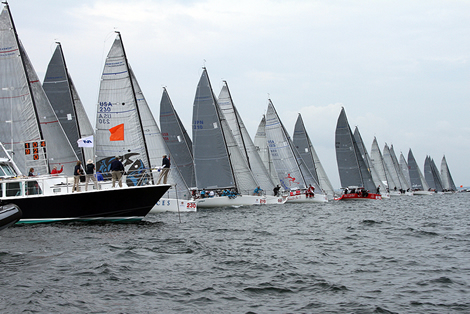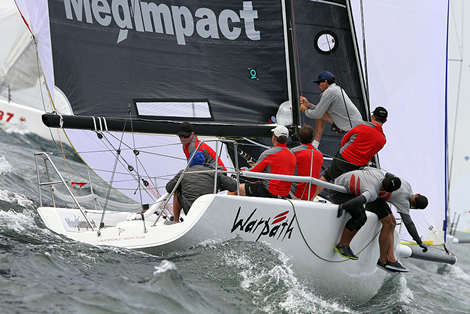 Back to top
Back to top