Gilmour undefeated
Strong offshore winds made for exciting sailing conditions on the first day of qualifying at Match Race France, where Peter Gilmour got off to a flying start for the sixth stage of the Alpari World Match Racing Tour.
Yanmar Racing's Gilmour sits on top of the standings in Marseille after five straight wins put his team on the brink of qualification to the knockout stages. While he retained an unbeaten start to the competition, it was the elements that Gilmour felt were the toughest opposition.

Gilmour said: "We had a great day today and I think the boys did a really fabulous job. It's a long day but we sailed well, getting the starts we wanted and keeping everything together. We discussed things this morning and decided it was going to be one of those days where you don't really need to concentrate so much on the opposition. The key thing was always going to be keeping stable, alive and not capsize or losing by crew error. We just concentrated on keeping the boat upright.

"The J/80s certainly don't suit me but when you're sailing in 20 knots of breeze, you're a hundred kilogrammes and you can get over the side to start swinging the boat down, it seems to work okay!"

Gilmour attributes his team's good start to the decision to arrive in Marseille early in order to spend some extra time in the racing area. He said: "We came out here early and managed to get in two really good days of practice with Simone Ferrarese. I think that has become a huge advantage, getting comfortable in the boats and with these conditions so I'm really pleased we spent our time doing that. After the practice was cancelled yesterday, I think the extra time on the race area has really told."

Simone Ferrarese also started the day strongly with four opening wins and seemed to have a handle on the tricky conditions, powering the J/80 boats to a 4-2 record by the end of the session. He said: "It's our first time here at Match Race France but we're confident after the grade 1 last week in Pornichet where we performed well and finished fourth.

"The racing conditions are tricky here with the strong winds but we're enjoying it and look forward to getting back out on the water tomorrow.

"At the moment all we're concentrating on is getting as many points as we can in qualifying here in Marseille. Honestly, we're not thinking too far ahead of ourselves through to the knockout rounds. We've got off to a good start so we'll try to continue that tomorrow."

Kiwi Laurie Jury was one of the skippers who also elected to get his team in shape for the event by competing at the Internationeaux de France de Match-Racing in Pornichet and the decision was justified as he recorded a 4-1 record in 20 knot shifting winds and taking key victories over current Tour leader Bjorn Hansen (SWE) Mekonomen Sailing Team and reigning Tour Champion, GAC Pindar skipper Ian Williams. Of his good start, Jury said: "We have begun strongly like we did in St Moritz. We're sailing the boat well and doing a good job of getting the boat around the track and not making too many mistakes. Our starts were average but the kite work down wind was good and overall we're happy."
Referring to one of his fellow competitors and second place finisher in Pornichet, Pierre-Antoine Morvan, Jury said: "We were frustrated in our match against Pierre-Antoine Morvan, a penalty put us behind. He just got second last week [in Pornichet] so I'm sure he'll be one to watch out for at a home regatta but we felt confident against them today.

"We're seventh in the Tour overall at the moment but with the close gap up to third, that's a realistic target for us. If we can get a good result here, I'd feel pretty good about the Monsoon Cup."

The teams will be back on the water from 1000AM local time tomorrow for the second day of Qualifying at Match Race France.
Match Race France – Standings after Qualifying Session 1:
Peter Gilmour (AUS) Yanmar Racing 5-0
Laurie Jury (NZL) Kiwi Match 4-1
Simone Ferrarese (ITA) Ferrarese Racing Team 4-2
Pierre-Antoine Morvan (FRA) Vannes Agglo Sailing Team 4-2
Ian Williams (GBR) GAC Pindar 3-2
Keith Swinton (AUS) Black Swan Racing 3-3
Adam Minoprio (NZL) Argo Group Black Match 2-3
William Tiller (NZL) Full Metal Jacket Racing 2-3
Damien Iehl (FRA) Wind 2 Win 2-3
Bjorn Hansen (SWE) Mekonomen Sailing Team 2-4
Johnie Berntsson (SWE) Berntsson Sailing Team 1-4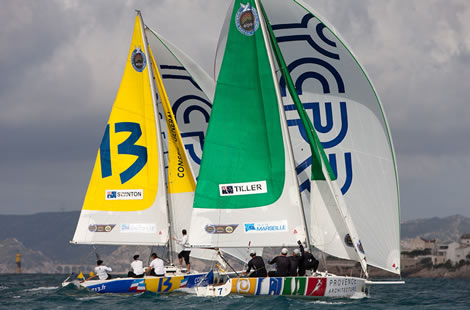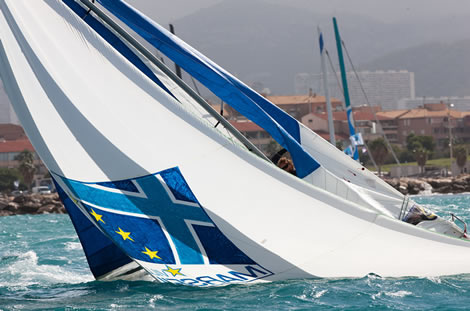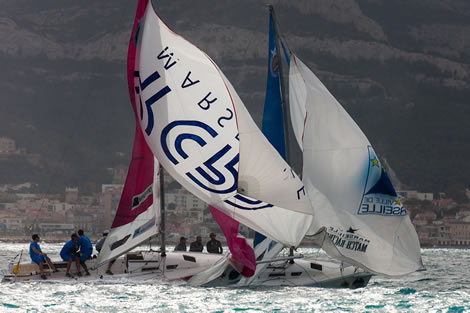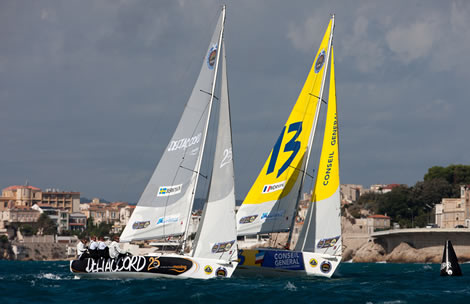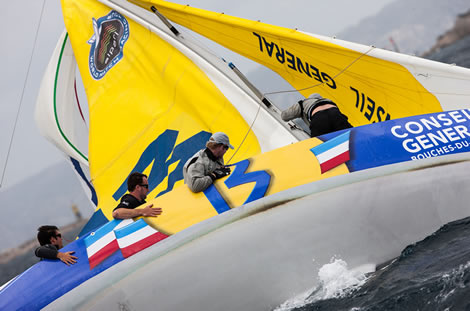 Tamara Echegoyen (ESP) Echegoyen Team 0-5
Back to top
Back to top