Mini Maxis back on the ascent
After a couple of shaky seasons, following the demise of the STP65s (not competitive under IRC), the racing Mini Maxi class is showing some new shoots of growth with the launch of two new boats this year in American Hap Fauth's new Bella Mente (Fauth's second Mini Maxi) and Italian Alessandro Rombelli's Stig, replacing his previous Baltic 65 cruiser-racer of the same name, with more new boats in the pipeline.
The two new boats this season now join Niklas Zennström's Rán 2 and American George Sakellaris' Shockwave fighting it out at the top of the Mini Maxi class, all four boats at the maximum length limit of 72ft. The new influx has caused the game to be raised significantly across the board.
Unquestionably Rán 2 remains the class act of the Mini Maxi circuit. Since their 72ft Judel Vrolijk design was launched in early 2009, the boat has put more miles under her keel than probably all the other Mini Maxis combined, including back to back Rolex Fastnet Race wins, a Sydney Hobart, Newport-Bermuda as well as much of the regular circuit in the Med, the pinnacle event being the annual Maxi Yacht Rolex Cup. And with this shoehorned in around a TP52 campaign and as well as occasion races in a Farr 45 in the UK, London-based Zennström probably sails for more days of the year than most professional helmsmen, which counts for a lot as one of the cornerstone features of the Mini Maxi class is that it is owner-driver.
As Adrian Stead observes: "We are perhaps slightly more advanced with string drops and things like that because we know the boat well. Our boat is tweaky – you have to be on the money and Niklas does a brilliant job driving her through the wind range. The other day we were blasting off downwind with the A3 in 25 knots of breeze and he'd literally just got off the aeroplane. We have got a really good bunch of people and we are able to get the boat round the track and be quite aggressive with what we can do in terms of changes, etc."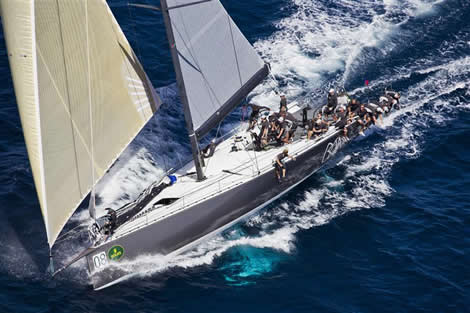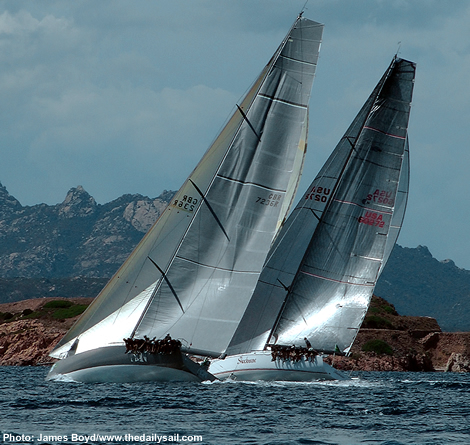 Rán 2 was lining up to win their third back-to-back Mini Maxi World Championship title last week until, uncharacteristically, the wheels fell off to a small degree with a boom breakage prior to the start of one race (but impressively they were able to scoot back into Porto Cervo, replace it and be back out in time for the race with 15 minutes to spare...) followed by a hydraulics melt down the following day. This left the door open for Bella Mente and although the two boats were tied on points going into the final day, when racing was canned on Saturday this handed the US Mini Maxi the title on countback.
This season both Rán 2 and Shockwave have had significant changes made to their displacement and stability with new keel set-ups. Both have had their forged steel keels replaced with substantially lighter fabricated versions, ie a steel girder enclosed in a carbon fibre fairing. On Rán 2 the changes were made after the RORC Caribbean 600 and she is believed to have shed around 300kg in the process, reducing her displacement from approximately 17.8 to 17.5 tonnes. They have also gone to a deeper draft, now up to 5.2m (the same as Stig, but 0.2m more than Bella Mente).
"It is stiffer and downwind it has got some wick particularly when the breeze is up over 18 knots it really wants to get up and go whereas before it was a wrestle," says Adrian Stead of the effect of the modifications.
And across all four of the 72s, there has been a tweaking of their IRC rating with a general trend for their TCCs to converge. So between Copa del Rey and the Maxi Yacht Rolex Cup their TCC have changed as follows:
Bella Mente – from 1.598 down to 1.594
Rán 2 – sticking on 1.594 (she was on 1.581 at Key West in January)
Shockwave - from 1.575 up to 1.58 (she was on 1.571 at Key West)
Stig – from 1.598 down to 1.594.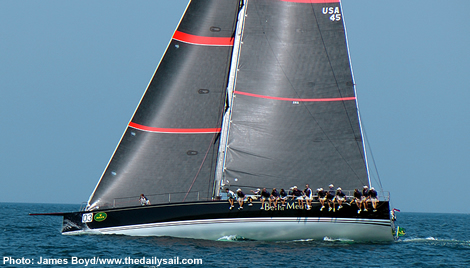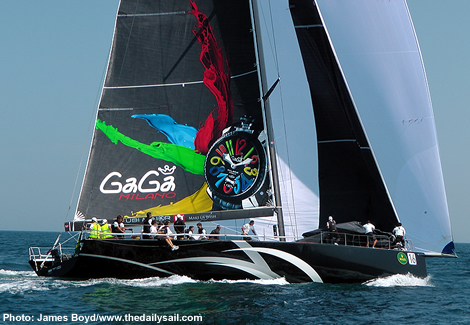 We'll look at the two new Judel-Vrolijk designs Stig and Bella Mente in more detail later in the week, but effectively Stig is designed to be a Mediterranean Mini Maxi and so is optimised for lighter winds, while Hap Fauth has more ambition plans for Bella Mente with a program more like Rán 2's, including the 'classic' 600 milers such as the Rolex Sydney-Hobart and Fastnet races as well as the Mediterranean Mini Maxi circuit. While Stig was designed and built up at Baltic in Finland in record time over this winter and is effectively a direct progression on from Rán 2, the Belle Mente team took about a year longer to conceive their new boat, during which they had a considerable amount of bespoke R&D work carried for them by Rolf Vrolijk and his design team.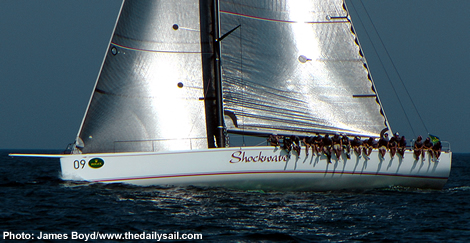 Shockwave
That Shockwave is competitive is something of a miracle. She was launched as Alfa Junior in 2008 for Neville Crichton at 69ft but it quickly became apparent that she was one of several boats to fall foul of Reichel-Pugh's dud research into chines, that included Jim Swartz' STP65 Moneypenny and Hap Fauth's previous Bella Mente. As a result over the winter of 2008-9 she underwent major surgery, with her hull chopped off (leaving bulkhead attached to the deck) and a new hull popped underneath and the whole lot rejoined. In the process she was enlarged to just under 72ft, the added length going on both her bow and stern (read more about this here)
In 2010 the boat was acquired by George Sakellaris, who in the real world is President and CEO of Ameresco, a leading North American energy efficiency and renewable energy company, and also owner of the 125ft S&S design Axia.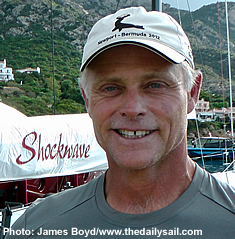 Running Shockwave for Sakellaris is US legend Reggie Cole, whose lengthy career in our sport has included seven years running the Champosa campaign for its Japanese owners, the monstrous Sagamore multiple maxi-boat program for American TV mogul Jim Dolan, a Carroll Marine 60 to name but a few.
Highlight of the Shockwave campaign to date was winning the Gibbs Hill Lighthouse division of this year's Newport-Bermuda Race, ahead of the new Bella Mente and George David's usually all-conquering Rambler. "We won that - the first time George [Sakellaris] ever did an offshore race and it was fantastic," enthuses Cole.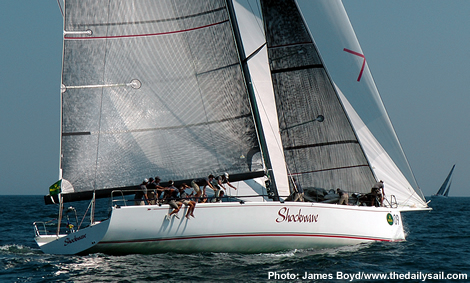 In addition to a new keel, Shockwave has also fitted with a new Future Fibres mast, all the work carried out at New England Boatworks in Rhode Island (where Bella Mente was built). "The long and short of it is that the boat was very very fast in light air, so we have moved it up the righting moment scale a little bit to be more competitive in up to 12-14 knots," says Cole. However he adds that they are also holding their own in 16-20 knot, while above 20 knots performance evens out and it becomes more a case of crew work.
Given the trend in the class, one imagines that Shockwave will continue to be turboed over the months to come. Cole continues: "Because we are low on the rating scale, it is a little easy to get behind and have boats tacking on you because they are in theory faster boats, so that is a little bit of a disadvantage. If you built a new boat you'd go to the maximum range so you have the advantage of being ahead."
From Porto Cervo, Shockwave is due to be shipped back to the States where she will compete at Key West and in the Pineapple Cup before returning to Europe for next summer's Mini Maxi series.
Cole believes that the owner-driver element of the Mini Maxi class is key to its success, but it is also the boats themselves. "The thing about these boats is that they are so manageable up to 24-25 knots. After that it is a bit of a handful, but you have a really big range of sailing in which the boats are just really nice to sail."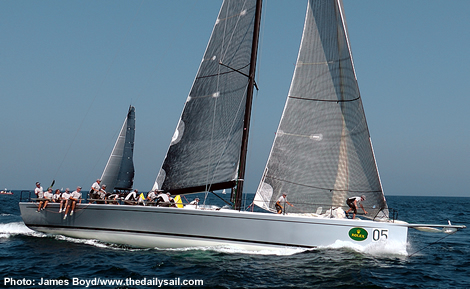 Caol Ila R (ex Alegre)
The good news is that Andres Soriano's heavily campaigned and tweaked Mills 68 Alegre has now been sold to Alexander Schaerer, the Swiss head of the modular furniture giant USM. Schaerer comes from a mostly cruising background having previously owned the Marten 67 Caol Ila and before that the Baltic 50 Strathisla.
Caol Ila R, as the ex-Alegre is now called, is being run by Australian Wild Oats regular John Hildebrand with a largely Australian crew, including the likes of naturalised Aussie, Gordon Maguire. The boat is usually berthed in Porto Cervo.
"Last year we thought it might be dying [the Mini Maxi class] but with the secondhand boats coming into play, people can get into it straight away and you don't lose a year waiting for a new build. So as people start to renew them it will all come good," says Hildebrand.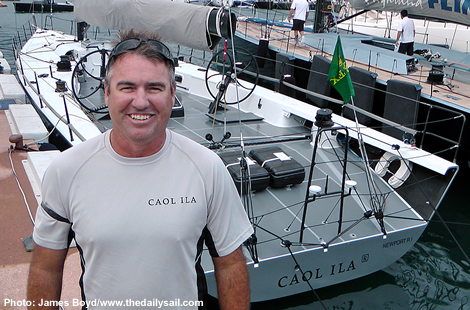 According to our man, in the month that they have had their new boat, they haven't made anything more than cosmetic changes to her and "little personalised tweaks to the functionality," although Hildebrand says they will get angry with it over the winter. He anticipates that they will sail around five regattas in the Med during 2013, following the Mini Maxi class, although the owner is keen to get across to the Caribbean and is contemplating the RORC Caribbean 600 in 2014.
Impressively Caol Ila R still seems very competitive coming home third, behind Bella Mente and Ran at the Maxi Yacht Rolex Cup.
Jethou
The coolest meanest looking boat in the Mini Maxi fleet continues to be Sir Peter Ogden's all-black Judel-Vrolijk Jethou. This underwent a turboing last winter with a scoop tacked on to the transom, a removal of the hollows (difficult to see with her black paintjob) that IRC now hates and a lengthening of the mast and bowsprit. Read more about this here.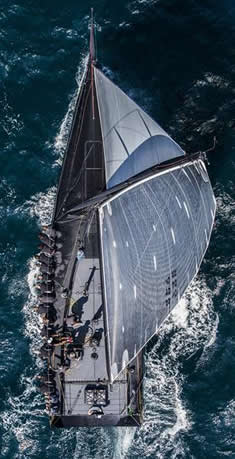 So if the Mini Maxi class allows boats of 60-72ft LOA to race under IRC, is there any hope for boats at the smaller end of the spectrum? Clearly there is. At the Maxi Yacht Rolex Cup, while Caol Ila R was third, Jethou was just two points adrift of the podium, and significantly, ahead of both the 72s Stig and Shockwave. And at Copa del Rey, while they ended up fourth, they won three out of the 11 races in IRC 0 against the 72s.
However Jethou crewman Ian Budgen observes that at present the 72s have the edge under IRC. "The longer boats have an advantage around the track in terms of being slightly faster through the water and therefore being able to sail where they want and avoiding the dirty air a little bit more than the smaller boats."
In addition to this the shorter boats don't seem to go as well when there's chop, as their speed is affected more simply due to them being smaller and lighter. So ideal Jethou conditions are light winder and flatter water downwind, an area of the box into which Jethou's recent turboing has pushed them further. However there is also the prospect that with an increased number of boats competing at the 72ft range, a Jethou-sized boat racing on its own is in better shape to get clear lanes once the big boats have sped away and won't get so tied up with boats tacking on them.
At the moment the official line from the Jethou team is that they have no plans to get a new boat. But she is indicative one of great plus points for the Mini Maxi class: longevity. Despite being in their fourth season Rán 2 and Jethou remain competitive as do Shockwave and the former Alegre, which are now into their fifth. The carbon-Nomex hulls appear to retain their stiffness and because there is no box rule, other than a 72ft length limit, teams are free to tweak their boats as they see fit to keep on the pace.
The future
With Alegre now sold, so Andres Soriano is has pressed the button on the build of his long-awaited replacement, again from Mark Mills and this time a 72, currently under construction at Longitud 0 in Spain. Having had a quick squint at the plans, the boat looks set to be a ground breaking machine with a central deck area that drops down from the foredeck continually en route to the transom (or imagine the sidedeck arrangement and the step down into the cockpit carried forward to the foredeck...) with the aim of reducing weight and lowering CoG.
The new Alegre is due for launch in February 2013.
Beyond this no one has pressed the button so far, although the sharks are circling. Was it any coincidence that Bill Koch was seen visiting Porto Cervo last week? Koch got into the class briefly in 2010 when he chartered the 75ft Titan that was grandfathered in for the event (after the maximum length limit was reduced to 72) and has since been destroyed in a fire.
German Dieter Schön, owner of the 30.5m Luca Brenta-designed CNB-built Chrisco and also a former Dragon Gold Cup winner, is said to be "going pregnant", as one observer put it, with a Mini Maxi campaign spearheaded by German ace Markus Weiser (who previously raced on Udo Schutz' STP65 Container - now refitted as a fast day boat...)
There seems to be confidence in certain quarters that at some point there is likely to be a Windquest Mini Maxi for the De Vos family, although whether Doug DeVos would be able to dedicate the time away from Amway to fulfil the owner-driver rule is doubtful. Fortunately there is a family clause in the Mini Maxi rules that might allow other keen sailor members of the De Vos family to take the helm.
There are also murmurings of interest from a Russian owner. And one imagines that Niklas Zennström might consider trading on, after he has attempted to secure a third back-to-back Rolex Fastnet Race win for Rán 2 next year.
However there are concerns over the future of the class. Already within the current crop of boats we are seeing the beginnings of a division between the specialist 'inshore' boats such as Stig (and the new Alegre) and boats capable of racing offshore, but which also have an inshore mode – a similar divide to what we saw in the latter days of the IOR maxis with specialist inshore boats, most notably Longabarda. One wonders how long mixed use boats came remain competitive as clearly significantly more structure is required within a boat that is to do the Sydney Hobart than one only racing in the Med.
At present the only limitation to the Mini Maxis is a 72ft length limit and currently a study is underway to determine whether a maximum TCC should be applied to the class (generally thought to be a good idea by the people we polled). Otherwise there is likely to be a trend to make the Mini Maxis increasingly powerful to get out of the blocks fastest and be first to the top mark in clean air.
Generally the IRC rule seems to be doing a good job in creating a level playing field between the boats but the significant reason that adopting it works is that it is the most prevalent rule in operation for the races Mini Maxi owners wish to compete in outside of their own circuit in the Med.
Designer Rolf Vrolijk, behind three of the four 72ft Mini Maxis and Jethou, says that IRC is also good because while he has spoken to several campaigns that have toyed with the idea of extreme boats, these craft are likely to have a short shelf-life. "It avoids double rudders or canting keels – you can do so many things if you want to be really extremely fast – 'I want to do a 72 and beat the whole fleet', but that would kill the fleet. But if you do an extreme boat, you are okay for one year and then the IRC rule will change and then your boat won't be competitive. So it would be a one time shot."
So we are pleased to report that the Mini Maxis once again seem to be in the ascent.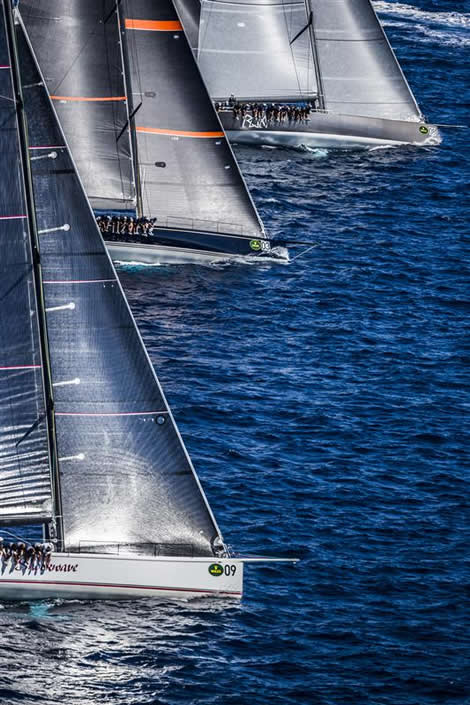 NB: This video is 6 minutes long and may take a few moments to load...

You need Flash Player 8 or higher to view video content with the Kit Digital Flash Player. Click here to download and install it.
Back to top
Back to top