From AC45 to Extreme 40 and back
Uber cat sailors are the ones who sail BOTH the Extreme Sailing Series and the America's Cup World Series. You heard it here first... At the Extreme Sailing Series in Cardiff week before last those who had hightailed it back from the ACWS event in San Francisco numbered just three: Christophe André and Arnaud Psarofaghis, both racing with Energy Team in the AC45s and then with Pierre Pennec on Groupe Edmond de Rothschild, plus lone Brit, former Tornado Olympian Mark Bulkeley, who went from sailing with Nathan Outteridge on Team Korea in San Francisco to the GAC Pindar Extreme 40.In fact Bulkeley says he has segued directly into four of this year's five Extreme Sailing Series regattas from other events. This time the move left him just two days to train with the GAC Pindar prior to the Cardiff regatta with a crew including Beijing Laser Radial Gold medallist Anna Tunnicliffe (in the new '5th man' slot – which can be either a woman, an under 23-year-old or an amateur).
Bulkeley observes that there are increasing similarities between the Extreme Sailing Series and the America's Cup World Series in that now there are roughly the same number of boats competing over the same number of days (now that the format for the latter has been shortened), although budgets for the AC45 catamarans (and that circuit in general) remains far higher.
Burn rate on the crews is also different between the two circuits. In the latest iteration of the regularly amended ACWS format there are typically two fleet races each day of 25 minutes duration (plus match racing) while the Extreme Sailing Series runs as many as 10 races a day each of 15 minutes, but the work on board the 40s is nowhere near as intense as it is on the 45s.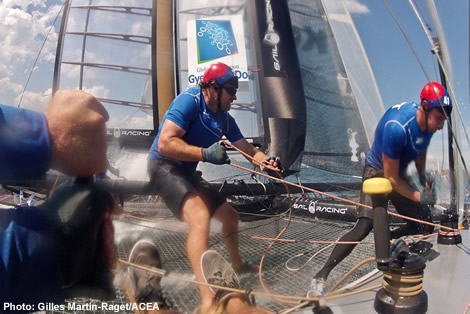 "The standard has generally got way better across the 45 fleet," says Bulkeley. "With the exception of China Team, there are 10 boats that can all win races and hold good spots, so it means that it is just full on. It is really hard to pull away and it is so easy to get sucked back in. You can be in third and you can get one tiny shift wrong and suddenly you are seventh, back in this group of six or seven boats that are fighting each other and if you can just cross a boat on port, you are off.
"With the 40s there is more of a pecking order and if you get around the top mark you are in good shape because the boat handling isn't so full on, especially with the fifth person on board, although that's not to say there aren't place changes."
At the ACWS event in San Francisco the tactical prowess of the Oracle Team USA boats was noticeable, particularly on Jimmy Spithill's boat where local resident John Kostecki was calling the shots. "He has obviously grown up there and he had that race course dialled in pretty hard," says Bulkeley. "They have got a very good tidal model and if you analyse all their races - they went the same way up every upwind and they played the tide very well and they are very fast, so in the races where they had good starts they were off and the races they had bad starts they could pull through."
However Bulkeley also observes that the Oracle crews seem to "know the system very well" which he attributes to their having a rules adviser. "They know how the penalty system works and how to take advantage of it. I am not saying there is anything untoward, but rules advisors definitely earn their money by briefing the sailors on what the new rules actually mean and the loopholes that those rules open up."
He gives the example of when an AC45 comes out of a boundary in light airs with another boat on their hip. "You can swing and luff them and it is an instant penalty. Because you don't have to tell someone you are luffing them, you can just be sitting there looking like you are cool with it, but on the snide you are pressing a button [signalling a protest] and 20 seconds later the other boat has a penalty and they are going 'how did we know to keep clear???'"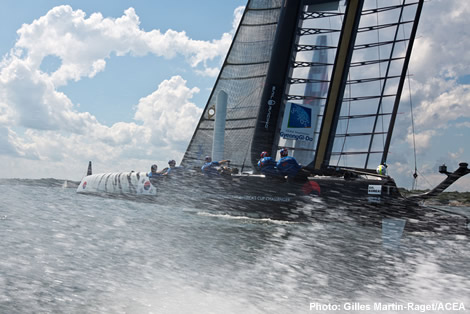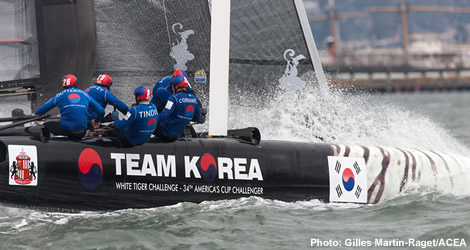 The umpiring situation in the America's Cup World Series has developed a little since last year (read our interview with Director of Umpiring and Rules Administration Mike Martin here) in that the on the water umpires have had their jetskis replaced with RIBs, and thanks to the military grade pinpoint accuracy of the GPS-based tracking and the substantial TV output, more umpire calls are made my Martin and his team from on land.
Bulkeley feels this has pros and cons. "It is great for things like knowing whether you have an overlap at marks - it is what it is and everyone has got used to that. But things are still a bit odd – you can tack on to port when you are inside the three boat length [zone] and you can just hold high and you have a few situations where you are coming in, they have tacked, and they should be out by the time you get to them and sometimes you get it right and force them head to wind and sometimes they just keep half a hull inside the boundary and you get a penalty or you have to tack. So it is just knowing the system and playing it to your advantage. Generally I think the rules work really well for cat racing."
Obviously it doesn't have the same high-tec, electronics-based resources at its disposal, but Bulkeley feels that the umpiring on the Extreme Sailing Series hasn't kept up, especially with the circuit's high octane short courses in heavily confined waters, where calls can come thick and fast, causing the on-the-water umpires to struggle.
In San Francisco Bulkeley was crewing for Nathan Outteridge, fresh - possibly rather too fresh - from having won a well deserved 49er Gold at London 2012. "He was pretty tired. I think he'd had a few nights out post-Weymouth and he flew all the way to Sydney and had one night at home and then straight on to San Fran. So he arrived in a bit of a mess and he didn't ease off the celebrations too much while we were there! He had a great time and for a team like us that is a major part of it. We definitely have the most fun out of the events, but we are also there to race hard." Impressively, despite being in celebratory mode, Team Korea still managed to finish third in the fleet racing.
Following the departure of their 2011 skipper Chris Draper to Luna Rossa, so Outteridge took his place as Team Korea skipper and towering British Finn ace Giles Scott came in on tactics. After four ACWS events this year Bulkeley says the new team is gelling well. "For Nathan, it didn't take very long. Originally he was fast, but we used to get a lot of penalties for basically just not knowing the new system, like in the final race in Venice... He did a very good job before the Games of just turning up, doing it, and not letting anything bother him and being super chilled. Now that is out of the way, he has got the bit between the teeth. When we got to San Francisco and went out training - it was a lot windier for the training than it was for the racing - it was like 'time to start finding out where the limits to these things are' and the day after that we capsized! But that was actually a good thing for him, because we'd all capsized before and Nathan and Giles hadn't and I think they were both surprised with how straightforward it was to right it. I fell through the wing, but without that we could have carried on racing."
With this incident in mind, Bulkeley also points out the advantage of being in a big team. "Jimmy [Spithill] sails the boat with the full confidence that 'if he stacks it, who cares?' He comes in, he hands it over to his shore crew [to fix it]. He is in the situation that you have to be with those boats – you just have to have no fear and just send it, and they [the boats] are fixable."
For the Korean team, their part in the America's Cup World Series and their journey to next year's America's Cup remains something of a rollercoaster ride.
Technically Team Korea is the fourth challenger for the 34th America's Cup, however they still have severe cash flow issues and the future of their campaign remains very much in the balance. Time has run out now to build completely anew, so if the green light does get pressed on the build of their AC72, then they will have to follow the same path as Luna Rossa in buying into the resources of an existing team, using their tooling, excluding the hulls which must be built in Korea (as demanded by the America's Cup Deed of Gift). Given that a deal of this type was done between Energy Team and Oracle Team USA, before the French team pulled the plug on their 34th AC campaign, the most likely scenario is that the Koreans will get into bed with Oracle.
But securing funding remains the biggest issue for Team Principle Kim Dong-Young. "They have got some fairly big companies that are starting to talking about 'how much' rather than 'whether' they are interested," says Bulkeley. "We have all heard it before and whether they come off or not is another matter, but there is more reason to be optimistic than there was say two weeks ago."
Cash flow has continually been an issue for the Koreans. The team appeared to be on the rocks after San Diego last year, but suddenly tickets were booked for Naples and they were on again. Even for San Francisco it wasn't until the 11th hour that they heard they were going.
Extreme Sailing Series
Meanwhile in the Extreme Sailing Series, GAC Pindar has upped its game for this season. They have brought on board 49er Olympic medallist Ian Barker as coach, but their year has been made harder by there being three calendar clashes with the Alpari World Match Tour. So while all their training was carried out with regular skipper Ian Williams on the helm, for the last two events Andrew Walsh has reverted to this role as the three time Match Racing World Champ seeks to win the title for a fourth time.
Generally in the Extreme Sailing Series, Bulkeley reckons the ante continues to be upped with all the teams fighting harder than ever. The top teams are slowly getting bigger with their own containers and coaches whereas he recalls in seasons past a typical team was the four crew plus a RIB driver who doubled as the coach.
As ever the two Oman Sail teams remain top of the pile, while the Danish newcomers to the circuit, Jes Gram Hansen and Rasmus Koster were scraping around at the beginning of the year to secure funding, but now have one of the best resourced teams thanks to backing from SAP. They now have two boats giving them the ability to train between events (when typically single boat teams are having their boats shipped).
The Extreme 40s are very evenly matched and most have now had the full one design prep applied to them: ensuring that the hulls are even and correctly aligned relative to each other and to the cross beams and that the appendages are on straight, while on-going through the season it is important to ensure the hulls always have a good finish and are clean. Some also fair the mast join to reduce windage and ensure a fair curve in the two piece mast.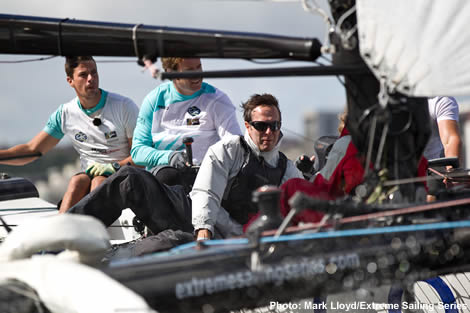 Some boats appear to perform better in some conditions, but Bulkeley reckons that this is more down to the crew. The sweetest boat in the fleet is traditionally thought to be The Wave, Muscat which Bulkeley points out has always been a good boat since it was first campaigned as Basilica by Rob Greenhalgh in the first season in 2007 and subsequently when it won in 2008 as Alinghi with Ed Baird as skipper. Bulkeley says that this in no way belittles the Omani team, skippered by Leigh McMillan, his former Olympic Tornado helm. "They are the most well trained and well prepared and they sail the best and they will win this season by a country mile."
As a trend the race areas used for the Extreme Sailing Series have got tighter and tighter to further enhance the spectator experience. Back in 2009 when Bulkeley sailed to victory with Chris Draper on Oman Sail Masirah, as a rule even the harbour courses were mostly windward-leewards, but this year there have been more reaching starts, with the line being within spitting distance of the VIP area and spectators for maximum thrill factor. While reaching starts work well on the AC45s, Bulkeley observes that this is partly because their acceleration is so good thanks to the wing, whereas the 40s are harder to bear away and because the Extreme Sailing Series courses are very much closer to land and more confined, the start zones can be ultra-shifty. "You can be lined up and you can get a massive left shift and you are suddenly head to wind and tacking into another boat."
As ever with the Extreme Sailing Series, the racing often appears compromised by conventional yacht racing standards but with often more than 30 races being sailed at each event, the lottery aspect averages out so that the best team does generally win out.
"It takes is an attitude shift and that is fine," says Bulkeley. "I like this event, because it is fun, I know the people, I know the circuit and I enjoy the racing. I don't come to it expecting it to be fair windward-leewards and too-big-a-wind-shift-and-they-abandon-it type racing. If you want that you go and do the MedCup or the Farr 40s or something like that."
Having experienced the labour intensive AC45s, Bulkeley thinks that the Extreme Sailing Series organisers have made a wrong move in enlarging crews to five this season. "It is not really a boat that needs that. If I was in charge of this circuit, I'd say race it with three and then we'd get back to some real carnage and action because you'd have a lot on with three people. With five people all of a sudden the workload disappears."
AOB
With his two catamaran campaigns Bulkeley has his hands full (not to mention his impending wedding...) However wearing his Team Korea hat, earlier this year he took part in his first ever event on the Alpari World Match Tour as part of team led by Torvar Mirsky where they made it to the semi-finals with no training.
Despite the return of a catamaran to the Olympic Games for Rio 2016, Bulkeley says he has no plans to mount a Nacra 17 catamaran campaign. Aside from the financial commitment there are some serious logistical aspects to a mixed crew campaigning over a four year cycle that perhaps ISAF didn't think through. For example if either party is in a relationship or married then the time they will spend with their Olympic crew will greatly exceed that they spend with their 'partner in life', leading to inevitable complications. As he puts it: "Do you share hotel rooms? If you then have a room each then you have to be pretty well funded. I know the RYA budgets don't go to a room each. That is going to be a whole can of worms. You are either going to have people who are couples sailing together, which brings up its own issues or you are going to have youngsters doing it that haven't got a care in the world...." And there are other alternatives we discuss that we cannot print...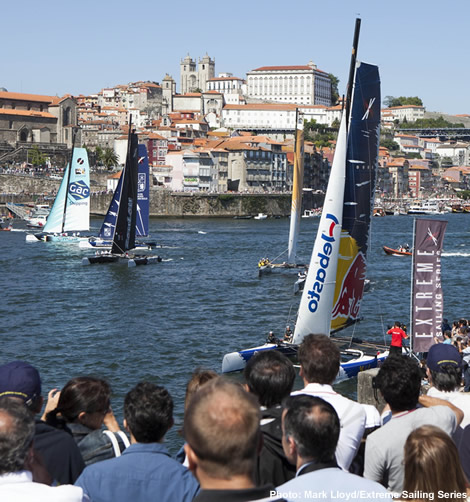 Back to top
Back to top