Matt Allen claims Performance Division
Sydney yachtsman Matt Allen has been coming to Audi Hamilton Island Race Week on and off since 1984. Finally his efforts have finally paid off with a win in Performance Racing division 1 with his new Farr 400 Ichi Ban.
Allen gives all his racing yachts the Ichi Ban moniker, which means number one in Japanese.
Racing in the two Performance divisions drew to a close at Audi Hamilton Island Race Week yesterday, each division providing very close racing with final places undecided right up until the closing 23.5 nautical mile Molles Islands race, which was sailed in honour of the late ABC helicopter Gary Ticehurst who was a friend to many sailors.
Ichi Ban finished the light air series first overall with a score of 25 points. The Cruising Yacht Club of Australia entry was skippered by Allen, Yachting Australia's Vice President, who described his first Race Week win: "Great! We are really happy with the boat".
Once an issue with air sucking up into the rudder bearing was identified and fixed by the top crew, which includes Lake Macquarie sailors Anthony Paterson and Brett Filby, Ichi Ban's downwind performance went up a gear.
Stewart Lewis' West Australian Marten 49 Ocean Affinity, scored 28 points to finish second.
The Ker 50 Kerumba, with designer Jason Ker flying all the way from Spain to be on board, placed third on the score sheet with 33 points. Skippered by Tom Faragher, the Royal Queensland Yacht Squadron entrant beat its main rival for the week, Optimus Prime.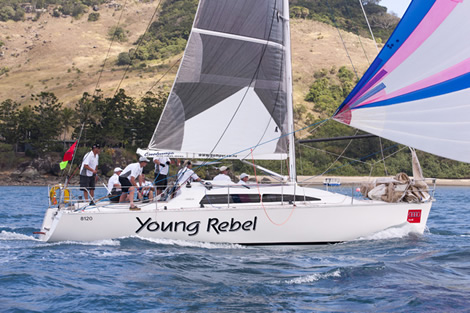 Performance racing division 2
In Performance Racing division 2 scores were also tight going into the Molles Islands race, a tie for first, second and third places making the final islands race the decider.
Ultreya and Young Rebel were neck and neck for first, Broadsword and Whalewatchingsydney for third and Southport Mentor and Kioni for fifth. By the afternoon the results sheet had completely changed.
Taking out top podium position was the very surprised Paul Young, skipper of the New Zealand Young 11 Young Rebel. For the New Zealand crew to get to Audi Hamilton Island Race Week was a huge effort, sailing the boat from their home port all the way to the Whitsunday Islands via Southport on the Queensland Gold Coast. Young also joked that the boat may soon be for sale "as it's worth something now!"
Second place in the end with a series score of 41 was Ropabull, which came out of nowhere to sneak into silverware contention. The Beneteau 42 skippered by Mike Roper hails from the Royal Motor Yacht Club in Sydney.
Third place in Performance Racing division 2 went to Rod Pearse's Ultreya, a Dehler 41 with an overall series score of 41.
Regatta director Denis Thompson said that "this year's performance racing divisions have given boats that normally wouldn't race against each other a chance to do so. 'We had the smaller boats racing against the Volvo 60s, which they seemed to enjoy. It was certainly a quality bunch."
Matt Allen and Ichi Ban are likely to return next year to defend their title at Audi Hamilton Island Race Week and enjoy all the trimmings that will be part of the 30th anniversary celebrations.
Back to top
Back to top