Ran and Audi All4One come out on top
The eight winners at Copa del Rey Audi Mapfre were determined today after six days of very tight racing on the Bay of Palma.
The Bay of Palma delivered 19 knot northeasterlies winds for the start, dropping to 12 knots through the day.
Not even touching the pin and sweeping it away at the start of race one could prevent Niklas Zennström's JV72 Rán from repeating victory in this 31st Copa del Rey Audi Mapfre, after winning in 2010. This occured when they were pinging the pin before the start as usual and the French TP52 tacked in front of them. As one crewman put it: "it was either their boom through our shrouds or hit the mark!"
Rán came home third and second in today's two races in IRC 0, with bullets going to Jethou and Stig. Runner-up division is USA flagged Shockwave, followed by the new Italian Mini Maxi, Stig.
In IRC 1 Audi All4One claimed victory in their debut Copa del Rey Audi Mapfre after a nail-biting final day's racing. "We always like to win regattas no matter what, but I've been trying to win this for more than 20 years, I've always finished second," said Audi All4One tactician Jordi Calafat. "This is a regatta in my home-waters, so it is very special to me."
The race came down to the wire with Audi Sailing Team powered by All4One and Audi Azzurra Sailing Team going into the final day's racing tied on 18 points, with Azzurra leading on countback. Azzurra looked poised to claim victory after the opening race of the day when they finished third, two places clear of All4One, and edged to a two-point lead with one race remaining. The pair matched each other tack-for-tack off the start line before their fates were sealed when they split to opposing sides of the race course. A major wind shift favoured All4One and the team rounded the first windward mark in second place, while Azzurra struggled in an uncharacteristic ninth position.
With the overall regatta win on the line, All4One skipper Jochen Schüemann and his trusted tactician used the best of their combined Olympic and America's Cup winning knowledge to jump to the lead and claim a win.
"The most important part of this success is it is for Jordi, we did him a great favour to win this after so many years," Schüemann said, just minutes after his crew showed him with celebratory beers on the dock at Real Club de Náutico. "This means a lot to our team, too. We sailed well this week, now we celebrate."
Azzurra gallantly fought back to fourth place, but it wasn't enough to protect the team's lead, leaving them in second overall with 25 points, to All4One's 24.
Tactician Vasco Vascotto said it was disappointing to lose the regatta given the strong position they were in going into the final race. "It is not bad, but it is not good,'' he said. "We were leading after the first race, and we were leading in the start of the second race, but we had a misunderstanding on board. We didn't follow All4One as we were supposed to, then we found our boat on the left and they were on the right. That cost us the regatta."
Gladiator rounded out the podium places, claiming their first podium finish in this their third Copa del Rey. The team cemented their achievement by claiming victory in the first race of the day.
Owner/skipper Tony Langley said scoring that win took the pressure off and allowed the team to continue to race with consistency. "It was a very tough fleet and a top competition,'' he said. "We only had a two and a half point lead going into today, but we were able to sail our own race. We won the first race, which took the pressure off, and we just took it from there. We've got to be happy with that."
HH. Prince Felipe de Borbón skippered Aifos to fifth overall, after a tenth and an eighth place today.
The last day confirmed Swandefull as the winner in the RI 1 division. José Caldeira's Swan 45 becomes the first Portuguese boat and crew to ever win their class at Copa del Rey Audi Mapfre. With Chuny Bermúdez calling tactics, the boat only clinched one bullet, but her consistency throughout the race finally paid. They were followed in the podium by the German Swan 45 Earlybird and the Spanish sistership Rats on Fire. Manuel Gallego's Itaca IX finished fifth, winner of the Corinthian trophy.
Power Plate had less rivals in the RI 2 fleet. Today's back-to-back wins added to the three first places the Spanish boat has scored so far, to claim a well deserved victory 20 points ahead of Volmer. Pedro Campos' Movistar was third, and Tanit IV, was fourth overall, and winner of the Corinthian Trophy.
In the hotly contested Soto 40 class, Alegre and Iberdrola were battling for overall victory, and it was the former, skippered by Andrés Soriano which came out on top. In their wake were Noticia and Bigamist were fighting for the third.
After a general recall, race 1 saw Jose María Torcida reduce Alegre's lead by three points while Iñaki Castañer finished just one point behind Afonso Domingo's Bigamist. It was Bigamist owner's Pedro Mendonça's birthday today, and his crew wanted to offer him a place on the podium, which they clinched in race two. Iberdrola rounded the first top mark last, and managed to move up to third by the end of the race, but Alegre's fourth place was enough to secure them victory.
In the J/80 class, Ignacio Camino's Nextel was dismasted right before the start of race 1, forcing him to abandon. This benefited Mapfre getting rid of their main competition which sailed conservatively the two last races of the event, to secure their first Copa del Rey Audi Mapfre crown with Nextel third.
There were no big surprises in the X-35 class, where Margherita–Jsteam, Hotelplan–Spirit of Nerina and Red Eléctrica, the three top boats this morning, stepped on the podium in this same order.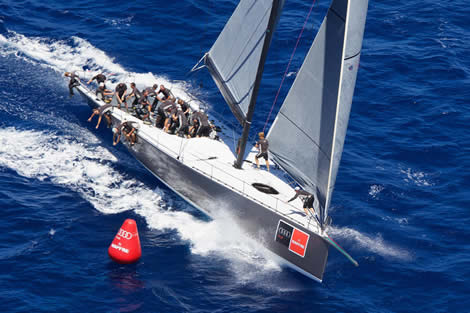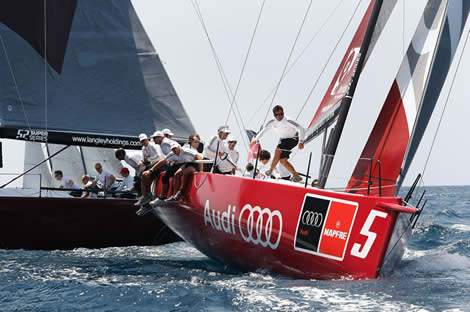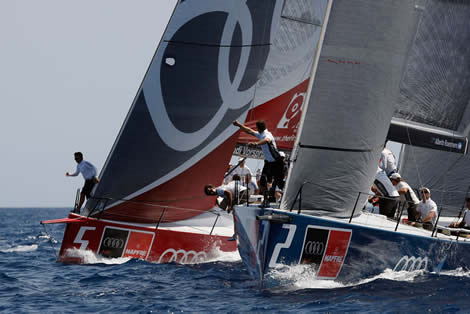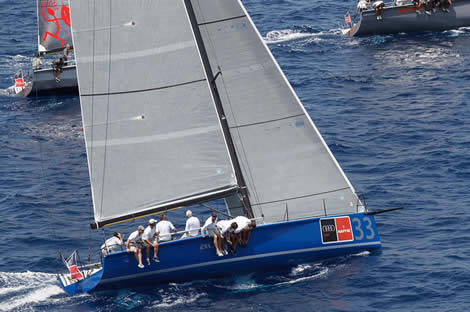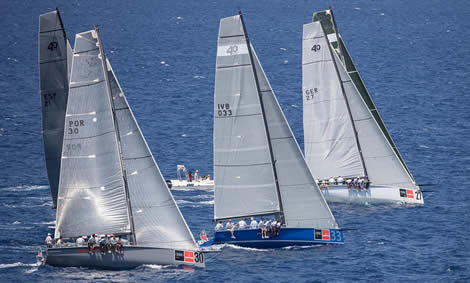 Back to top
Back to top